August 21, 2013
Nursing is a profession that Janet Robinson says fits her caring and empathetic personality. Her passion for volunteering is also apparent, and the two paths have been a part of her life for more than 25 years.
The 2013 recipient of the President's Award for Community Service, Robinson was recognized for her years of service to the Girl Guides of Canada.
"The people I work with at LHSC know that I'm a Girl Guide leader, but don't necessarily know what that means," says Robinson. "It was wonderful to be recognized for something that I do outside the place where I work. I've spent about as much time volunteering as I have working as a nurse. They've always sort of been parallel paths so it's nice to have this recognition."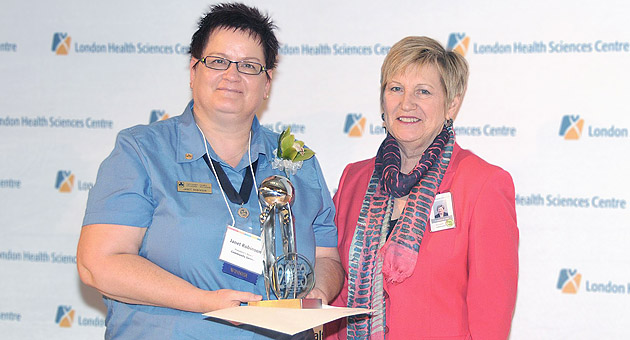 Janet Robinson, RN in the renal program, receives her President's Award for Community Service from LHSC President and CEO Bonnie Adamson.
A registered nurse for more than 25 years at London Health Sciences Centre, Robinson is currently an RN in the dialysis unit at Victoria Hospital. Her motivation for nursing is simple: she likes helping people get better.
"I enjoy learning about people's lives and being able to help them cope when they're not well," she says. She says she also enjoys meeting new people, which has certainly come in handy over her years as a leader in Girl Guides of Canada.
Robinson began her association with Girl Guides when she herself was first a Brownie, and then a Girl Guide. Years later she got back into the leadership aspect of the organization through her sister, Barb, who nominated her for the President's Award.
"Janet has been an awesome support for our unit, organizing activities for the girls," says her sister. "Many of the girls have said what a great support she is for them, and she is a great role model as a leader in our organization."
It's that supportive atmosphere that Robinson says she enjoys most about Girl Guides.
"I appreciate that it's all females so there is a lot of support that exists between the girls and their leaders, but also between leaders. Girl Guides really empowers girls to be leaders themselves, and I think that's what I like most about this organization."
The President's Award for Community Service is awarded to a person who makes a positive, significant impact in the community. In her nomination letter, Laurie Forbes, the deputy provincial commissioner, administration for Girl Guides of Canada, wrote that Robinson continues to make a difference in the lives of numerous girls and women in our community.
For Robinson, she says she that Girls Guides has been as beneficial to her as it is for the many girls who have benefitted from her leadership, advice and support over the years.
"To see a young girl who started with the organization as a Spark grow up to become a Ranger, and seeing the achievements they have made along the way is very special," says Robinson.
"I've been involved long enough that I've seen these girls grow up to be adults and a wonderful part of our community. I hope that what I'm doing sets an example for them to continue volunteering and giving back."