December 31, 2013
"Please feel free to sanitize your hands"; "It's free squirt Wednesday!"; 'Please wash your hands"; "If you wouldn't mind before you go…". These are some of the many phrases patients, visitors and staff have been hearing at entrances and in clinics across London Health Sciences Centre by more than 900 hospital volunteers.
"Our volunteers have been taking a proactive approach to encouraging hand hygiene," says Meaghan Innes, Coordinator, Volunteer Services, LHSC. Since the Fall, volunteers have been approaching visitors throughout LHSC and politely asking them to sanitize their hands at either the hand washing stations or with portable bottles of hand sanitizer.
Former nurse and current volunteer at Victoria Hospital (VH) Ineke Lazar never anticipated actively participating in infection control practices as a volunteer, but is pleased to help visitors "protect themselves and their loved ones." "There is a definite benefit to the overall cleanliness of the hospital and out of the 50 to 60 people I see during my three hour shift the vast majority are happy to oblige," she adds.
Bill Gawley, 18-year University Hospital (UH) volunteer, has taken a humorous approach to hand hygiene. "Patients who come to have their blood taken on Wednesdays know that it is 'Free Squirt Wednesday,'" says Gawley. "I approach them with a smile and laugh." Many returning patients hold out their hands in anticipation of the request.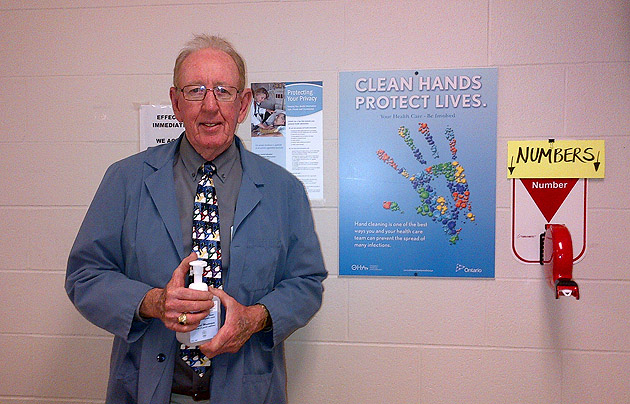 The Information desk at University Hospital features a unique "Please Sanitize" sign created by the husband of Sherri Harrison, receptionist, UH information desk. "It is rewarding to contribute to our infection control practices," she says. "I'm encouraged to see many visitors sanitize their hands even before being asked."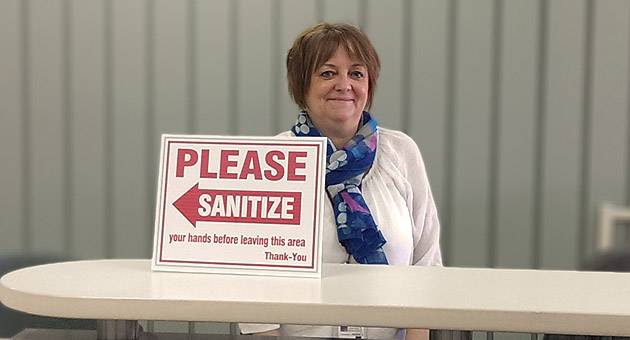 Cathy Vandersluis, Director, Infection Safety, LHSC, applauds "the collective efforts of our volunteers who have contributed significantly to increase the public's awareness regarding the importance of good hand hygiene practice. The visibility and caring nature of our volunteers creates a perfect opportunity to engage patients and families in this important conversation."