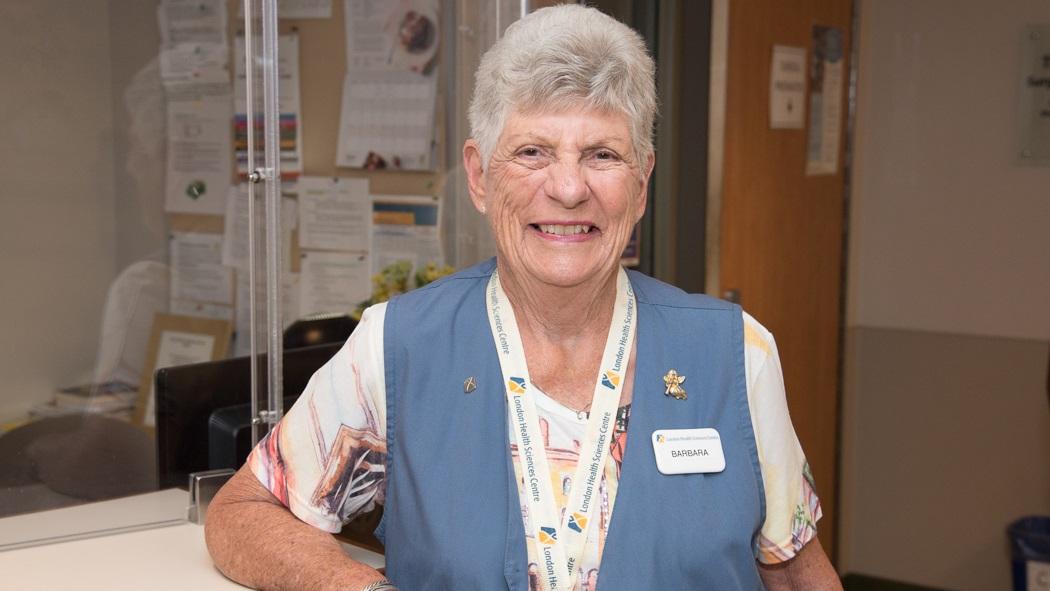 April 21, 2021
April 18- 24, 2021 is National Volunteer Week and the recognition is well deserved for the nearly 850 individuals who donate their time to help others at London Health Sciences Centre (LHSC). The National Volunteer Week theme for 2021 is "The Value of One, The Power of Many." This theme recognizes the value of the caring and compassion that each volunteer has shown, and also recognizes the power of volunteers working together.
A 30-year long service award recipient, Barbara Elliott has been volunteering with LHSC before it was known as LHSC. She has been a volunteer in the Perioperative Care Waiting Room waiting room at University Hospital for her entire volunteer career.
LHSC's approximately 850 volunteers were withdrawn from the hospitals in March 2020, with only 60 able to return, between August and December of 2020. Elliott is looking forward to the day she can safely return to her role. For the past year I feel like I have been missing a part of myself," says the 83-year-old. "I enjoy volunteering very much."
Elliott believes she is one of the oldest volunteers at LHSC, and has many good memories with her fellow volunteers, volunteers who have retired, and others who have passed. "I do miss the interaction I had with patients and families, staff in the surgical preparation unit and the recovery room, and those in the Volunteer Services. They are a good group of people I have known for a long time," she adds.
Now vaccinated, Elliott has spent the past year in isolation with her husband, Peter, filling her time with jigsaw puzzles, geneology, knitting, and speaking with her family on the phone. "The Vaccination Clinic was a very smooth experience. I look forward to everyone receiving their vaccine and helping to eradicate this virus."
Elliott predicts the environment will be different when she returns to her role, at least at first, and has full confidence that volunteers will be recalled when it is safe to do so. "The pandemic has created a lot of stress for everyone. It will be nice to help at least a little bit. Volunteering is my way of giving back to the community, and I encourage others to make a difference by volunteering."