How sharing our patient stories keeps the human element alive in patient-and-family-centred care
June 3, 2014
On the evenings of March 27 and April 3, LHSC hosted a Patient and Family Advisor Storytelling Workshop. Twenty five advisors from LHSC 's Children's Hospital and the London Regional Cancer Program came together with London Toastmaster volunteers to learn how to share their health care experiences in a way that communicates the value of patient and family centered care. Storytelling is recognized as the most effective way to communicate a message and LHSC would like to build the use of patient stories to remind us of the importance of humanizing medical care and help foster our culture of patient-and family-centred compassionate care.
Patient and family advisors are volunteers helping LHSC with our improvement efforts. The event was kicked off by Lisa Hawthornthwaite and David McLean. Lisa noted "LHSC is very grateful for the opportunity to learn from your stories. Hearing your stories will help us know what is not working well, how small things can make a big difference and remind us how compassion lessens your suffering."  
Christine Misener, a patient adviser with the London Regional Cancer Centre's Patient and Family Advisory Council offered these reflections: "When I first heard about the opportunity to explore storytelling as a way of sharing my personal journey, I wasn't sure it was something I wanted to do. However as the time drew nearer I realized if I didn't try it out, I would never know. The writing of my story was healing yet emotional. My hope and purpose in sharing a piece of my story was to facilitate dialogue between patients and providers and thereby find ways to improve the experience for all. As the workshop approached, I was nervous, but once there, I first listened to another person's story and it brought back many memories. I connected with the story on many different levels. Some of it was hard to hear. Now, it was my turn. I took a deep breath, and began. When my story was over I felt relieved and I felt heard."
Christine also stated that "through the sharing of patient stories we are giving of ourselves to the health care audience and this is a powerful gift. In the sharing of our stories people connect and are challenged to think differently by them, and who knows what changes may come about as a result of a story. The possibilities are great!"
The Patient Experience initiatives spreading through LHSC support the use of patient story telling for staff orientation and education. Preparing speakers to share their stories is an important part of the process and trained staff in patient and community engagement are taking a lead role in the facilitating patient and family stories. Contact Patient_Experience@lhsc.on.ca for more information.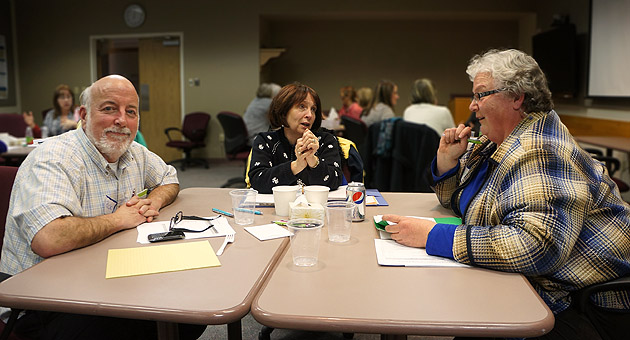 Patient and family advisors from LRCP and Children's Hospital share personal experiences and receive coaching from members of the London Chapters of Toastmasters International.