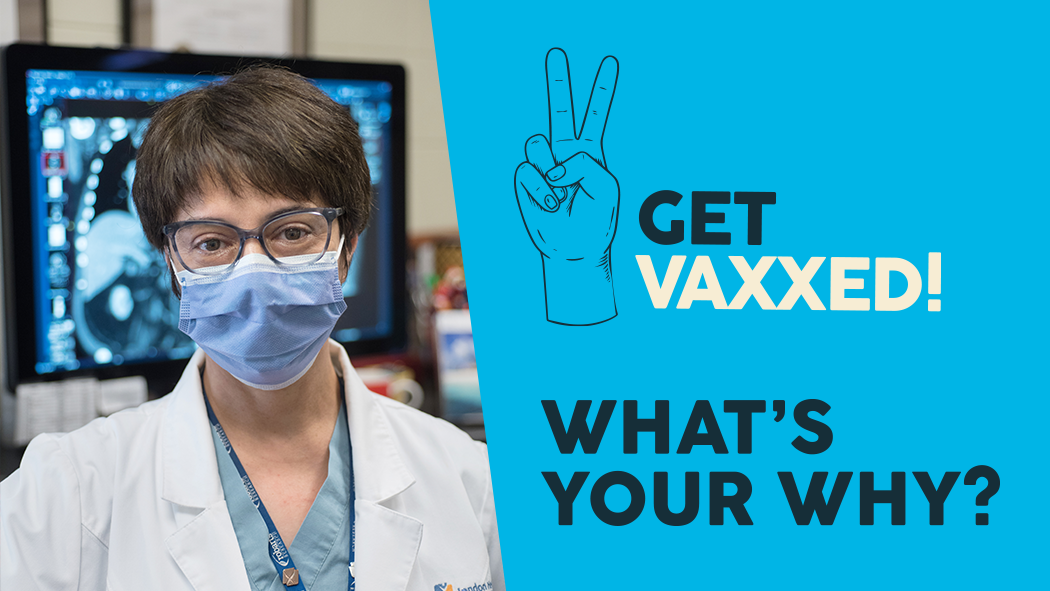 May 18, 2021
Read more from Dr. Etemad-Rezai, Radiologist
With the ongoing challenges and disruptions caused by the COVID-19 pandemic, the arrival of a vaccine brings hope, optimism, and excitement. As part of the provincial rollout, all health-care workers in our region are now eligible to receive their vaccination and LHSC's staff and physicians are able to book their appointment with instructions provided by area leadership. 
In this series, we are asking: What's your "why" for receiving the vaccine? We all have a reason that's personal to us, but there may be some that are universal as well.
Dr. Roya Etemad-Rezai, Radiologist shares these thoughts on the vaccine being our best hope to get back to regular life.
Why did you decide to get the COVID-19 vaccine when it was offered to you?
I decided to get the COVID-19 vaccine for the same reason that I wear a seatbelt when I drive a car, or stop at the red light, or have a smoke alarm in my house, or never go bungee jumping or parachuting from a plane. I don't like to gamble with my life. I happen to like my life, I worked hard to be where I am and achieve what I have achieved, and I still have a long bucket list of things to do, places to go and people to see. Like everyone else on planet Earth, my life has been upended since last March after the World Health Organization declared a global pandemic. Initially, I thought it was going to be over by the fall. Just a temporary bleep on the radar. Well, guess what? We have just entered year two of this nightmare and I'm sick and tired of it. 
To illustrate my point, let's try and see today's world through the eyes of a three-year-old child who has lived under COVID-19 most of their life. They probably think a face mask is a normal piece of clothing. They don't get to go to kindergarten and don't know how it feels to play with other kids or know the joy of getting a bearhug from elderly grandparents. They don't know what large crowds look like or what a handshake means. They haven't been to a public pool or the library or restaurant or playground or even their next door neighbour's backyard. They are used to food and groceries being delivered to their door and probably never sat in a shopping cart in a large grocery store. They may never have had a professional haircut they could remember or a real birthday party with a bunch of family and friends posing for group pictures. They haven't been on family trips or campgrounds. A three-year-old knows the meaning of and practices social distancing and hand hygiene. Just think about it. I don't want to live in this kind of a world.
Getting the vaccine is our way out to get back to what we used to know as normal. This is a battlefield, and we are the unintentional soldiers. The mask and the PPE at work have been my armor for protection. But that's not enough. We have to fight back. We need a weapon to fight back, and the vaccine is our weapon. Getting the vaccine was a no brainer for me. I'm fighting for my life here, and so should you.
Did you have any doubts about the vaccine and how did you address them?
Once the global pandemic was announced and the virus started spreading around the world like wildfire, I knew that a vaccine would be the ultimate solution. After all, this was not the first time in history of mankind that human race has been afflicted by a terrible deadly virus with such rapid global impact. Diseases like smallpox and polio have been largely eradicated because of similar vaccines. The one thing that surprised me was how quickly a vaccine was introduced. The fact is that the COVID-19 vaccines were not developed by one company or one country only. The rapid production of the vaccine is a triumph for a human race that worked diligently together as one, towards a singular common goal. And it has been shown by multiple clinical trials across the world to be effective. I do not allow misinformation, sensationalism and political agendas affect my decision to have the vaccine. Every step we take in life has consequences. Every drug you take for any ailment has side effects. Some people can get very sick or even die from eating peanuts. That doesn't stop most people from enjoying peanuts. Yes, the vaccine has been shown to have some adverse effects in a few unusual cases, but those are a few cases out of millions of people having received the vaccine without any serious problems. We have to take things into perspective. Getting the vaccine has been proven to save lives and the added bonus is that life can return to what we used to know if enough of us get vaccinated.
What would you say to someone who is hesitant about getting vaccinated?
I would tell them that I understand their hesitancy and it is quite normal to have questions. A lot of this hesitancy may be caused by misinformation that exists in social media and real media. You can't turn on the TV, radio or your social media accounts without being bombarded by the latest news on COVID-19. A lot of the information is confusing, and it frequently changes on an hourly basis. I admit that navigating the information highway about a medical subject that most people are not really familiar with can be a daunting task. However, I would also ask them a simple question: If you notice that the brakes in your car are defective, do you take your car to a mechanic that specializes in brake repair, or do you leave your car with your cousin who posts the coolest car pictures on his Instagram? The decision to have the vaccine should not be dictated by which political party you identify with or which newspaper you read or which TV channel you subscribe to. It should be an informed decision based on sound scientific data and what has been proven to be a fact. The fact is that vaccines work. Specifically, COVID-19 vaccines have been shown to decrease mortality and morbidity amongst the vaccinated population. That means, the chance of you getting COVID-19 decreases dramatically and even if you happen to catch the disease, your symptoms will be milder and your chance of dying from the virus is dramatically lowered. That's a good thing. Also, countries that have had mass vaccinations are slowly going back to normal life. Businesses are open again; kids are back to school and people are out and about without masks. How could you not want that? Some people may be worried about the chance of getting a blood clot after vaccination. You have a much higher chance of getting a blood clot sitting in a plane on a long flight or being on birth control pills than being vaccinated. So, all I'm asking is to keep an open mind, and listen to the scientists, those who have spent the best part of their lives studying and learning about infectious diseases and vaccine efficacy. If the doctors and other health-care professionals who deal with COVID-19 patients are lining up to get the vaccine for themselves and their families, maybe they know something that may benefit us all as a community. Don't gamble with your life. Get the vaccine. It's the right thing to do.