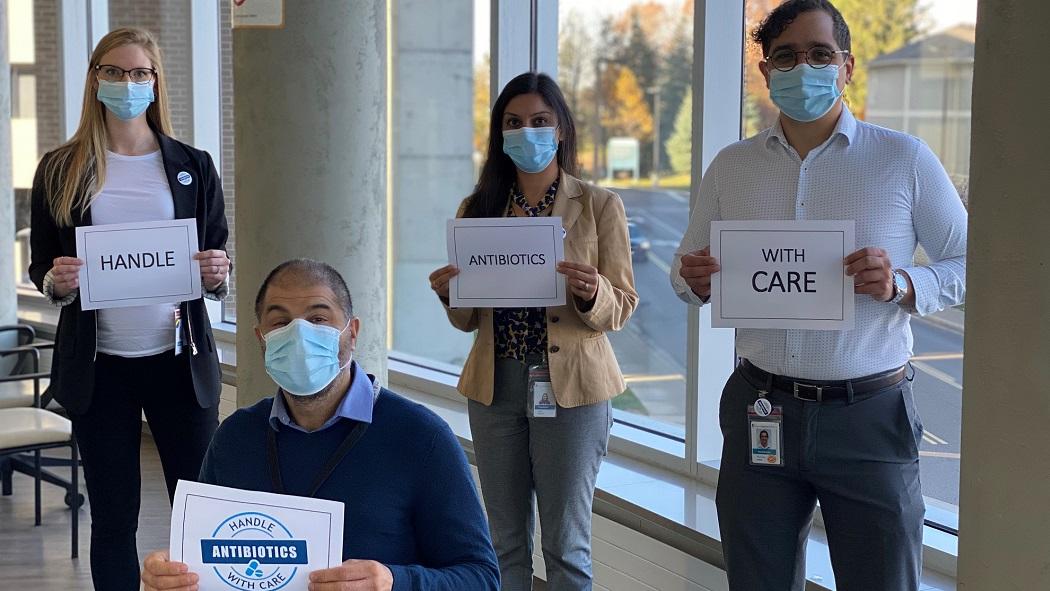 LHSC's Antibiotic Stewardship team. Front: Dr. Sameer Elsayed, Physician Lead. Back left to right: Amy Aasen, Pharmacist; Rita Dhami, Pharmacist; Michael Juba, Pharmacist.
November 17, 2020
Every November, nations across the globe recognize Antibiotic Awareness Week (AAW). The campaign is designed to educate both health-care professionals and the public about the need to use antibiotics wisely to prevent the development of antimicrobial resistance. This year, the Antimicrobial Stewardship team at London Health Sciences Centre (LHSC) is recognizing its first all-virtual AAW from November 16 – 20.
In 2019, the World Health Organization ranked antimicrobial resistance among the top 10 global public health threats. If the way we use antibiotics does not change, by 2050, it is estimated that 10 million people worldwide will die annually from resistant infections. As Canadians, we are not spared from this risk; currently 1 in 4 infections is caused by resistant bacteria. These infections are often more severe, harder to treat and require longer hospital stays.
Antimicrobial Stewardship programs promote the judicious use of the drugs used to treat infections caused by bacteria (antibiotics), fungi (antifungals) and viruses (antivirals). By ensuring antimicrobials are used appropriately, we can improve patient outcomes and limit the development of drug-resistant organisms.
"Preventing antimicrobial resistance within LHSC and our greater community is everyone's responsibility," says Amy Aasen, Pharmacist with the Antimicrobial Stewardship program. "The development of resistance is a natural process; however, this process is accelerated by greater exposure to antimicrobials. By ensuring antibiotics are only used when indicated and for the shortest effective duration we can minimize this selective pressure."
The LHSC Antimicrobial Stewardship team includes Dr. Sameer Elsayed as the physician lead and three pharmacists: Rita Dhami, Amy Aasen and Michael Juba. The program works to optimize antimicrobial usage at LHSC in many ways:
Antibiotic rounds in critical care areas at University and Victoria Hospital
Education sessions for health-care professionals and trainees
Influencing hospital formulary and policy decisions related to antimicrobials
Supporting hospital-wide multidisciplinary initiatives related to antimicrobials such as the development of the updated 2020 Perioperative Antimicrobial Prophylaxis Guidelines.
"It is fitting that the new Perioperative guidelines officially launch on November 18 during Antibiotic Awareness Week," says Pharmacist Rita Dhami. "The key principles of these guidelines are focused on ensuring that each patient receives the most evidence-based antibiotic based on their procedure, at the right time and for the shortest duration possible around surgery."
During Antibiotic Awareness Week and beyond, the Antimicrobial Stewardship team is encouraging everyone to handle antibiotics with care. Test your current knowledge with this antibiotic wise quiz video then learn more about what you can do to prevent antimicrobial resistance by watching this short video.