March 8, 2018

March 8 marks two important days: World Kidney Day and International Women's Day, highlighting the importance of women's health and kidney health. At London Health Sciences Centre (LHSC), the Regional Renal Program is helping educate the public about the importance of kidney health, including women's kidney health.
"In the beginning stages of kidney disease sometimes patients can exhibit very few symptoms, so the disease can go unnoticed," says Angela Andrews, a registered nurse at LHSC's Regional Renal Program. "While the disease affects both men and women, there are some areas of kidney health that are of particular concern to women, including a greater risk of kidney infections, especially during pregnancy, and other diseases such as lupus nephropathy which affects woman more than men."
One of the biggest challenges for women with kidney disease can be the ability to get pregnant. And for those who do conceive, it's a high-risk pregnancy as the kidneys are expected to work even harder throughout the pregnancy.
Kim Barrey of Woodstock knows all too well the importance of kidney health during pregnancy. Diagnosed with renal failure in 2002 at just 27 years old, she was told that due to her poor kidney function she was unlikely to ever conceive. 
"My doctor at the time told me absolutely – I would not and could not get pregnant," recalls Barrey who was placed on routine dialysis treatment through LHSC's Regional Renal Program, greatly improving her overall health and kidney function.
Dialysis is the process of removing toxins and fluids from the body through a machine, a process normally controlled by the kidneys (or renal system). LHSC's Regional Renal Program offers several types of dialysis options for patients: traditional hospital hemodialysis means patients come in three times a week for several hours per session; peritoneal dialysis is when a patient has a permanent tube in the abdomen that is used to flush away toxins while he or she sleeps; and home hemodialysis can also be performed overnight. 
After nearly 10 years of dialysis treatments, it was during pre-operative tests for an upcoming kidney transplant surgery that Barrey discovered she was pregnant. Her plans for a transplant were put on hold and she knew she would do whatever it took to deliver a healthy baby.  Today Barrey's son Evin is about to turn seven years old. She credits her healthy, social and happy son to LHSC's renal program team who provided daily dialysis throughout her pregnancy. 
"I was so well monitored by the renal program staff that it took a huge burden of worry off of me," says Barrey, who received her postponed kidney transplant in 2015. "I knew that my baby and I were well taken care of."
LHSC's Regional Renal Program has helped a number of women on dialysis to achieve healthy pregnancies with positive outcomes by providing additional care and daily dialysis throughout their pregnancies.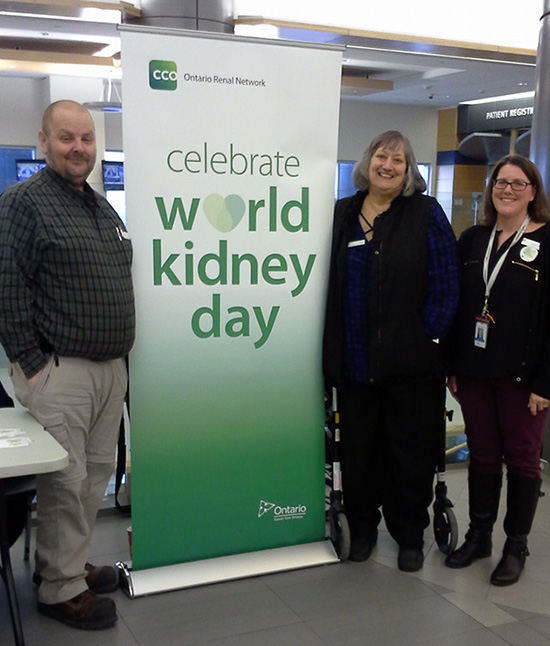 Attending the World Kidney Day booth at LHSC's Victoria Hospital are (from left) Don Smith and Anne Hutchison from LHSC's Renal Patient &Family Advisory Council, and Angela Andrews, RN with LHSC's Regional Renal Program.