June 17, 2013
The Ontario Centres of Excellence (OCE) and the Ontario Brain Institute (OBI) have awarded Jack Lee, who holds a Masters in Physiology and Pharmacology from Western University, with an OCE-OBI Entrepreneurship Fellowship to help commercialize technology that will assist in the treatment of tremors, the most common of all movement disorders.
The one-year $50,000 award is one of eight handed out to post-graduate students to support commercialization of discoveries that help diagnose, treat or cure brain disorders.  The early-stage entrepreneurs will also receive mentoring and future funding opportunities.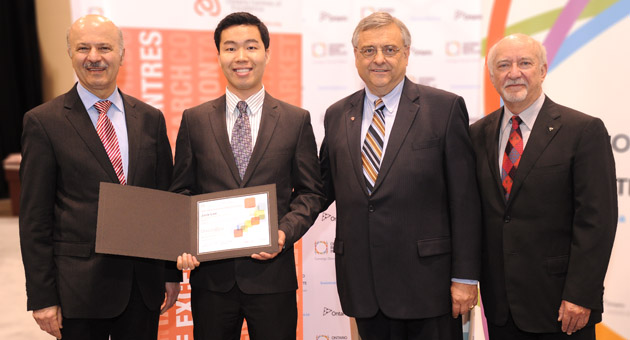 From left: Dr. Reza Moridi, Minister of Research and Innovation, Jack Lee, Dr. Tom Corr, CEO of Ontario Centres of Excellence, and Dr.
Donald T. Stuss, President of Ontario Brain Institute.
Lee is working on the commercialization of new technology developed by Dr. Mandar Jog and Fariborz Rahimi, PhD, of the Movement Disorder Clinic at London Health Sciences Centre.  Lee joined their laboratory in September on a Graduate Enterprise Internship Initiative from the Stiller Centre for Technology Commercialization.  
"This new technology helps to analyze the limb motion and unique tremor characteristics in each patient, helping to guide neurologists in reducing tremors," explains Dr. Jog, Researcher at Lawson Health Research Institute and Director of the National Parkinson Foundation Centre of Excellence.
"In the 50 patients we've tested, we've been able to reduce the tremors by 70 to 80 per cent," says Lee.  "The next step is to work with OCE/OBI to apply for more funding from the government, as well as getting Health Canada and FDA approvals for the technology."   The injected medication is already approved in both countries for other uses.
"Jack's significant contribution is to light the fire to take this further," says Dr. Jog.  "We needed someone with the expertise, the know-how and the interest.  It takes a young enthusiastic entrepreneur-type to develop this into a corporate structure where he can grow, and make us grow."
 
Video: showing a 35-year-old tremor patient before and after-treatment, using the new technology.