April 17, 2014
Family and visitors play an important role in keeping patients safe by washing your hands before coming into contact with your loved one. Most germs in hospitals can be spread by unclean hands. Each time a person touches an object or another person, germs go along for the ride. An infection could prolong a patient's hospital stay.
When you visit Victoria Hospital and University Hospital, you will be reminded that you are a part of the team working to keep everyone at LHSC safe. On elevators throughout VH and UH, door wraps and banners promote the message "You're part of our team – Scrub in!" These visuals act as a reminder to be vigilant about hand hygiene in the hospital environment.
The primary concern at LHSC is always the health and well-being of our patients and staff. LHSC is safe and continues to implement measures to make it safer. 
Family and visitors have a role too!
Visitors are very important to our patients and their well-being. You have a critical role in preventing infections. We ask you to follow these guidelines to reduce the spread of germs!
Everyone should clean their hands:
Before and after touching a patient
Before and after eating
When your hands are visibly soiled
After using the bathroom
After coughing or sneezing
What are the choices for cleaning hands?
Alcohol based hand rubs are available throughout the hospital and are easily identified by the bright red buttons on the front of the dispenser. If your hands are visibly soiled, you will need to use soap and water. Cleaning your hands takes 15 seconds! Make sure you cover all surfaces. If you are using soap and water, don't forget to use a paper towel to turn off the taps!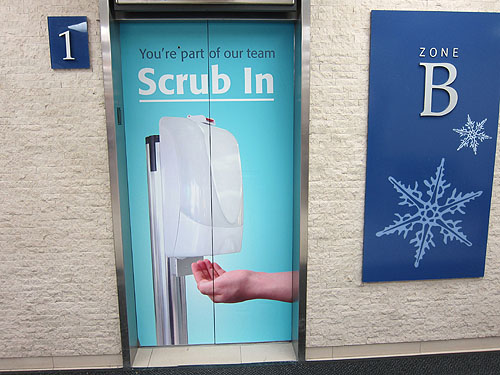 Elevator wraps can be seen at UH and VH promoting hand hygiene.