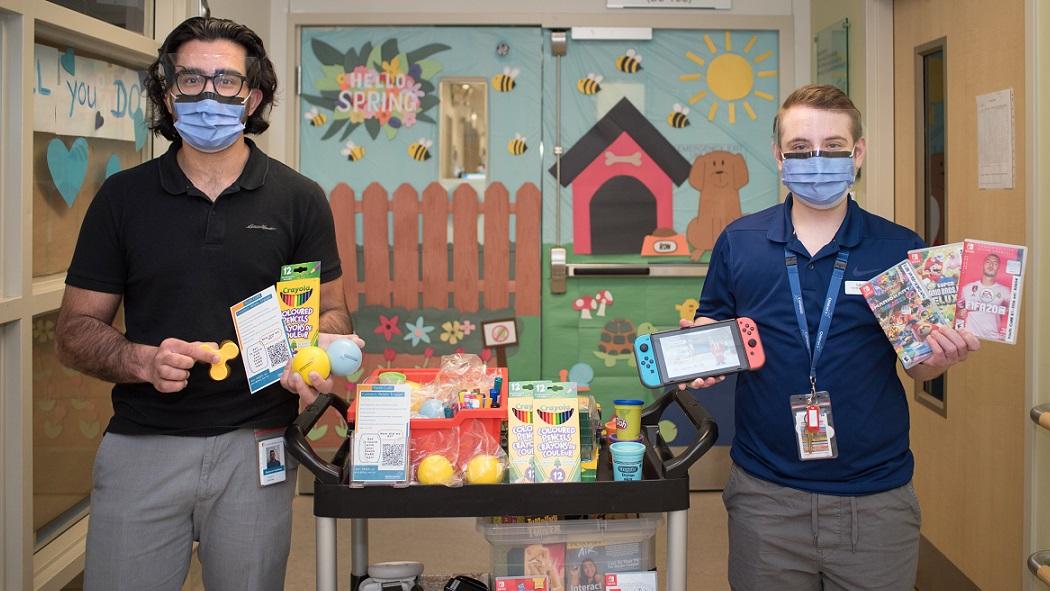 Youth CoRE facilitators, Hashir Imtiaz and Levv Shatil display the cart they take on visits with patients.
June 18, 2021
Unique youth-led program is helping adolescents cope with being in hospital
Connect, Relate and Engage is the mandate of the Youth CoRE program at London Health Sciences Centre's Children's Hospital which seeks to provide adolescent inpatients with the opportunity to be who they are. Created in 2019 by funding from the Children's Health Foundation, the program is one of the first in Canada that focuses on connecting adolescent patients with facilitators who have lived experiences at Children's Hospital.
Led by two youth facilitators, Levv Shatil and Hashir Imtiaz, and guided by Amie Anderson, a Patient Engagement Specialist, the Youth CoRE program has grown quickly since the facilitators started seeing patients in October 2019. "There are so many great supports available for young kids, but there was nothing really for older kids or adolescents," explains Shatil, a 21-year-old Western student who spent time as a child at LHSC Children's Hospital due to several medical conditions.
The concept of the program came from LHSC's Child and Youth Advisory Council (CYAC), part of the Patient Partner program, in early 2010s. When the opportunity arose to start a peer support-style program, Shatil, currently co-chair of CYAC surveyed patients to understand what they wanted and needed in youth focused program. The idea of a Peer Support program was not well received, but a program that would Connect, Relate and Engage was. "We visit patients one-on-one and meet them where they're at," says Shatil. "We create the environment for them to express their voices."
From playing board games, video games like Mario Kart or just saying hello the youth facilitators interaction with the patients is purely social. "It starts with a game of Mario Kart and then dialogue will progress to talking about hobbies and pets, and then often it leads to them opening up about how they feel," Imtiaz says. It is different for every patient.
For Imtiaz, a third-year nursing student at Western who's experience at Children's was a result of Type 1 Diabetes and a former co-chair of CYAC, the goal of the facilitators is to give the patients as sense of control. "They don't have a lot of control over what's happening at this point in their care and life, but we let them decide if they want to interact and how much," he explains. By not being part of their required health-care treatment and not having specific goals, it takes the stress off the interaction.
They interact with patients ages 12-18 in a social setting where the patients can lead the conversations. It is a setting where the individual has the opportunity to feel more like themselves than a patient. Shatil knows first-hand what it's like to feel isolated during adolescence. "Being a youth is hard regardless but being a youth in hospital is even more of a hurdle. Connecting with someone who has had similar experiences can help you feel less alone. We have really meaningful interactions," explains Shatil.
After beginning to see patients in October 2019, the program was quickly impacted by the start of the COVID-19 pandemic in early 2020. They started again in June 2020 after receiving approval from Infection, Prevention and Control. Their main restriction is whether the patient is COVID-19 positive or awaiting test results. To date they have had 1,439 visits with patients which are normally 45 minutes in length or the initial visit with a patient. Available seven days a week, they conduct roughly five visits per day. In addition to visits, the team of two facilitators 'checks-in' with patients everyday to make sure they have what they need.
"The pandemic has really shown the value of this program," explains Anderson. With the visitor restrictions this program has been able to provide patients with much needed social interaction. It has been well received by patients, families and health-care teams.
What started as a two-year pilot program with funding from Children's Health Foundation donors has now become a permanent program looking to hire two more facilitators in the future. The team have presented their model of engagement at the Children's Healthcare Conference in 2020 and received positive feedback from attendees.
For Imtiaz and Shatil, they know they only have a little bit of time left with the program. "Keeping the facilitators in the right age range will be essential to keeping the integrity of the program intact," explains Imtiaz who will graduate this December and hopes to work in paediatric nursing. "I know there is a limit to the age and you're only relevant for so long in this position. But right now, I love it and it's what I live for," Shatil says.
From participation as volunteers on the CYAC to Youth CoRE facilitators, both Imtiaz and Shatil have dedicated a significant amount of time to improving the youth patient experience at LHSC's Children's Hospital.