June 12, 2012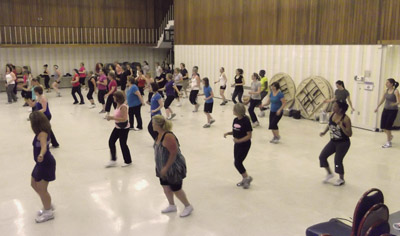 On June 6, 55 staff members from across the hospital came together for the first-ever Zumba Party for Charity. LHSC fitness instructor Sarah Bustamante led the high-energy Zumba session, a latin-inspired exercise class that combines high-energy and motivating music with unique moves and combinations.
Participants raised $60 in support of London Health Sciences Foundation and donated canned food items to the London Food Bank.
"Thank you to those individuals who attended the party – we certainly danced the hour away! Thank you also for supporting the work of London Health Sciences Foundation and the London Food Bank. We look forward to upcoming Zumba sessions and the positive, upbeat energy of our participants," says Susan Rosato of LHSC's Fitness Program.
London Health Sciences Centre's Fitness Program was a pilot program which started in May 2011 and moved to a permanent program in May 2012. Qualified fitness instructors lead weekday activities to support LHSC staff and physicians in maintaining their health and wellness.