Disclaimer to the On-line Edition

This Manual has been designed for use in the NICU at London Health Sciences Centre (LHSC), London, Ontario, Canada, and represents clinical practice at this institution. The information contained within the Manual may not be applicable to other centres. If users of this Manual are not familiar with a drug, it is recommended that the official monograph be consulted before it is prescribed and administered. Any user of this information is advised that the contributors, Editor and LHSC are not responsible for any errors or omissions, and / or any consequences arising from the use of the information in this Manual.
SODIUM PHENYLACETATE AND SODIUM BENZOATE (Ammonul ®)
Indication
to treat acute hyperammonemia and associated encephalopathy due to enzyme deficiencies in the urea cycle
Pharmacology
sodium phenylacetate and sodium benzoate provide alternative pathways to urea for the elimination of waste nitrogen, thus attenuating the risk of ammonia and glutamine induced neurotoxicity
ammonia (NH3) buildup can increase the body's pH and lead to cell damage

symptoms: seizures, lethargy, poor feeding, edema, respiratory distress

the drug is conjugated and then excreted from the body, providing another pathway for the elimination of nitrogen

sodium phenylacetate is conjugated with glutamine to form glutamine phenylacetate and is eliminated in the urine
sodium benzoate is conjugated with glycine to form hippuric acid and is eliminated in the urine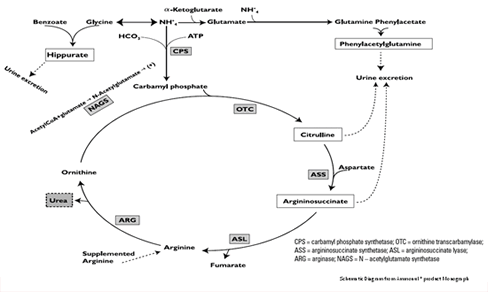 Arginine becomes essential in infants with an ASL (arginosuccinate lysase) deficiency (see Diagram above).
Side Effects
The most common side effects seen in 6 to 9% of patients include : vomiting, hyperglycemia, hypokalemia, , convulsions, mental impairment
Other, less common side effects, include cardiovascular (hypo/hypertension, cardiac arrest), dermatologic (rash, urticaria), hematologic (thrombocytopenia, pancytopenia), hepatic (jaundice, cholestasis), local site reaction, respiratory (respiratory distress, dysnea, pneumothorax)
Since this medication is excreted in the urine and feces, and can be irritating, early application of a barrier ointment to the perineum is recommended
Monitoring and Laboratory Tests
Ongoing plasma ammonia levels, neurological status, serum potassium and sodium
Acid - base balance
Infusion site
Plasma levels of chloride and bicarbonate (due to arginine administration)
Precautions
Use non-PVC IV tubing if available. If it is not available then change standard tubing every 24 hours.
Use cautiously in patients with hepatic and renal insufficiency
Peripheral line administration may cause burns
Extravasation may result in skin necrosis
This medication, specifically the sodium phenylacetate component, has a strong, unpleasant odour
If your hands or other skin areas come in contact with the solution it is recommended to clean your hands with sodium bicarbonate. Stains on clothes can be removed by adding baking soda to the wash or as a paste applied directly onto clothes
Steroids may cause breakdown of body protein and contribute to elevated ammonia levels
Do NOT mix with other infusion solutions
Dose
LOADING INFUSION
(may not be required if ammonia levels are mildly elevated (<150 ?mol/L) or if patient has few/no symptoms)
| | |
| --- | --- |
| Sodium benzoate | 250 mg/kg |
| Sodium phenylacetate | 250 mg/kg |
| L-arginine | 600 mg/kg |
| 10% Dextrose | qs 30-35 mL/kg ** |

Slow IV infusion over 90 minutes through a central (preferred) or large peripheral vein.
**Please note that the Na concentration of this solution is ~ 110 mmol / mL.
MAINTENANCE INFUSION
| | |
| --- | --- |
| Sodium benzoate | 250 mg/kg |
| Sodium phenylacetate | 250 mg/kg |
| L-arginine | 600 mg/kg |
| 10% Dextrose | qs 30-35 mL/kg ** |

Slow IV infusion over 24 hours through a central (preferred) or large peripheral vein.
**Please note that the Na concentration of this solution is ~ 110 mmol / mL.
Note: Dialysis (preferably hemodialysis) is recommended in patients who fail to significantly respond after 4-8 hours after initiating treatment.
Available
Sodium phenylacetate and sodium benzoate, BOTH at a concentration of 100 mg/mL, are present in a 50 mL vial for injection

Contents of the 50 mL vial are filtered with a Millex ® Durapore GV 33 mm Sterile Syringe Filter (0.22 micron) by Pharmacy and subsequently used to prepare solutions for infusion
Stability
physically and chemically stable for 24 hours at room temperature and in room lighting conditions
should not be administered with other infusion solutions
References
Ammonul® Product Monograph 2009 (Rev 2009), Ucyclyd Pharma Inc.
Leonard JV, Morris AA. urea cycle disorders. Semin Neonatol 2002; 7:27-35.
Lexi-Comp Online. Lexi-Comp, Inc. Retrieved November 12, 2009, from http://online.lexi.com.
Proceedings of a Consensus Conference for the Management of patients With Urea Cycle Disorders. J Pediatrics 2001 (January); 138 (Suppl 1).
Praphanphoj V, Boyadjiev SA, et al. Three case of intravenous sodium benzoate and sodium phenylacetate toxicity occurring in the treatment of acute hyperammonaemia. J Inherit Metab Dis 2000; 23:129-36.
Prepared by : Janica Chan, BScPhm
Revised by : David Knoppert, MScPhm
Reviewed by : Dr Henry Roukema
Dec 2009
 
Last Uploaded: Thursday, 26-May-2011 00:53:48 EDT