Prehospital Programmer Analyst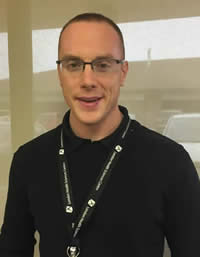 Curtis joined the Southwest Ontario Regional Base Hospital Program in November 2016 as a Prehospital Programmer Analyst.
Prior to joining SWORBHP, Curtis worked as a Software Developer within Information Technology Services for both St. Joseph's Health Care and London Health Sciences Centre. He worked as the Senior Developer on the Web Development Team and was the technical lead on countless projects while offering support for any existing web applications. He was heavily involved in all Drupal CMS based development on projects such as the LHSC and St. Joseph's intranets, both hospital's governance sites, and the LHSC policy web application. Curtis also worked closely with St. Joseph's HR leading all development on the Applicant Tracking System (ATS) which is responsible for processing all recruitment at St. Joseph's Health Care London. He worked closely with other lead developers within his team on initiatives to bring forward development standardization to ITS projects with GitLab, Redmine, and framework uniformity.
Curtis holds a Computer Programmer Anayst Diploma from Fanshawe College and has been certified in Oracle PeopleSoft PeopleTools.