Pain. Give me Bupivacaine.

2015-Feb-18

Skeptik Reviewer: Dr. Ali Albargawi

 
 

 

Clinical Fellow, Senior Resident, Working Bee, New Dad, Jimmy the Bupivacaine Giver
Case: Your 65 year old female patient is requesting something for pain before her thoracotomy for lung cancer resection.  She saw a movie on Netflix about Bupivacaine and wondered if that's something she could have.
Background:
Reference:Nosotti M, Rosso L, Tosi D, Palleschi A, Mendogni P, Righi I, Marenghi C, Santambrogio L. Preventive analgesia in thoracic surgery: controlled, randomized, double-blinded study.  Eur J Cardiothorac Surg. 2014 Dec 18. pii: ezu467. PMID: 25527168
Clinical Question: what is the efficacy of preoparative Dextromethorphan associated with Intercostal nerve Block (IB) using Levobupivacaine
Population:

Thoracotomy patients who refuse or had contraindication to epidural anesthesia.

Intervention:

PreOp Dextromethorphan with IB (PreOp or PostOp)

Comparison:

Placebo

Outcome:

cumulative morphine consumption within 1st two weeks PostPp
Author's Conclusions: PreOp administration of Dextromethorphan with PreOp IB using Levobupivacaine can provide preventive analgesia decreasing analgesic administration during the early PostOp period.
Guideline: How to use an article evaluating surgical interventions
A.  Are the results valid?
Did the trial ask a clearly focused question?

YES

Was the assignment of patients randomized?

UNSURE

Was randomization process was concealed?

YES

Were all patients who entered the trial accounted for at the end?

YES

Were all of the patients analyzed in the groups to which they were randomized?

YES

Was the follow up of subjects complete and long enough?

YES

Were patients, health workers, assessors "blind" to treatment?

YES

Were the groups similar at the start of the trial?

YES

Apart from the intervention, were the groups treated equally?

YES
B.  What are the results?
How large was the treatment effect?

How precise are the results?

Do you believe the results?

YES
C.  Do the results apply to my patients?
Were the study patients similar to my patients?

YES

Were all clinically important outcomes considered? 

YES

Are the benefits worth the harms and costs? 

UNSURE
Key Results: early postop period vs post thoracotomy syndrome.
Skeptik BEST Commentary:
Comment on authour's conclusion vs. Skeptik BETS conclusion:
What is the take home message?
Case Resolution: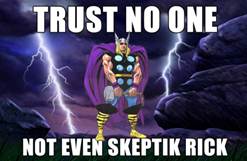 Follow us @ThoracikRick
 References: www.casp-uk.net