The

Best Seal:

THUNDERBEAT® vs

LiagSure

®

vs

Harmonic

®

2015-Mar-25

Skeptik Reviewer: Dr. Shaun Coughlin

 
 

 

Thoracic Clinical Fellow

From Vancouver, B.C.

Medical School - University of British Columbia

Future home - Kingston, Ontario

 
 

Case:

You have been asked to participate in a RFP (Request For Proposal) for your hospital's selection of a preferred provider for a surgical vessel sealing device.To prepare for the clinical evaluation you search the literature and find this article.

 
 
Reference:

Background:

Hemostasis is important for surgeons

Modern surgical scissors use energy to cut and sea

MIS tying is demanding and slo

So we use staplers, clips, or energy devices

"Why tie when you can fry?

Small vessels

- Monopolar or bipolar electrocautery (Bovie ®

)

Medium vessels

-

Bipolar or ultrasonic devices

Research Question:What is the safety and efficacy of the THUNDERBEAT ®, Harmonic ACE ® and LigaSure ®  energy devices in vivo in swine?

Population:

8 German Landrace Pigs, 45-60kg, carotid, splenic, femoral, iliac, popliteal, mesenteric, renal, axillary, brachial arteries, 10cm small bowl mesentery

Intervention Device:

THUNDERBEAT ®

(

Prototype, Olympus Medical Systems Corp., Tokyo, Japan), Integrates both ultrasonic friction heat and electrical bipolar heat when using "seal-and-cut" mode, Bipolar only works but does not cut,Ultrasonic only can not be done

Comparison Devices:

LiagSure

V ® (Valleylab Inc., Boulder, CO, USA), Harmonic ACE ®

(

Ethicon Endo-Surgery, Cincinnati, OH, USA)

Outcomes:

Safety -

Thermal profile

(

infrared camera and thermosensor), Histologic damage

(

width of tissue seal and small bowel damage)

Efficacy - Sealing capability (Seal faliure, Ex viva Burst pressures with saline infusion)
Efficacy - Cutting Speed (10cm of small bowel mesemtery and accross vessels)

 

Author's Conclusions:

"The ultrasonic and bipolar technique of the THUNDERBEAT ®

has the potential to surpass the dissection speed of ultrasonic devices with the sealing efficacy of bipolar clamps.

However, heat production that is comparable to conventional ultrasonic scissors should be minded for clinical use."

 
 

Are the results valid?

Did the study ask a clear focused question?

YES

Was the assignment of devices randomized?

YES

Was the randomization process was concealed?

UNSURE

Were all tests that were done accounted for at the end?

UNSURE

Were all devices analyzed in the groups to which they were randomized?

UNSURE

Was the follow-up of subjects complete and long enough?

NO

Were testers and assessors "blind" to the treatment?

YES

Were the objects similar at the start of the trial?

UNSURE

Apart from the intervention, were the groups treated equally?

YES

Was the study free from industry support?

NO

 
 

What are the results?

How large was the treatment effect?

30

1 arterial vessels sealed

Seal failures were NOT different, but rates not explicitly reported "<10%"

Burst pressure was higher in larger arteries with TB than with HA

734

+

64 mm Hg vs. 453

+

50 mm Hg

Cutting time was shorter with TB

Temperature was lowest with LS: < 1000C

HA and TB were hotter

 
 
Do you believe the results?

YES

 
 

Do the results apply to my patients?

Could the device be used on my patients?

YES

Were all clinically important outcomes considered?

NO

Are the benefits wioth the harms and costs?

UNSURE

 
 

Key Results:

A

ll devices worked well for small vessels (<4mm)

THUNDERBEAT®:

better sealing abilities i.e. burst pressures, twice as fast as LigaSure (4s vs 8s for large vessels)

,

hotter than LigaSure, same as Harmonic ACE

No small bowel injury if energy device > 5 mm away

 
 

Skeptik BEST Commentary:

Did have a priori hypothesis

Sample sized calculations were done

Did randomize devices and stratify for vessel size for burst pressures tests

(

Not clear how this was done, no mention of concealment

)

Statistical analysis appears correct

(

Adjusted for multiple comparisons)

How did they know to test large arteries (

>

5mm) only for TB vs HA burst pressures?

How did they know to compare speed only for TB vs LS?

Appears they were maximizing positive results!

2 devices used on each animal, not all 3

(

Different animals…different results)

Burst pressure  and histology evaluators were blinded

Other measurements were not blinded.

(

Could they have concealed the instrument?

)

Are burst pressures clinically meaningful?

(

Number of failures is a better metric)

Did not present the details of vessel size

(

Perhaps there were difference between devices)

Other clinical outcomes not tested:

(

Survival

,

Unrecognized delayed injury

,

Ergonomics of use, Sealing ability "under water", Cost)

Are they really safe?

Olympus funded the study

Authors disclosed no conflict of interest

 
 

Comment on authour's conclusion vs. Skeptik BETS conclusion:

Overall agreement, but is it safe enough for Thoracic Surgery?

(

Esophagectomy

,

Dissection near trachea)

 
 

What is the take home message?

THUNDERBEAT ® may be better than the other energy devices for sealing and speed but beware of thermal injury!

 
 

Case Resolution:

You participate in the RFP, fill out the feedback forms, and send them to HMMS??

You are still waiting for

the verdict at LHSC.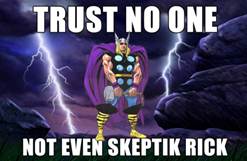 Follow us @ThoracikRick