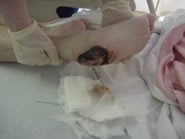 Causes:
Many foot ulcers are caused by improper foot wear or foot injury secondary to neuropathy. Patient education about proper footwear is essential for diabetic patients (patients with neuropathy often choose shoes that are too small).
Goals of treatment:
to heal or simply protect the wound
prevent infection
Things to keep in mind:
remove or prevent pressure on the area
foot care (Chiropodist)
blood glucose management
patient's actual and potential circulatory status
patient prognosis
quality of life
Suggested treatment*:
If the wound has potential to heal (adequate blood flow, albumin, blood sugar control, pressure off-loading in place):
Hard callus removed by sharp debridement (this would be done by a chiropodist, or other trained healthcare professional—MD or RN).  Once the wound base is revealed it can be properly staged.
If sharp debridement is not an option and the goal is still to heal this wound, then autolytic debridement can be achieved by using a moisture-retentive dressing, such as (Alldress with a hydrogel (eg. Intrasite gel) or an occlusive hydrocolloid dressing on its own, such as 3M Tegasorb.
If a longer application time is possible then a foam dressing such as Mepilex Border or Allevyn could also be used with a dab of hydrogel, such as Intrasite gel.
If the wound is non-healing (maintenance), then the goal is to simply protect the wound...
a dry gauze and kling dressing can be applied, and changed prn (would likely not require daily change).
Wrapping a Heel with a Foam Dressing
Mepilex® by Mölnlycke is one option for a foam dressing without a border

Peel away the backing from the dressing

Place the foam slightly to one side on
the bottom of the heel leaving
enough dressing to fold up

Fold dressing carefully into a three sided-cup avoiding excess wrinkles

Wrap securely with kling

Some foam products are available in heel forms to increase ease of application and decrease the bulk associated with folding a square dressing.
* All suggested treatments and dressings in this web site were evidence based choices by the authors and by no means represent the only dressing option available.
return to Example Wounds & Dressings