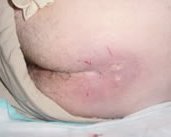 Goals of treatment:
to heal the wound
to prevent further breakdown
Things to keep in mind:
remove or prevent pressure on the area
observe for infection
if there is a large amount of fecal incontinence or difficulty keeping the dressing on you may consider using a barrier cream (Baza with or without Proshield or Critic-Aid Clear) instead of a dressing up to and including Stage 2 ulcers
Suggested treatment*:
a sacral shaped Tegasorb is the suggested dressing* for this wound
spray No Sting Spray on the periwound skin to protect the skin and increase adhesion of the dressing
apply the Tegasorb (as demonstrated below)
respray No Sting Spray over the border of the Tegasorb to increase adhesion


Applying a Sacral Dressing
| | | |
| --- | --- | --- |
| Fold sacral dressing in half | Pinch the fold to form a crease "Bookmarking" | Peel off the entire backing |
| Insert "bookmark" into the patient's fold, above the rectum and secure the dressing up the middle | Secure the dressing out the sides using the heat of your hand and slight pressure to help it adhere | Slowly peel away the border while securing the tegaderm with your fingers |
Ensure skin under adhesive is dry and intact.
Dressing should extend 1" beyond the wound edges.
Dressing should be changed every seven days or before, if leaking.
No Sting Spray may be used on surrounding skin to increase adhesion.
* All suggested treatments and dressings in this web site were evidence based choices by the authors and by no means represent the only dressing option available.
return to Example Wounds & Dressings