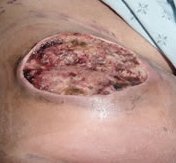 Goals of treatment:
to heal the wound
prevent maceration of periwound skin
Things to keep in mind:
relieve the pressure that caused ulcer
decrease potential of maceration of periwound skin
minimize frequency of dressing changes
if exudate is increasing, consider infection
maximize nutrition and hydration

Suggested treatment*:
Aquacel would be the suggested dressing* for this wound
Spray periwound skin with No Sting Spray to protect it from maceration
Place Aquacel sheets in the wound bed and cover with dry dressing. Cover dressing choice depends on wetness: gauze and abd pads for daily changes, Alldress for changes q2-3 days or a foam dressing (Allevyn, Mepilex) for changes q3-5 days.
Multiple layers of Aquacel can increase time between dressing changes
Aquacel should be changed when it has turned to a gel
* All suggested treatments and dressings in this web site were evidence based choices by the authors and by no means represent the only dressing option available.
return to Example Wounds & Dressings