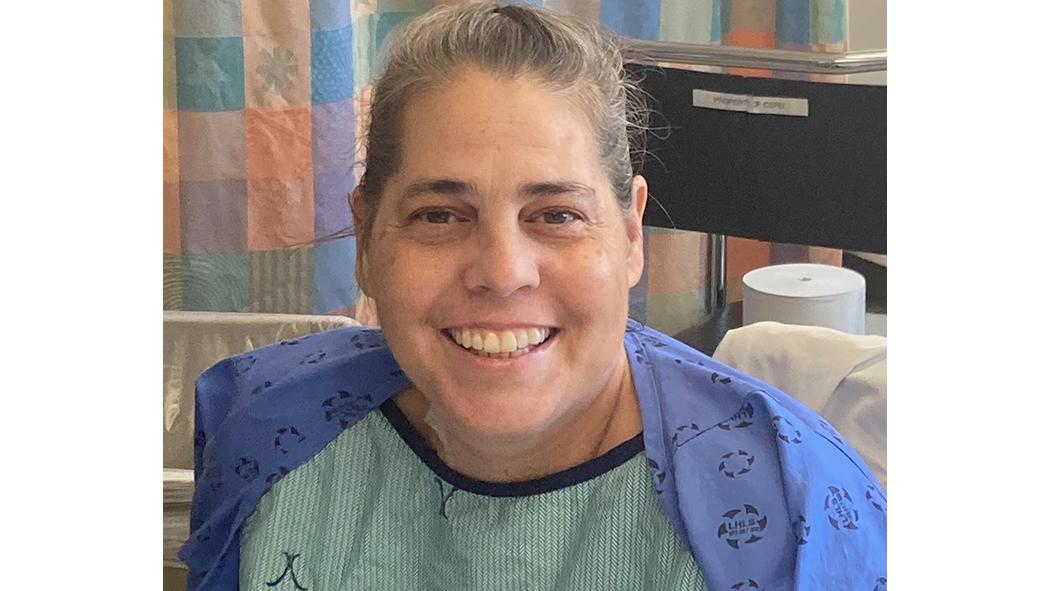 Jill Gyurindak recently received a heart transplant after being diagnosed with cardiac sarcoidosis -  a rare inflammatory condition that can lead to cardiac issues, including heart failure.
April 28, 2022
"I was just feeling a little off," explains Jill Gyurindak as she begins to recount the health journey that led to her needing a heart transplant.
Jill, a 51-year-old woman from Windsor, Ontario, began experiencing pain and shortness of breath in summer 2021.
"I went to the park one day to play croquet and have a picnic with my daughter when I got really short of breath," she recalls. "The following day, I went to hospital in Windsor. The next thing I remember, I woke up on a CentriMag."
A CentriMag is an external blood pump that provides short-term support to the body's circulatory system for those with acute heart failure. Jill had been transferred to London Health Sciences Centre's (LHSC) University Hospital. She underwent lifesaving cardiac surgery from Dr. Dave Nagpal, cardiac surgeon at LHSC, that allowed for the CentriMag to provide her body with the support it needed.
"Dr. Nagpal saved my life," says Jill. "He explained to me that they did a biopsy while I was out. They found I had an autoimmune disease called cardiac sarcoidosis."
Cardiac sarcoidosis is a rare inflammatory condition that can lead to cardiac issues, including heart failure.
"Dr. Nagpal explained that I was going to need a heart transplant," says Jill. "It was all surreal, but I knew I had a great care team behind me. I focused on staying positive and strong."
Jill spent her time waiting for her new heart in the Cardiac Surgery Recovery Unit (CSRU), staying as active as possible. She credits the dedicated registered nurses, respiratory therapists, perfusionists, nurse practitioners, physiotherapists and so many others working across the CSRU, cardiac care and transplant units with providing exemplary care. She notes they all helped to keep her spirits up.
"With visitor restrictions due to the pandemic, I was only allowed one visitor at times," she explains. "The nurses and perfusionists were amazing and always kept me in good spirits. One would come in every day and tell me really bad dad jokes that had me howling with laughter. They helped fill the gap when my family couldn't be with me."
She also notes the importance of her social worker, Heather Sadler, throughout her time in hospital.
"Because visitors were limited, Heather would come down every day and check in to see how I was doing," Jill says. "A lot of emotions and fears were surfacing and she helped me to navigate those, allowing me to stay focused and positive during the transplant experience."
Nearly a month after she woke up, Jill received a new heart. Her transplant surgery was performed by Dr. David Drullinsky, cardiac surgeon at LHSC. Today, she is recovering well.
"I am so full of gratitude knowing somebody wanted me to have a second chance. I honour that and I am going to do everything I can to live fully with this heart," she says. "I have a 13-year-old daughter. I want to see her graduate grade eight and go to high school. Now the little things mean more; they're all significant. This gift is time with her. It's getting to talk to her."
Looking forward, Jill is eager to get back to kayaking, hiking and picnicking with her daughter. She notes her health journey has been life-changing.
"It changes you; it really does. It changes your perspective on life," she notes. "It reminds you to do what you love, enjoy time with family and laugh."
Jill encourages others to consider registering as an organ donor to provide a life-changing gift like the one she received.
"By giving an organ, you are giving someone and their family a second chance at life. You are offering hope and a beacon of light."
Are you interested in becoming an organ and tissue donor? Learn more and register at www.beadonor.ca.