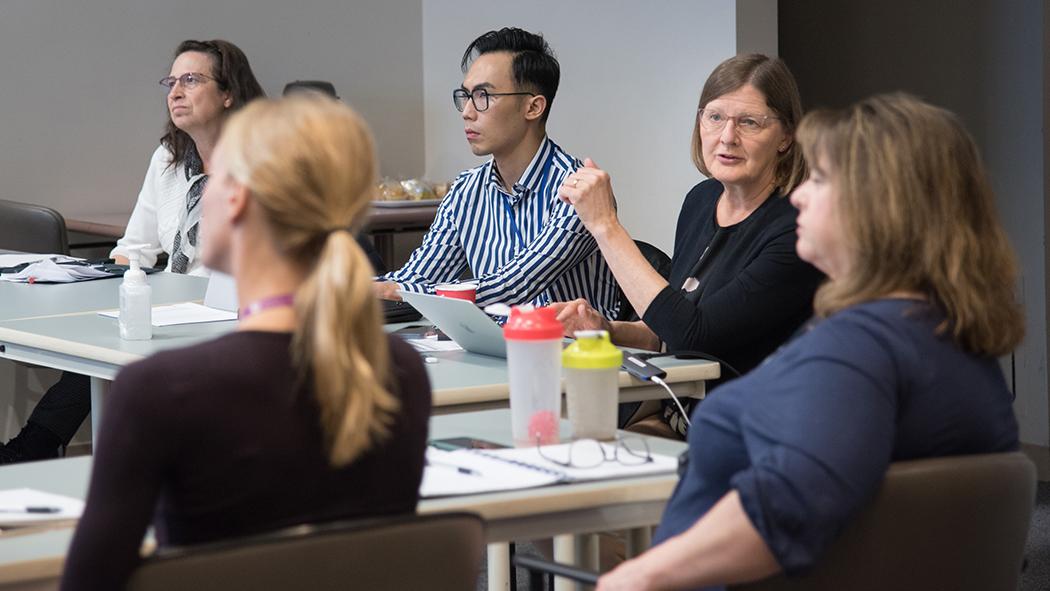 Photo: London Regional Cancer Program (LRCP) health care providers in a palliative education session.
August 30, 2023
At the beginning of 2023, the government of Ontario in partnership with Ontario Health (Cancer Care Ontario) and the Ontario Palliative Care Network provided approximately $305,000 towards palliative care education for health care providers within the South West Regional Cancer Program (SWRCP). This was part of a broader provincial strategy to increase health professionals' knowledge and skills aligned to the Ontario Palliative Care Competency Framework. The funding supports a wide range of health providers such as health disciplines professionals, physicians, nurses, community paramedics and system administrators with the tools and knowledge needed to better meet the needs of patients facing a life-limiting cancer diagnosis. Hospitals providing cancer care with their community partners including Indigenous communities across the region were invited to submit applications for this education funding opportunity.
"Our government is supporting health care workers with this investment to boost palliative care education and help ensure Ontarians can connect to comfortable and dignified end-of-life care, close to home," said Sylvia Jones, Deputy Premier and Minister of Health. "This funding is one more way we are strengthening palliative care as part of our recent announcement of $147.4 million over three years to expand hospice and palliative care across the province."
What does this education funding mean for patient care?
This education opportunity is a chance for health care practitioners and system leaders in the South West to provide care and lead services that reflect best practices in palliative care.
"Palliative care is not just end-of-life care," explains Dr. Kelly Fenn, MD CCFP, Grey Bruce Palliative Medicine Group and Medical Director with the Grey and Bruce Community Paramedicine Programs. "When palliative care is integrated early on in the illness experience, we can anticipate issues and improve the quality of life of the patients and families we serve."
From a provider lens, this professional development opportunity provides a solid foundation of understanding for a variety of disciplines – social work, nursing, spiritual care, and medicine, among others – to expand their abilities to provide palliative care, as well as a better understanding of the resources and supports available locally to meet patient needs.
"Introducing palliative care early on in the patient's journey has been shown to improve patient outcomes," says Dr. Alex Hodgson, MD CCFP(PC), Medical Director Chapman House Grey Bruce Hospice, GBHS Palliative Care Division Physician Lead. "With better symptom management, which is one of the hallmarks of palliative care, patients are able to participate longer in treatment. This is about treating the whole person and approaching care with a patient's goals and autonomy in mind instead of through a prescribed approach."
With more palliative care funding to educate staff and physicians across the South West health care system, palliative care can be introduced early in the disease trajectory to ensure the appropriate supports are put in place as a patient and family's needs change.
Ontario Health (Cancer Care Ontario) Indigenous Cancer Care Unit
The Ontario Health (Cancer Care Ontario) Indigenous Cancer Care Unit aims to improve cancer care with, and for, First Nations, Inuit, Métis and urban Indigenous peoples in Ontario. In Southwestern Ontario, Lisa Jackson, Indigenous Project Coordinator/Resource Consultant, SWRCP, and Rachel Sutherland, Indigenous Navigator, SWRCP, work to improve equitable access and care for Indigenous people to ultimately improve cancer outcomes.
"Even though I am not patient facing, I talk to a lot of community members and organizations. This palliative education opportunity adds to our knowledge that we can share with others," Lisa Jackson says. "Our communities are surrounded by families who deeply care for one another and with this education opportunity, we are able to include this in our skillset and provide that knowledge to patients and families so they can better understand what is happening with their loved one who is sick."
Rachel Sutherland noted that this is a program that needs to be done in partnership with Indigenous communities. "On a professional level, my goal is to build capacity within communities to support palliative and end-of-life care," Sutherland shares. "Palliative care looks at a person in a wholistic way."
Rachel Sutherland is planning on bringing this education to local Indigenous communities through a conference for death doulas in the fall. "Palliative care also extends beyond pain management. Death doulas ask what people want their death to look like and build comfort in having those conversations around death and advanced care planning."
The fact that this education opportunity is open to such a wide breadth of practitioners and administrators is an important step in the work towards building health equity for Indigenous people in the region.
"This is a start to building capacity within local Indigenous communities and within medical health care practitioners to support communities," Sutherland says.
This is just the beginning
Staff and physician interest in learning more about palliative care has been significant. "We are seeing huge interest which shows that people want this education, that health care providers want to do a better job in providing and supporting a palliative approach to care," Dr. Hodgson shares. "As health care providers, we understand the importance of access to skilled palliative support and care. This education is the foundation we can build off of for the future."
Dr. Fenn shared how important it has been for health care providers to connect and build relationships and knowledge together with multiple disciplines during these education sessions. "Getting people into a room or online together, connections are being made. There hasn't been a lot of opportunity to do this in the past few years because of the pandemic, so we are excited for this opportunity to share and learn together, and in turn, educate patients and families about palliative care and provide more wholistic patient support."
Devon Pilkington, Clinical Educator, Nursing Professional Practice (Oncology) at London Health Sciences Centre (LHSC) says, "Nurses already do a lot of patient education where they inform patients on what to expect as they move along in their health journey. In oncology, where I support, we take care of patients and their family members. And with the palliative care component, this education will help nurses provide access to those services earlier for patients."
While this funding is a one-time opportunity specifically for palliative care education for health care providers, staff and physicians remain committed to engaging in professional development opportunities for the benefit of providing excellent patient care with the most up to date practices.