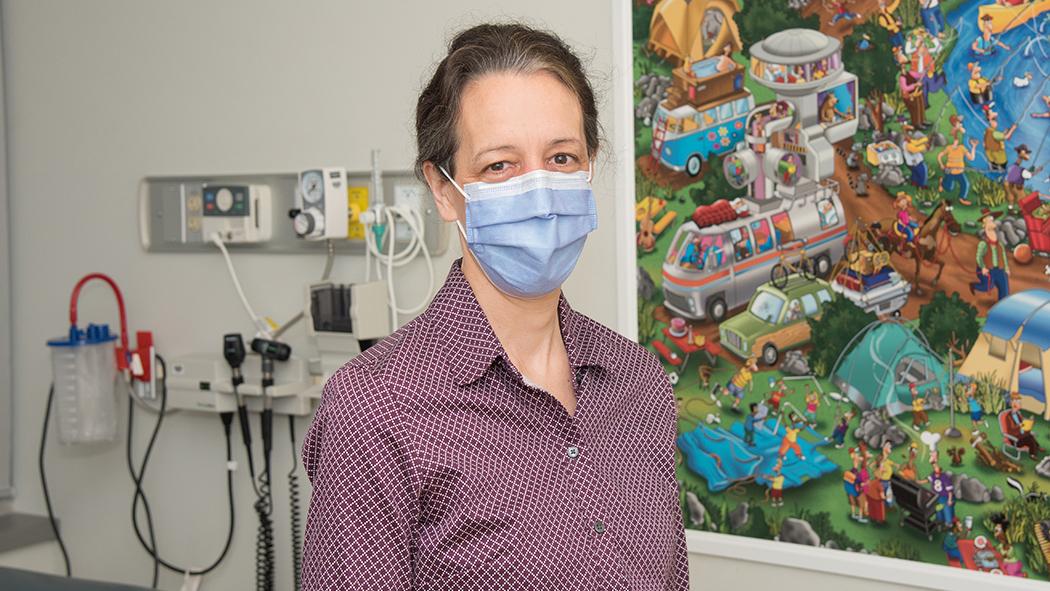 April 22, 2022
Spotlight: Research Chair in Paediatric Neurosurgery and Neuroscience
The human brain is critical to a child's development. Within a few years of life, the brain enables us to sit, walk, talk and eventually make independent decisions. But that journey can be complicated by trauma, disease or disorders like epilepsy.
"For some children, brain surgery may be required," explains Dr. Sandrine de Ribaupierre, paediatric neurosurgeon at Children's Hospital at London Health Sciences Centre (LHSC). "In order to plan the most effective surgery, we need to better understand brain development. We need to see inside the brain to understand more about its different areas and the way they communicate."
As part of LHSC's Academic Realignment Initiative Awards, Dr. de Ribaupierre was recently named as the Children's Hospital and Children's Health Foundation Endowed Research Chair in Paediatric Neurosurgery and Neuroscience. In this role, she will lead a multidisciplinary team to improve neurosurgery by furthering our understanding of brain development and how it is impacted by complex diagnoses like epilepsy, tumours and traumatic brain injury. The team will also leverage augmented and virtual reality tools to improve surgical planning and the patient experience.
Getting a clearer picture
Like fingerprints, no two brains are the same. Neurosurgeons need to understand as much as they can about the patient's unique brain to reduce the risk of surgical complications, such as impacts on brain function.
"Survival rates for many neurological conditions have increased over the years, but there is now a focus to improve quality of life following surgery," explains Dr. de Ribaupierre. "Our goal is to advance personalized surgical planning to optimize patient outcomes."
Dr. de Ribaupierre's team will do this by leveraging advanced medical imaging like functional MRI (fMRI), 3D ultrasound and functional near-infrared spectroscopy (fFIRS), which is advanced imaging to visualize oxygen in body tissues. Some of their projects will include:
Investigating the best timing for surgery to treat infantile hydrocephalus (a condition often associated with premature births and brain bleeds where too much fluid is retained in the skull). Dr. de Ribaupierre's team will develop bedside imaging tools to determine the best timing for surgery and to study any differences in brain circuitry (activity and connections between different parts of the brain) between children with hydrocephalus and those without. They hope to develop treatment guidelines that lead to the best possible outcomes.
Advancing epilepsy and brain cancer surgery. Before epilepsy surgery, a number of tests are performed to assess potential risks. A first step is to implant electrodes in the brain to monitor activity and pinpoint the location of seizures. A team at Children's Hospital was the first in Ontario to implant these electrodes with robotic assistance in 2019 and recently secured a state-of-the-art robotic arm to continue these innovative procedures. Dr. de Ribaupierre's team will pair these techniques with advanced imaging that more specifically determines areas of the brain responsible for critical functions such as language, vision, motor skills or sensory abilities. Insights will be used to reduce risks when planning for surgery. Similar imaging tools will also be used when planning for surgery to remove a brain tumour.
Understanding severe traumatic brain injury. Dr. de Ribaupierre's team will study functional imaging like fMRI as a way to predict outcomes in children with severe traumatic brain injury. Understanding potential outcomes will help in planning for brain rehabilitation and surgery.
Entering a virtual reality
Virtual and augmented reality are becoming more prominent in medicine. Dr. de Ribaupierre sees great potential in these tools when planning surgery for children with neurological conditions. They could, for example, be used by surgical teams to visualize the brain when planning surgery to remove a brain tumour.
Dr. de Ribaupierre's team will also assess the use of virtual and augmented reality to enhance the experience of patients and their families. Virtual models of the patient's brain will be used to visualize the patient's condition and the surgery being planned.
"We normally show MRI images when we explain a diagnosis, but they are often difficult for patients and their families to understand," explains Dr. de Ribaupierre. "Virtual reality models will go a long way in explaining the diagnosis and proposed surgery to help patients and families make informed decisions."
Similar tools will be used to design a 'virtual Children's Hospital' in collaboration with child life specialists. Patients will be able to experience Children's Hospital through virtual reality prior to a hospital visit. They will be able to virtually walk into different rooms, enter the MRI scanner or the operating room, and experience different scenarios tailored to their individual needs. The hope is that this will lessen patient anxiety.
"Our goal is to enhance the patient and family experience while advancing Children's Hospital as a leader in paediatric neurosurgery," says Dr. de Ribaupierre. "Working together, we aim to generate knowledge that will improve the lives of patients around the world."