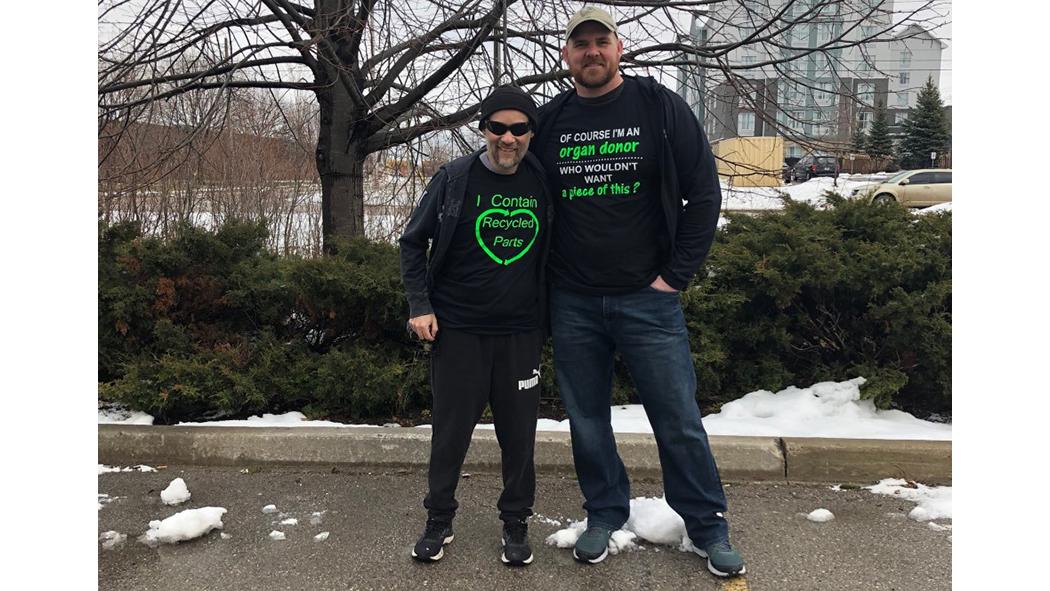 Alain (left) and Chris (right), both officers with the Ontario Provincial Police, were strangers to each other before Chris donated a kidney to Alain.
April 26, 2022
When Chris Halverson saw that a fellow officer with the Ontario Provincial Police (OPP) needed a kidney transplant, he was compelled to step forward. What followed next was a lifechanging surgery and a story of camaraderie and hope.
Alain St. Jacques, a 47-year-old OPP officer from Sudbury, Ontario, had been living with kidney disease for 12 years when he was told he needed a transplant. His kidney disease had progressed to the point where he needed home dialysis every night.
"The OPP Association put out an email looking for a living kidney donor for Al (Alain)," explains Chris, a 45-year-old OPP canine handler from St. Thomas, Ontario. "I happened to have just been through donor testing. I talked it over with my wife and put my name forward."
Chris' wife, Nicolle Halverson, understands firsthand the importance of kidney donation. Nicolle has type 1 diabetes which led to end-stage kidney failure. She herself had been undergoing dialysis and needed a kidney transplant.
"I went through all the testing but unfortunately wasn't a match," says Chris. "Luckily for us, her brother, Ryan, was one."
Nicolle had a successful kidney transplant at London Health Sciences Centre's (LHSC) University Hospital in January 2020. The day she came from hospital was the day that Chris received the email about Al. When Chris approached her about donating his kidney, she was very supportive.
"As luck would have it, Al and I were a match," says Chris.
The living donor kidney surgery and the kidney transplant were performed in November 2020 at LHSC's University Hospital by Drs. Alp Sener and Patrick Luke, surgeons with LHSC's Multi-Organ Transplant Program. For both Chris and Alain, it was a lifechanging procedure.
"I was flabbergasted that somebody would do that for me – donate a kidney. I was overwhelmed and just so thankful," says Alain. "My life has changed 180 degrees. I can do pretty much everything now. I'm not as tired and I don't need dialysis."
For Chris, the procedure allowed him to give the gift of life.
"Al was a complete stranger to me, but I had seen firsthand how a living kidney donation saved my wife's life," notes Chris. "The ability to pay it forward and give the gift of life was really inspiring to me and something I was proud to be able to do."
Chris, Alain and their significant others are now good friends.
"We've been in constant contact through phone and text," says Chris. "We meet up for dinner when we can."
"I've basically gained another brother," adds Alain.
They both credit the teams at LHSC for providing great care despite the challenges of the pandemic.
"The pandemic and visitor restrictions made things a little more difficult, but the staff and physicians at LHSC were fantastic," says Chris. "They really provided us with an exceptional level of care."
For Drs. Sener and Luke, Chris and Alain's story highlights the importance of living kidney donation. In North America alone, there are more than 100,000 people waiting for a kidney transplant. Unfortunately, many do not receive one due to reliance on kidneys from deceased donors.
"Having living donors come forward to donate their kidney is truly a gift of life to a patient on the waitlist," shares Dr. Sener. "The journey of Chris and Alain is truly inspirational to others who may be considering being a living donor. The impact of that single, selfless act not only has an immediate impact on the recipient's wellbeing and their quality of life, but it also allows another person on the waitlist to move up and come that much closer to receiving a transplant from the deceased donor pool. We only wish that more people would consider becoming living organ donors."
Chris and Alain would also encourage others to explore becoming a living donor.
"I would recommend people look into it," says Chris. "The ability to change or prolong someone's life is the best gift you can ever give. You will experience a feeling of total personal satisfaction to provide that to someone, whether a loved one or a stranger."
"If you can, do it; you don't know how much you can change somebody's life," adds Alain. "I'm so grateful to Chris and his family for giving me a second chance at life."
Are you interested in becoming an organ and tissue donor? Learn more and register at www.beadonor.ca. You can also learn more about living kidney donation on LHSC's Multi-Organ Transplant Program website.