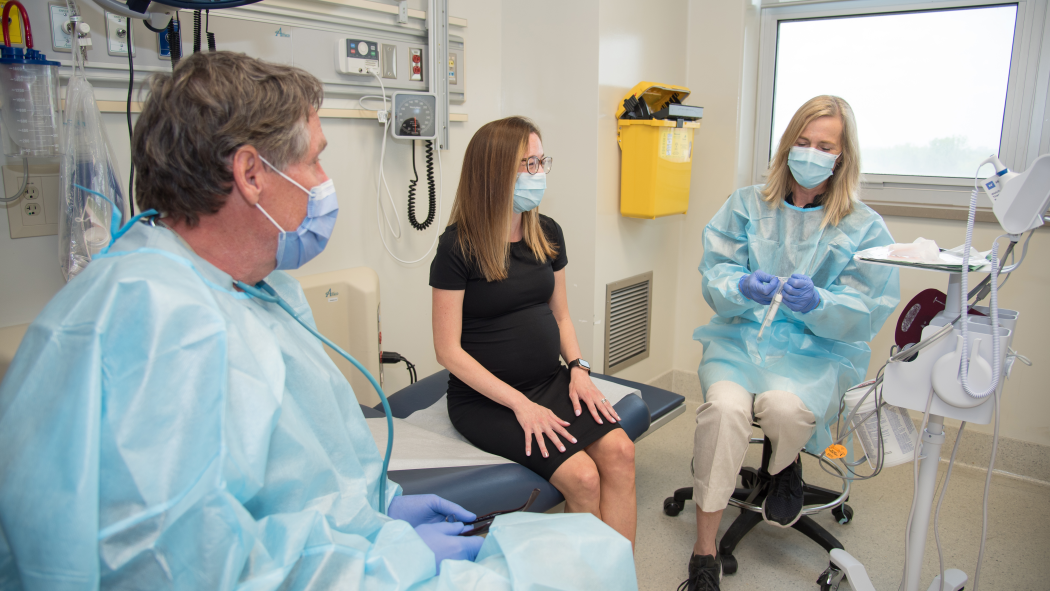 May 24, 2023
The Adult Cystic Fibrosis (CF) Clinic at London Health Sciences Centre (LHSC) is seeing an exciting increase in the number of patient pregnancies because of advancements in treatment and care. While the life-threatening genetic disorder typically makes women half as likely as those without CF to conceive, the introduction of life-changing drug Trikafta has made six new pregnancies at the clinic possible.
"I've been working in the clinic for over 15 years and have never seen this number of pregnant patients," says Tracy Gooyers, Nurse Case Manager with the Adult CF Clinic. "The developments in CF treatment we're seeing have been life-changing, particularly for those wanting to start a family."
Among the six pregnant people receiving care from LHSC's Adult CF Clinic are Samantha Langlois from Essex County and Samantha Hunt from Sault Ste. Marie – both of which are expecting their first child.
Despite living outside the region, Langlois and Hunt visit LHSC's CF clinic three to four times a year, either in-person or virtually, for specialized treatment, which includes taking samples of their sputum to test for infection, and checking their lung function, vitals and weight.
"While CF treatments are still onerous on our patients, many are feeling encouraged by how quickly their symptoms are improving," says Dr. James Lewis, Director of the Adult CF Clinic. "What's more, they're experiencing less side effects, fewer infections and therefore fewer hospital visits. They're even able to stay on their treatments throughout their pregnancies."
Samantha Langlois' story
Samantha Langlois grew up in Wheatley, Ont., about an hour and a half southwest of London. Diagnosed with Cystic Fibrosis at birth, she's been under LHSC's care from a young age.
Growing up, she enjoyed playing 'house' with friends, often eagerly taking on the role of mother.
"I always dreamed of being a mom in real life," says Langlois. "But I knew from a young age that there was a good chance it wasn't going to become a reality for me."
When she was born, Langlois' parents were told that she'd be lucky if she made it to kindergarten. Then, when she made it to kindergarten, they were told she'd be lucky if she made it to prom.
Now, the 35-year-old Registered Pharmacy Technician is expecting her first child with husband Gary this summer. The pair have been together for 12 years now.
"After consulting reproductive specialists and trying to conceive for years with no luck, we felt very discouraged," says Langlois. "I had started to accept that I'd probably only ever be the cool, fun aunt when I learned about Trikafta and that I still had a chance."
Then about 10 months later, she received the news she was longing for.
"These new drugs have really changed my life," says Langlois. "Not only was I finally able to get pregnant, but I'm living a whole different lifestyle overall because I'm not coughing all the time."
Langlois used to become sick enough to be admitted to the hospital multiple times a year, but since starting Trikafta, she hasn't been hospitalized once. Although still a struggle, she's been able to get up to a healthier weight and has generally been feeling well throughout her pregnancy.
"If I didn't have Dr. Lewis, Tracy or the rest of my care team, I would not be where I am today," Langlois says. "I feel very grateful to have a chance at a normal life – and a new little bestie on the way."
"I just can't wait to see what she looks like," she adds.
Samantha Hunt's story
Samantha Hunt was five years old when her family found out she was one of about 4,300 people living with Cystic Fibrosis in Canada. She was referred to LHSC's Paediatric CF Clinic, where she would receive ongoing, specialized care for the next 12 years of her life. Then, at age 18, she transitioned to the Adult CF Clinic.
"It was a big step," says Hunt, now 32 years-old. "But also an exciting step because not everyone with Cystic Fibrosis gets to make it this far."
In the spring of 2018, Hunt started dating her now-husband, Kyle. They got married later that year and started trying to conceive right away, with no success despite undergoing fertility treatments.
Then last year she was approved for Trikafta, and in what felt like no time at all, everything changed.
"I just couldn't believe I was finally pregnant," she says.
But treatment advancements like Trikafta have gifted Hunt with more than just a chance at motherhood: Her feeding tube of seven years has been removed, she's gained a healthy amount of weight and her lung function has improved.
"Things have been going really good," says Hunt. "I've actually never felt better in my life."
Despite living almost six hours from LHSC in Sault Ste. Marie, she rests easy knowing the Adult CF Clinic is always there for her – virtually or in person – when she needs it.
"All I have to do if I'm having any issues is pick up the phone and the staff have it figured out before the day is through," she says.
With her Cystic Fibrosis well managed, Hunt will give birth to her first child in just a few short weeks. She credits Trikafta, Dr. Lewis, Tracy and the rest of the team at the clinic for helping her become healthy enough to deliver her little one at the hospital back home, where she can be near family and friends.
Growing up with Cystic Fibrosis, you learn about your health and what it means for your future at a young age," says Hunt. "I knew the average life expectancy for someone living with CF was only 34 at the time, so to be able to, not only live into my thirties – but also be healthy enough to start a family in my thirties – is just amazing."
About Cystic Fibrosis 
Cystic Fibrosis (CF) is a genetic disorder caused by a mutation in the cystic fibrosis transmembrane conductance regulator (CFTR) gene. The mutation causes a buildup of thick, sticky mucous that clogs the lungs and other organs, causing frequent lung infections and eventually respiratory distress. While often identified at birth or shortly after using a blood test and examining family history, CF is a chronic and life-threatening condition that requires ongoing management.
Until recently, approved drugs could only treat symptoms of the disease, and not necessarily its underlying cause. This changed in 2020 when Health Canada approved compassionate access to Trikafta for select patients, followed by a full approval in 2021. The CFTR modulator uses three separate drugs to target the faulty proteins, helping them work more effectively.
The Adult Cystic Fibrosis Clinic at LHSC's Victoria Hospital currently treats about 140 patients over the age of 18, 95 of which are now on Trikafta. The number of patients the clinic sees has grown steadily by 75 per cent since 2008, due in part to medical advances that have resulted in CF patients living longer than before.