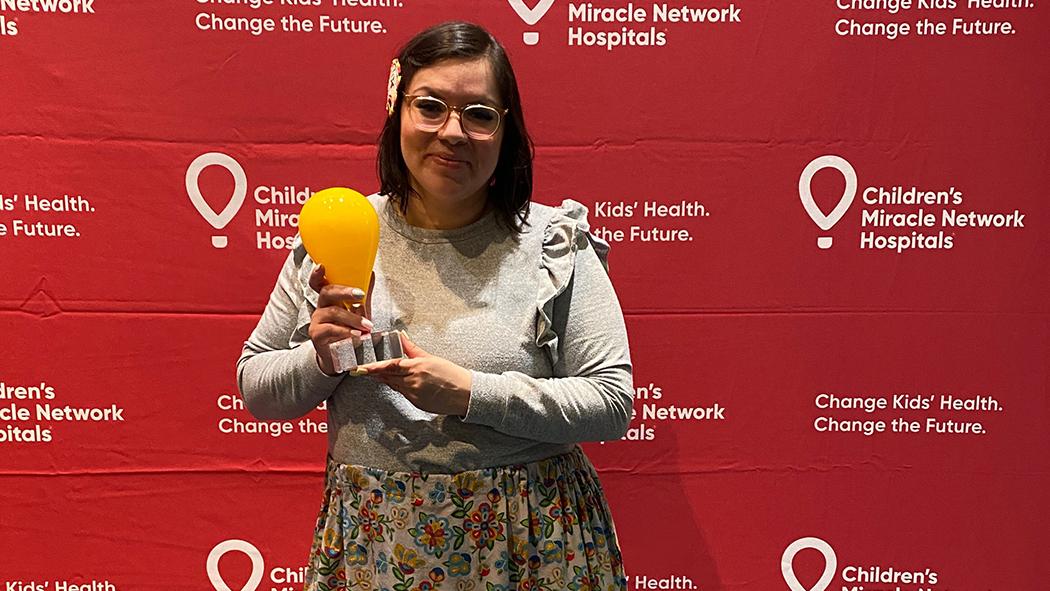 Indigenous Youth Wellness Consultant, Nicole Yawney, receives the Children's Miracle Network Canadian Impact Award
April 19, 2022
With a listening ear, a helping hand and an abundance of expertise at the ready, Nicole Yawney connects Indigenous children, youth and families with traditional healing at Children's Hospital at London Health Sciences Centre.
In just ten short months as the Indigenous Youth Wellness Consultant, Nicole has made a profound difference in the lives of Indigenous families requiring care at Children's Hospital. A difference so monumental that she was awarded the Canadian Impact Award at last week's Children's Hospitals Week Conference in Orlando, Florida.
This honour is reserved for one doctor, nurse, caregiver, or team across Canada and recognizes their significant impact on the care provided to children in their hospital. Children's Health Foundation and Children's Hospital are thrilled to congratulate and celebrate Nicole for her incredible and meaningful work.
Since July of 2021, Nicole has built meaningful therapeutic relationships that create an atmosphere of belonging and safety for Indigenous patients and their families while in hospital and has made immense strides in building connections with Indigenous families, communities and organizations in our region. Her expertise, compassion and lived-experience help open doors for her patients to feel accepted, understood and welcomed to incorporate traditional Indigenous healing practices into their care.
"I realized at a young age how important it is to have someone who shares that lived experience and who can bring culture into care. I am able to bring a traditional lens to a Western approach to health care, which is what I've always wanted to do in my life; work with Indigenous populations as an Indigenous person."
The support of Children's Health Foundation donors made it possible to launch and sustain Nicole's work at Children's Hospital. Their generosity has helped ensure the best care for more families at Children's and more hope for our broader community. As Nicole explains, "when we invest in the healing of a child, we heal seven generations back and seven generations forward. We heal a part of their family, part of their community and their nation. It creates such a ripple effect." Together, we are creating a better health care community for Indigenous kids and their families.
"Each small show of support and appreciation means more awareness of Indigenous-led care and more impact on the lives of Indigenous children and their families. We are so excited to see Nicole's hard work and dedication recognized in such a large way," says Scott Fortnum, President and CEO of Children's Health Foundation. "We want to thank our supporters for helping to bring this position to Children's Hospital. Nicole's role was made possible with support from donations by the Aubrey & Marla Dan Foundation, General Dynamics Land Systems–Canada, GE Healthcare Canada, LCBO, TD and our generous community."
"Ultimately, Children's Miracle Network's Canadian Impact Award is an exemplary beginning for Indigenous-led services at Children's Hospital," says Jackie Schleifer Taylor, President and CEO of London Health Sciences Centre. "We simply cannot wait for Nicole to continue these meaningful connections that ensure Indigenous children and families feel supported in their care. We cannot thank her enough for her incredible dedication and the meaningful relationships she is helping to build."