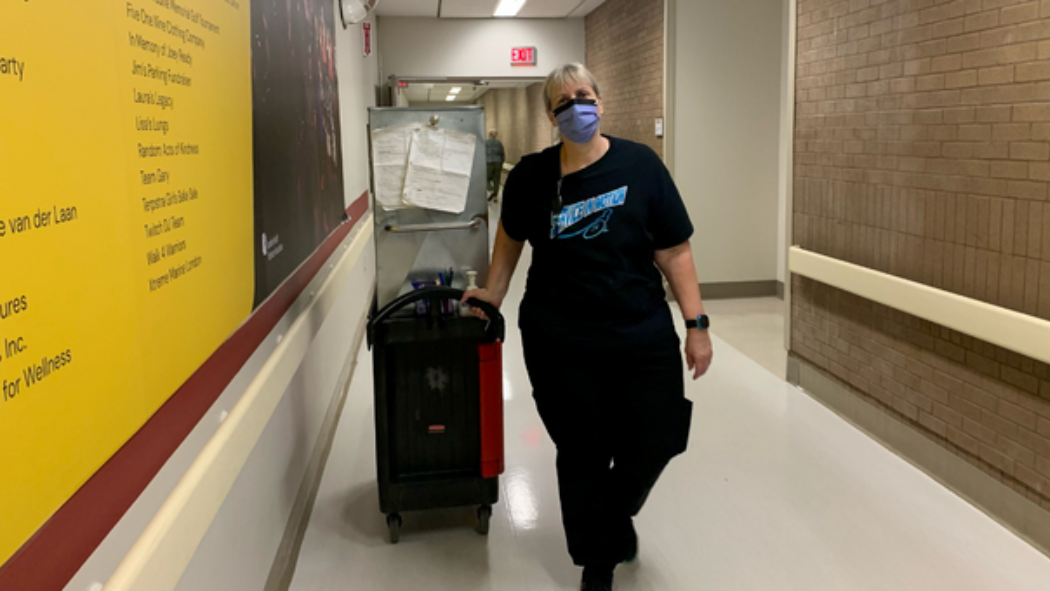 November 7, 2022
From November 7 to 11, LHSC celebrates Porter's Week. This is a perfect opportunity to learn more about how porters and dispatchers fulfill a vital service for the hospital, especially for patients.
With almost 200 between University and Victoria Hospital, porters and dispatchers have become the eyes, ears and feet of LHSC. They are responsible for ensuring that people and items travel from one point to another in a safe and timely manner.
Porters deliver essential equipment throughout the clinical areas of the hospital. In fact, a porter takes about 20,000 to 30,000 steps in a typical day. That is a little more than half a marathon and nearly seven times the average number of steps Canadians take (4,819) each day.
The COVID-19 pandemic brought many challenges in patient care and safety protocols; however, porters and dispatchers continue to provide a high level of compassionate service to patients, staff and physicians.
"They were moments of great tension and have been to date, but the portering dispatch department knew how to handle a greater volume of calls efficiently and quickly. Good organization and communication were vital to transfer patients, deliver pharmacy supplies, lab samples, and more," explains Jaclyn Payne, Coordinator of Support Services.
Did you know?
The Portering Dispatch handles almost 500,000 calls in a year.
From January to December, nearly 54,000 packages are transported.
If you lined up, end to end, all of the stretchers transported in a year, the line could extend from London to just past Oshawa, ON (250 km).
Last year, porters transported about 17 million kilograms (just over 2,800 elephants) of linen throughout the hospital.
Make sure to stop by the Porters' Booths (located at B2 in VH and outside the cafeteria at UH) November 7 to 10, from 11 am to 4 pm to congratulate them as they make a real difference in the patient experience at LHSC.
Please consider supporting Sari Therapeutic Riding (Porters' charity).