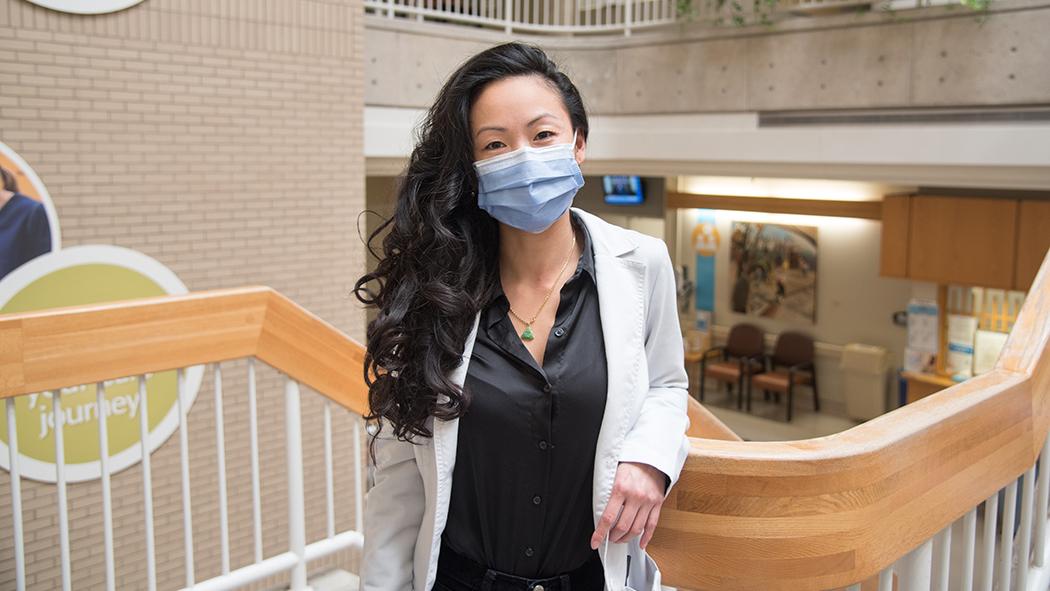 November 14, 2022
A Nurse Practitioner (NP) plays an integral and unique role within a hospital setting and within the health care system. London Health Sciences Centre (LHSC) recognizes and celebrates the approximately 100 NPs within our organization who provide excellent wholistic care to patients, teach and mentor nursing students and medical learners, as well as participate in and lead interprofessional research furthering the knowledge of their specialty areas.
How do you become an NP?
An NP begins their career as a registered nurse (RN). They require eight years of combined academic training and clinical experience before they are considered for entry into practice. To become an NP, a person must have a Master's degree in Nursing and have graduated from an approved Nurse Practitioner program, and be successful in the mandatory registration and credentialing exams.
Since Nurse Practitioner is a protected title, a person cannot call themselves an NP unless they have met these requirements. NP education is wholistic, grounded in the values, knowledge, theories and practice of nursing and medicine. NPs are regulated by the College of Nurses of Ontario (CNO) and for NPs to be eligible for registration renewal with the CNO each year, NPs must participate in quality assurance, continuing education and meet practice requirements.
The full scope of NP practice is recognized by the government and continues to expand their scope of practice to improve universal access to health care.
There are a number of NPs within LHSC who have gone beyond obtaining their Master's degree and either have their PhD/doctorate degrees or are on their way to obtaining them.
What role do NPs play within a hospital setting?
NPs are dedicated employees of LHSC who help provide wholistic people-centred care. NPs may work independently, as the Most Responsible Provider (MRP), or within a collaborative team alongside physicians. An MRP is a regulated health care professional, like an NP or physician, who has responsibility for directing and coordinating the care and management of a patient.
Within hospitals, NPs help ensure patients are safe during their stay, help decrease their length of stay, decrease adverse events, provide seamless care from hospital to home, improve discharge times, help patients navigate the health care system, keep patients out of hospital through virtual and telephone care, and much more.
NPs are represented in almost every area of specialty within LHSC, and within their specialties, NPs may have unique areas of focused practice. For example, an NP who works in Neurology (a specialty field) may have further specialization in seizures and headaches in children. This is different from NPs who work in primary care settings who have a generalized knowledge and skill set focusing on less acute health needs.
Who might be treated by an NP at LHSC?
Since NPs have such an extensive and varied knowledge, they treat patients all across the hospital – in a variety of inpatient and ambulatory (outpatient) settings, paediatrics, and different intensive care units (cardiovascular, transplant, neurosurgery, general medicine and surgery) to name a few.
Some fast facts about NPs:
NPs perform comprehensive assessments, diagnose diseases/disorders, order investigations, prescribe medications, develop treatment plans, and refer to other specialists as part of the health care services they provide.
NPs bring a compassionate and wholistic perspective to their practice. This means that the NP does not just look at a patient's physical condition – they also consider the diversity, culture, health literacy, impact on family, and other determinants of health (such as social and economic factors).
NPs provide consistent care to patients – they see the same team, know what's going on in the hospital and on the unit (since they function consistently on the same unit), coordinate with subspecialties and know how to find information and resources.
NPs conduct and participate in research regarding patient care or nursing, are involved in research, publish research in various publications and also present at local, national and international levels.
NPs are involved in continued education. Several LHSC NPs are cross appointed to universities, help teach medical students and residents, mentor NP students, guest lecture and several participate in training to help improve processes and practices at the unit level.
In Canada, NPs work in a variety of health care settings, including hospitals, community health centres, family health teams, long term care, independent practice, correction facilities, mental health and addiction centres, walk-in clinics and Indigenous health access centres to name a few.