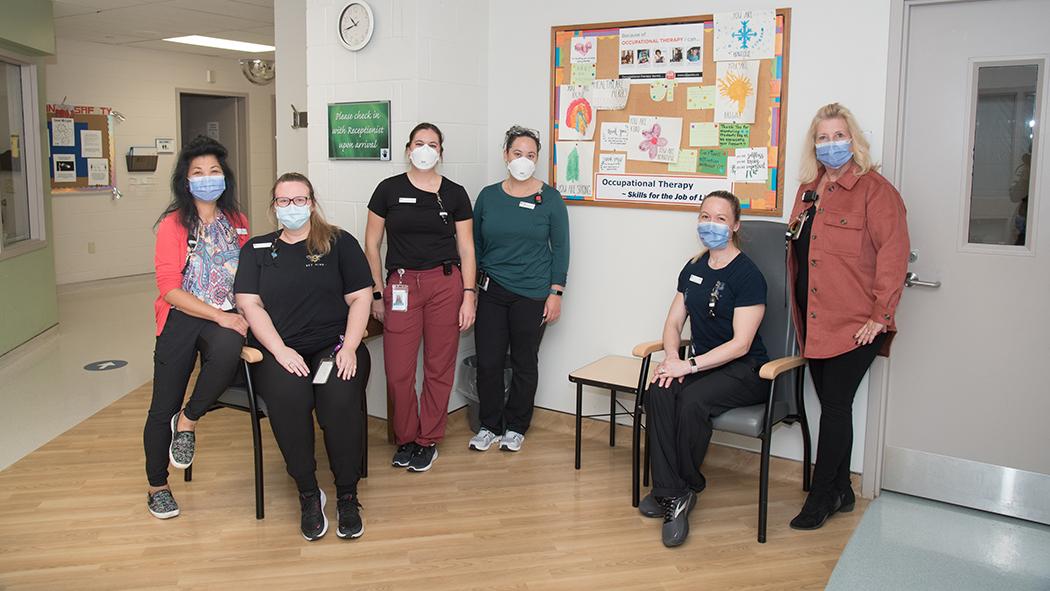 October 18, 2022
October is Occupational Therapy (OT) Month and is a time to highlight the diverse, broad, and important skillsets occupational therapists (OTs) bring to patient care.
The scope of practice for an OT is wide. Since OTs help people reach their functioning goals, their knowledge base is broad and their service delivery is individualized.
For example, an OT working in the Medicine unit may help splint a fracture on one patient who injured their wrist, then provide cognitive and perceptual assessments on another patient who may have experienced a stroke, and it continues with each individual patient an OT sees. While the individual situation and needs and goals are unique, the ultimate purpose of an OT is to get that patient back to the occupational performance they wish to be at, keeping in mind any possible impairments.
"We are holistic in our approach," Judy Gallo, Professional Practice Consultant, Occupational Therapy, explains. "We look at the whole person – at their functional mobility, strength, sensation, cognitive aspects – including the social and emotional. We help return that person to a level of functioning they want to reach regarding managing personal care needs, or returning to work, or driving – it's all very patient-centred and the goals are related to the individual's function."
OTs also help with the transition back to the home. They assess how the environment is impacting the patient, what equipment they may need in the home, and suggest modifications in home environments that can help with the patient's long-term functioning. They assess and determine what a patient may have been doing that led to their situation and suggest methods to avoid risk and re-injury.
"There are practice norms and guidelines for OTs," Judy explains, "But there is a level of creativity in occupational therapy that should be acknowledged. We have to think outside of the box when it comes to helping patients reach their occupational goals. Since every person is unique, what they need to accomplish their goals is also unique."
Some facts about occupational therapy:
OTs are science driven, evidenced based professionals that work in almost all areas within the hospital and their function differs depending on the needs of the patient population. OTs look at a person's psychological, physical, emotional, and social supports to solve the problems that interfere with a person's ability to do the things that are important to them.
OTs use occupation or everyday activities to enable people to participate in daily living or live better with developmental, social, mental, physical injury, illness or disability.
OTs all learn general skills in an area of practice. Their interest in an area of practice can leverage their professional development in a specific role. OTs can informally specialize in an area like hand therapy or seating, but must still retain the general knowledge required of the profession.
An OT is never bored! There is always something new to learn or a new situation in need of a solution – there is enough variety where an OT should be able to find something they like to do.