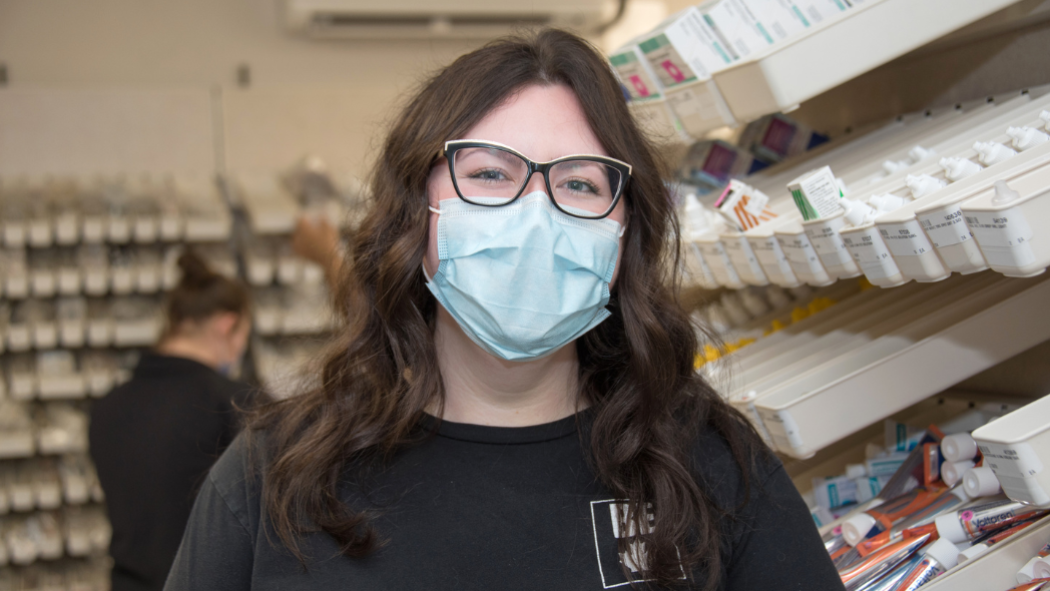 March 31, 2023
March is Pharmacy Appreciation Month and London Health Sciences Centre (LHSC) is celebrating pharmacy team members for the significant impact they have on the lives of patients. Team LHSC is able to provide such high-quality care because of their help. They are present in all areas of LHSC and are engaged in all stages of patient care, from admission to discharge – 24 hours a day, seven days a week.
Here's an overview of some of the different pharmacy roles at LHSC and how they contribute to patient safety.
Pharmacists
Pharmacists are responsible for verifying prescriptions after they're placed by physicians, making sure the patient will be receiving the most appropriate medication for their condition, at the right dose and at the right interval. They also review the patient's medical file to prevent any drug interactions, interpret diagnostic tests like bloodwork and create medication schedules.
"We're part of the patient's direct circle of care, comprised of an interdisciplinary team of healthcare professionals like nurses, physicians and physiotherapists," explains Nicole Wilcox, Pharmacist in neurology. As a result, they spend part of their shifts attending rounds where they'll explain the pros and cons of each treatment option, answer any drug-related questions, and advise on the best option for the patient at that particular moment in time. Pharmacists also monitor each patient's side effects and keep a close eye on how their treatment is progressing, which allows them to advocate for a change in medication, dose or interval, when necessary.
"We're always seeking out the most recent clinical, evidence-based information relevant to each patient's circumstances," says Brendan Sudbury, Pharmacist in paediatric hematology and oncology.
At LHSC, pharmacists also participate in quality improvement working groups and various committees, like the Medication Safety & Policy Committee, reviewing current policies to ensure they're meeting the needs of patients and the hospital. Additionally, they're involved in procuring medications and working with government partners on the approval of new therapies. 
"One of the best parts of this job is collaborating with each other to solve problems and overcome challenges," says Michael Charron, Interim Clinical & Research Manager in Pharmacy Services. "I'm very proud of the group we have here."
Pharmacy Technicians
Pharmacy Technicians have many roles, including preparing drug orders after they're verified by a pharmacist, working in teams to ensure multiple sets of eyes are involved in the checking of a single order. They're also responsible for ensuring the medications get to where they need to go, either sending them by porter, through the tube system or hand-delivering them to the unit.
To ensure each medication is given to the proper patient, all products leaving the pharmacy must have a barcode on the packaging that is scanned and verified against the patient's wristband before it's administered by a nurse, explains Becca Fievoli, IV Pharmacy Technician and Andre Alves, clinical trials Pharmacy Technician. This closed-loop system reduces the opportunity for errors and helps ensure patient safety.
"Our technicians are very good at identifying and preventing issues," says Charron. "If something looks different than what they usually see, they come to us to double-check."
But technicians don't just check medications – they make them too.
"Some people are surprised to learn that not every medication is pre-made," says Claudia Hildebrant, unit dose Pharmacy Technician. "I'm really proud to be in this role because we're the ones who make up the medications that go directly into patients' bodies... and these medications save their lives."
"Pharmacy Technicians are truly an invaluable resource," adds Sudbury. "We couldn't run the hospital without them."
Drug Access Facilitators
Drug Access Facilitators help patients get financial coverage for drugs that are too costly to pay out-of-pocket and aren't covered by their private drug plan or Cancer Care Ontario. They do this by liaising between a patient's care team and representatives from the Government of Ontario's Exceptional Access Program or a drug manufacturer's Compassionate Use Program.
"Cancer drugs are quite expensive and not all of them are covered by the usual avenues," says Whitney Riley, Drug Access Facilitator in oncology. "That's where we come in."
Drugs that may improve outcomes for cancer patients aren't always covered by the government or private drug plans for multiple reasons, explains Kaylee Goodman, Pharmacy Manager in oncology, who leads the team of Drug Access Facilitators.
For example, drugs that have proven useful in clinical trials may be in the process of being vetted by the government, which can mean delays for patients needing funding for them. Other times there might not be enough evidence to show a drug will work in a patient's specific circumstances, but first-line therapies haven't worked either and the oncology team is always advocating for access to the best possible treatment options available.
"This role is rewarding because you're the liaison between the patient and the people who can ensure that patient has access to the life-saving treatment they need," says Riley. "Our work has a big impact."
Clinical Pharmacy Specialists
Clinical Pharmacy Specialists are pharmacists or pharmacy technicians who've shifted their focus to workflow optimization and clinical development of pharmacy practice. They oversee the hiring, training and mentoring of the pharmacy team.
"Part of this work includes coordinating the placements of pharmacy students from the University of Toronto and University of Waterloo," says Spencer Martin, Clinical Pharmacy Specialist and Pharmacist in cardiology. "This is a unique role because we're directly involved in ensuring they have the best possible learning experience at LHSC."
Clinical Pharmacy Specialists are also responsible for managing continuing education initiatives for all pharmacy staff. When not working directly with students or colleagues, Clinical Pharmacy Specialists like Martin also participate in committees such as the Inter-Professional Practice Advisory Council, Pharmacy Residency Advisory Board and Pharmacy Quality Improvement Working Group.
"My goal is to give pharmacists the support and confidence to allow them to practice to their full potential and support patient care," says Martin. "My favorite part of this role is hearing stories about pharmacists who went above and beyond for their patients."