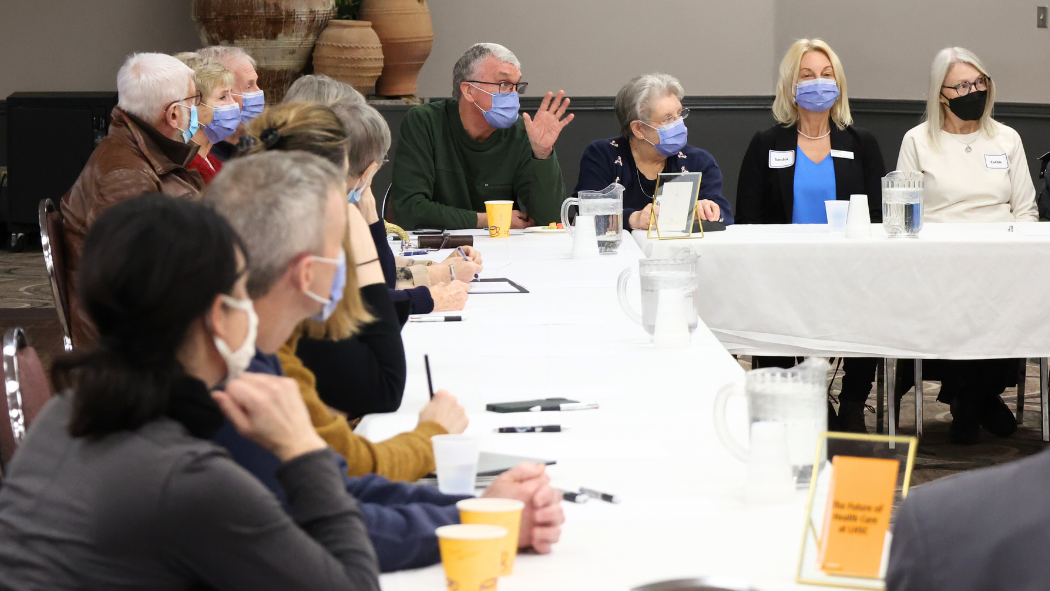 May 30, 2023
On February 28, 2023, London Health Sciences Centre (LHSC) hosted our inaugural Community Conversations event at the Hellenic Community Centre where we heard from dozens of community members about what matters most to them as we work to advance our system of care.
The event featured an overview presentation about LHSC's current work followed by two breakout sessions – 'the future of health care' and 'improving the patient and family experience.' Each session focused on hearing feedback, insights and concerns from members of the communities we serve. 
"We heard incredibly valuable and thoughtful feedback, including positive patient experiences and, importantly, where there is need for improvement," says Jackie Schleifer Taylor, President and CEO of LHSC. "The community has spoken and our team at LHSC is committed to listening and taking action."
The following themes emerged from the feedback collected: 
 

Improving accessibility, inclusion and equity

 

Advancing mental health care, including support for transitions in care

 

Prioritizing recruitment, retention and wellness of LHSC's care providers

 

Reducing wait times

 

Ensuring patients and families are partners in their care

 

Improving partnerships, communication and connectivity across the health-care system

 

Ensuring clear communication with patients, care partners and the communities we serve
Feedback is being shared with LHSC's Executive Leadership Team to develop actions that improve the ways we deliver care – now and in the future. This includes:
Incorporating feedback into LHSC's Strategic, Operational and Master Plans as we design how we will meet the current and future needs of the communities we serve;
Sharing feedback with LHSC's Office of Inclusion and Social Accountability to be included in their work to advance equity and inclusion;
Sharing feedback with clinical and non-clinical leaders for inclusion in their planning work; and
Working with LHSC's Patient Relations and Patient Experience teams to ensure feedback is embedded in future work.
Community Conversations is a series of special public meetings where community members can get to know our President and CEO, Jackie, give us your feedback on the patient experience and help us shape our plans for the future of health care in our region.
Join us at our next event on Saturday, June 10, from 10:00 – 11:30 a.m. at Goodwill Industries (255 Horton St E). Register here.