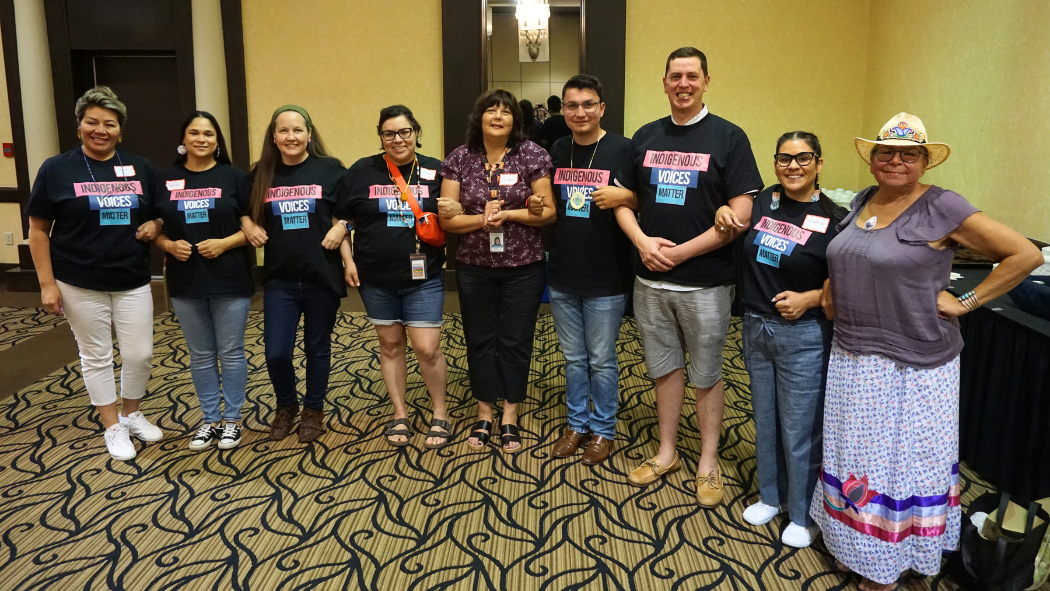 September 29, 2023
This past summer, London Health Sciences Centre (LHSC) welcomed members of local First Nations, Inuit, Metis and Urban Indigenous communities to its first-ever Indigenous Voices Matter event held on July 19 at the Four Points by Sheraton in London. Hosted by the Indigenous Health Team within LHSC's Office of Inclusion and Social Accountability, the event featured break-out sessions for Indigenous community members to share their experiences at our hospitals and their thoughts on what the organization needs to do to make services more welcoming and respectful of Indigenous Peoples.
Connection with community
Roughly 140 participants took part in the event, some travelling as much as three hours to attend. Those who took part were also able to provide written feedback on-site and later through an online form.
Twenty-five LHSC staff members and leaders were on hand to support the break-out discussions and listen as attendees shared often emotional stories.
"It was empowering and inspiring," said Chantel Antone, senior director of the Office of Inclusion and Social Accountability for Indigenous Health. "It instilled hope that this is a new path forward for First Nations, Inuit and Métis People," Antone said. "We're being heard and seen."
Antone, who facilitated one of the break-out sessions, said you could see how impactful the evening was by simply reading community members' body language.
"It felt like when I looked at them, they just couldn't wait to tell their stories about interactions with the health-care system – including trauma, discrimination and racism they have experienced," she said. "They wanted to share what happened to them, to their children, to their grandchildren, to their dads and to their moms. They couldn't wait to tell their story because someone was finally listening to them."
What was learned
Much of the feedback provided by participants highlighted the need for education and strategies to address the racism, discrimination and bias Indigenous Peoples continue to face within the health system.
Feedback also centred on the need for more culturally-sensitive care, including respect for traditional medicines at the bedside and the importance of having family members present. Increasing the number of Indigenous Health Navigators on staff and extending their hours were ideas offered from several groups. Navigators support Indigenous patients, advocating for culturally sensitive care and acting as a liaison with clinical teams.
Incorporating more Indigenous artwork within LHSC's facilities and adding an Indigenous Healing Space at University Hospital, like the indoor space and Healing Garden at Victoria Hospital, were mentioned as additional ways to make our health care spaces more welcoming.
Committing to change
LHSC leadership is committed to taking action on the feedback shared at the event.
"Feedback from the event will be compiled and meaningful consultations with Indigenous community members will continue in order to map out the path forward," said Rumina Morris, Executive Director, Office of Inclusion and Social Accountability at LHSC. "It'll be a process of co-creating an action plan with concrete steps. We'll take a look at how we can mobilize and prioritize as an organization, what quick changes we can make, but also how we can start moving forward on larger commitments."
The new path LHSC is embarking on, Morris said, is about transforming how Indigenous Peoples and their communities experience health care and improving their health outcomes by transforming the system.
"This is a decades-long commitment we're walking into," Morris said. "We have a lot of work to do. It really is about a new way of being and doing."
LHSC President and CEO, Jackie Schleifer Taylor, echoed that sentiment, expressing her own unwavering support for the journey the organization is embarking on. She notes that the organization's new fundamental commitments include 'creating a safe and inclusive environment by dismantling systems of oppression, discrimination, racism and bias while addressing social determinants of health and advancing truth and reconciliation.'
"The work of reconciliation involves each and every one of us. We must continue to listen to Indigenous communities to better understand their experiences and needs," she said. "We want everyone – not just attendees – to know that we are deeply committed to addressing the feedback that was provided. This work needs to move forward without delay. The future health of equity-denied communities depends on it."
LHSC's commitment to open and honest consultation with Indigenous Peoples will continue and a second Indigenous Voices Matter event is being planned for the new year. During that event, officials will present feedback from the first session and share progress on improving cultural safety within our facilities.
More information about the Indigenous Health team and Office of Inclusion and Social Accountability can be found through LHSC's intranet.