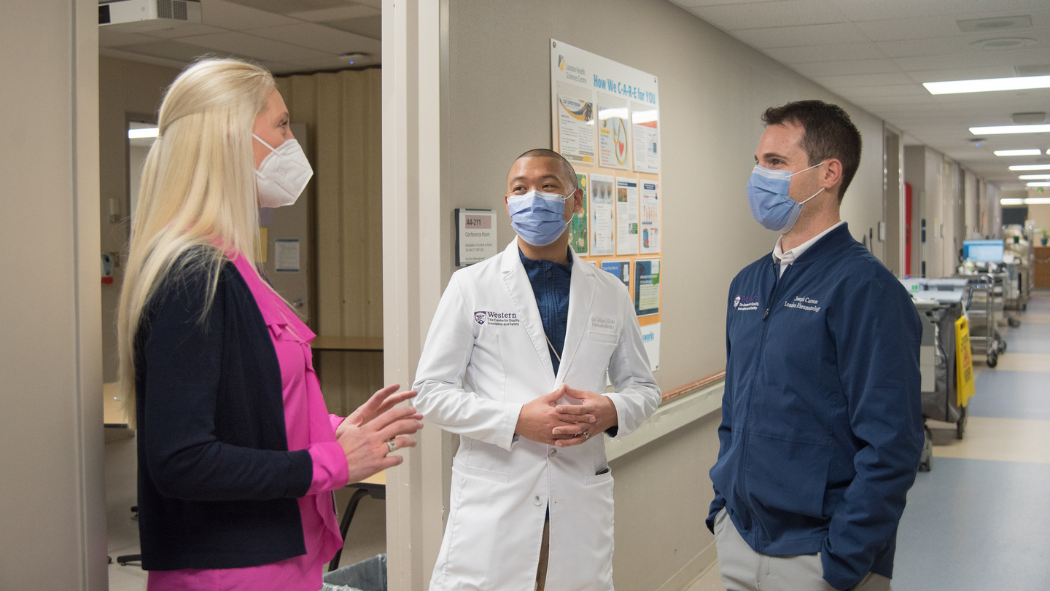 January 27, 2023
Dr. Alan Gob's passion for quality improvement (QI) is rooted in his own journey of self-improvement.
"I'm a bit disorganized and absent-minded by nature, so I need to create systems for myself to function effectively," explained Dr. Gob, a Hematologist at London Health Sciences Centre (LHSC). "That really overlapped well with the concepts of quality improvement and setting up systems that are effective and safe. It was a natural fit for me to pursue quality improvement as a career."
Dr. Gob, who is also the Clinical and Education Lead at the Centre for Quality, Innovation and Safety (CQUINS) – a partnership between LHSC, St. Joseph's Health Care London and Western University's Schulich School of Medicine & Dentistry – has channeled that enthusiasm to develop innovative methods of curriculum delivery that are changing the way QI principles are taught to residents.
Typically, to teach quality improvement methods to a group of people, a large amount of human and technology resources are required, including teams of specialized quality improvement experts to act as coaches. Recognizing a gap between this ideal and the constraints of real-world resources, Dr. Gob set out to establish a teaching curriculum that would allow quality improvement programming to be taught at scale with minimal resources.
"What we've done is leveraged a lot of technology tools and relationships in order to deliver a curriculum that would normally take a team of people with only two coaches and one educational expert," said Dr. Gob. "We've leveraged those things to be able to deliver the same quality of curriculum in a much less resource-intensive way."
ICRE Awards
Along with CQUINS co-authors Joan Binnendyk, Education Curriculum Specialist, and Joe Carson, QI Consultant, Dr. Gob presented the results of two cycles' worth of teaching at the 2022 International Conference on Residency Education (ICRE). In recognition of their work, Dr. Gob and his co-authors were awarded with the Top 'What Works?' Presentation by the Royal College of Physicians and Surgeons of Canada.
"It's a very fulfilling experience," reflected Dr. Gob. "I love that it recognized the team. This program would not be where it is today without the contributions of Joan Binnendyk and Joe Carson."
The primary changes to the curriculum were rooted in content delivery via bite-sized online video "micro-lectures" that each corresponded to a key concept in the quality improvement process. Because all of the content delivery was unloaded, the teachers of the course were freed up to focus on coaching – a development that allowed students to learn practical application of the techniques much quicker.
The team also engaged 'faculty champions' in each department to address another key deficiency in normal QI program delivery, a lack of sustained engagement. By installing faculty champions and program administrators within the departments the students were working in, group projects were incorporated directly into the department's operations.
What's next?
The excellence of the amended curriculum has been demonstrated in the outcomes of the program. Resident QI programs are normally focused on teaching the principles of quality improvement, but they rarely produce concrete changes to clinical process. However, in just two years of teaching under the new format, Dr. Gob and his colleagues have already seen five projects result in substantial change to clinical processes.
One such change allowed the Endocrinology team to reduce the number of days following surgery that liver and kidney transplant patients spent with high blood sugars. The team was able to accomplish this by engaging the full group of care providers on the unit, including unit leadership, nurses, personal support workers, pharmacists, and allied health professionals.
"Seeing the 'lightbulb moment' with students is the most amazing feeling ever," said Dr. Gob. "To see someone's perspective change and grow is immensely gratifying; it's the reason I do this. Anytime we can expand a person's perspective, we strengthen the culture of quality improvement across the organization."
The initial program Dr. Gob and his colleagues worked on has been used as the foundation for several other programs that each target a different need, including an in-depth certificate program involving one-on-one coaching, as well as a fundamentals study program that gives learners an overview of quality improvement.
"My next big dream is to replicate this program within a clinical unit," said Dr. Gob. "If I can train a small number of people within the unit to be coaches, we can create a system where a unit is completely autonomous and empowered to do its own quality improvement projects."