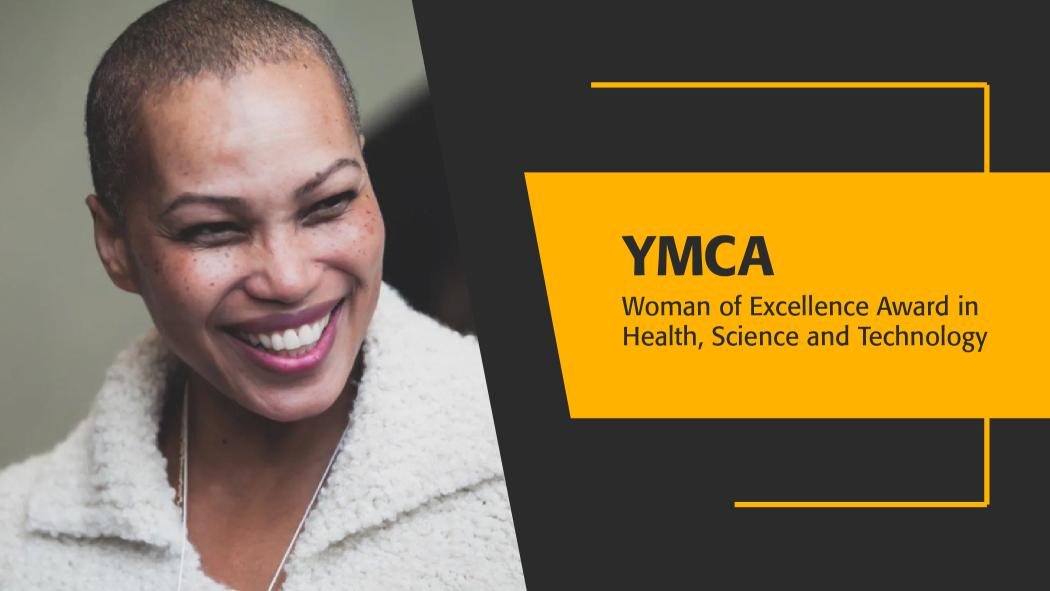 March 8, 2023
London Health Sciences Centre (LHSC) President and CEO, Dr. Jackie Schleifer Taylor, is the recipient of the 2023 YMCA Woman of Excellence Award in Health, Science and Technology for her leadership in the health-care system, where she has dedicated her career to advancing quality, health equity and interprofessional collaboration. She is also Canada's first Black female to lead a research-intensive acute care teaching hospital.
"I am absolutely humbled by this recognition," says Dr. Schleifer Taylor. "I have been fortunate to work alongside outstanding female leaders throughout my career, including women who have mentored and inspired me. Now being recognized alongside a distinguished group of peers is an incredible honour."
The YMCA Women of Excellence Awards are given out annually to eight women in Southwestern Ontario whose work have made a significant impact on others or their community. Other categories include business, education, social justice and more.
"I can't think of a better recipient for this award," says Phyllis Retty, Chair of the LHSC Board of Directors. "Dr. Schleifer Taylor is a fierce advocate who has championed a number of important initiatives since being named to the position of LHSC President and CEO in 2021. Every day she continues to demonstrate her deep commitment to patients and Team LHSC, as well as to London and the surrounding region."
Retty's thoughts were echoed by Steven Harrison, Chair of the Children's Health Foundation's Governance and Nominating Committee, who nominated Dr. Schleifer Taylor for the award.
"Dr. Schleifer Taylor is an inspiration because she leads with conviction, heart and compassion. It has been an honour not only to nominate her for this prestigious award, but to join in the celebration," he says.
Dr. Schleifer Taylor is committed to transforming the health-care system to the benefit of patients, families and all those working in the sector. She sits on various provincial tables, Boards and committees, and is advancing LHSC's reputation as one of Canada's largest research-intensive acute care teaching hospitals. In addition to reaffirming the organization's commitment to quality improvement, research, innovation and teaching, she is leading the organization through a process of reimagining and redesigning the future of care delivery as part of LHSC's Master Planning process. This will determine the way LHSC delivers care and the facilities used to do so well into the future.
Throughout everything, she is guided by one core principle: Making decisions that are in the best interest of patients, families, physicians and staff members.
Dr. Schleifer Taylor is known for striving to reduce inequities in the health-care system. At LHSC, she has recently introduced Indigenous Cultural Safety Training (San'Yas) for all leaders, founded an Office of Inclusion and Social Accountability to signal a much-needed change in health care, and called for the modifying of the naming system in LHSC's patient database to help acknowledge and celebrate 2SLGBTQ+ people.
The 2023 YMCA Women of Excellence Award honourees will be celebrated with an in-person ceremony at RBC Place on May 16.
About Jackie Schleifer Taylor, PT, PhD, CHE
Dr. Jackie Schleifer Taylor is Canada's first Black female President and CEO to lead a research-intensive acute care teaching hospital. She holds a strong unifying vision for London Health Sciences Centre (LHSC) to strengthen the organization's mission of excellent care, teaching, research and system leadership.
She believes LHSC can play a pivotal role in provincial health system transformation and integration. This vision is evident in her commitment to the communities LHSC serves, and her advancement of the regional role LHSC plays across southwestern Ontario and the province. Dr. Schleifer Taylor is passionate about growing LHSC's role in local initiatives that will advance health and wellness opportunities for all the populations it serves. She believes deeply in the privilege and service of leadership.
Having surpassed unique barriers and challenges, Dr. Schleifer Taylor is never afraid to show her passion, emotion and motivation to serve patients and families. She demonstrates that leading with compassion is not a weakness, but an effective and powerful form of leadership. Dr. Schleifer Taylor's ability to see people's potential, her commitment to providing the framework for other women to advance their vision, and her delivery of ongoing organizational support are tenets of the rare kind of leadership she embodies.