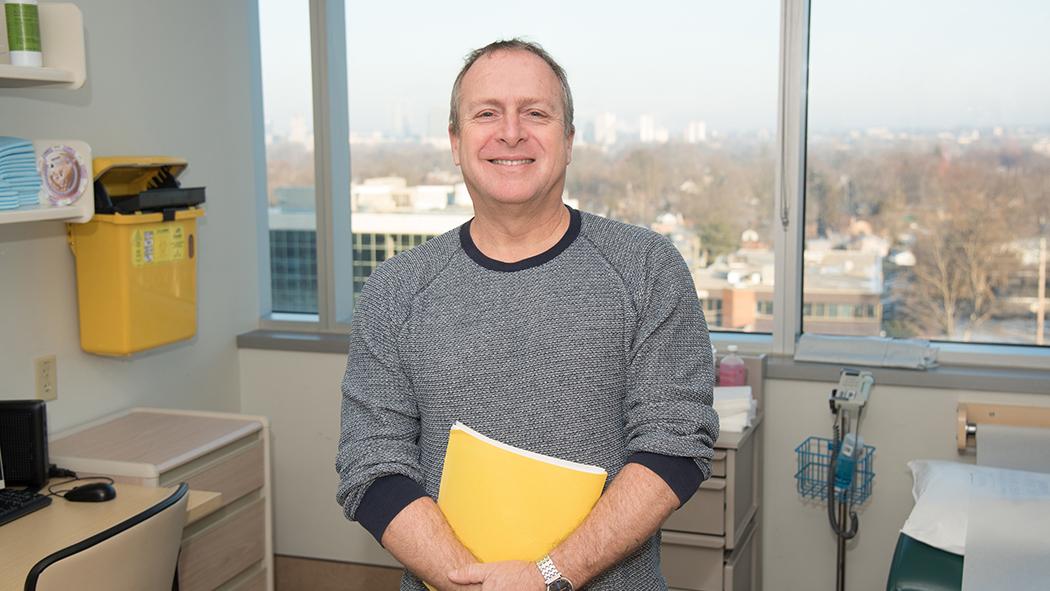 January 10, 2023
Dr. Robert Di Cecco, Obstetrician/Gynecologist at London Health Sciences Centre (LHSC) and Regional Lead for Cervical Screening for South West Regional Cancer Program (SWRCP) talks about the pap test and the importance of cervical cancer screening.
Awareness of the importance of early detection and screening for cervical cancer is something that should be considered year-round by those with a cervix.
It is estimated that every year, about 750 people in Ontario will get cervical cancer and about 160 people will die from it. Since the 1980s, the rate of new cervical cancer cases in Ontario has gone down because women have been getting screened regularly.
Cervical cancer acts like other cancers – it consists of mutated cells and has the potential to spread to other areas of the body. In Ontario, cervical cancer screening consists of a pap test. The known, primary cause of cervical cancer has been found to be the human papillomavirus (HPV) of which there are many strains. Some strains of HPV have been shown to cause cell changes in the cervix which can increase your risk of cervical cancer.
"The pap test is not a screening test for cancer specifically," explains Dr. Robert Di Cecco, Obstetrician/Gynecologist at London Health Sciences Centre (LHSC) and Regional Lead for Cervical Screening for South West Regional Cancer Program (SWRCP). "The value of screening comes in the opportunity to identify abnormalities in the cervix that can lead to cancer and catching them early – either before it can develop into cancer or potentially find a cancer at an early stage where the survival rate is more successful."
While no screening strategy can be 100% effective, there are highly effective methods that can minimize risk as well as identify and treat abnormalities early to avoid more complicated interventions that are utilized to treat an established cancer.
Most cervical cancers are found in people who have never been screened or have been screened less often than recommended by Ontario's cervical screening guidelines. This is why regular screening and the follow-up of abnormal results is so important.
Dr. Di Cecco says, "That is the uniqueness of this particular screening program. Cervical cancer screening is able to identify woman at risk and allow for early intervention to modify or eliminate that risk with well tolerated minor procedures. Since HPV is the primary cause of cervical cancer, obtaining the HPV vaccine is also an effective preventative measure against cervical cancer."
The HPV vaccine is available for free for boys and girls in grade 7 in Ontario. Even if you are sexually active, or have been treated for an HPV-related change to the cervix, vaccination has been shown to decrease the risk of infection or of an abnormality returning. If you would like the HPV vaccine, speak with your primary health care provider or local public health unit.
Who is eligible for cervical cancer screening?
If you have a cervix and are aged 25 or older and are sexually active, it is recommended to have regular pap tests every three years, unless the test comes back with something abnormal. Sexual activity includes intercourse, digital and oral sexual activity involving the genitals with a partner of any sex.
Even if a person with a cervix is no longer sexually active, the Ontario Cervical Screening Program (OCSP) recommends continued screening. Exposure to HPV can occur at any time in one's life and not be detected for many years before causing changes that are identified with a Pap test. The abnormal cell changes identified with a Pap test are then investigated further to determine if they are in fact pre-cancerous changes. These early changes are usually without symptoms and typically take years to evolve into a true cancer. Screening is the most effective way to find pre-cancers.
What is a Pap smear?
A Pap smear is a sampling of cells of the cervix. The cervix is a part of the reproductive system and is found at the bottom of the uterus. To be able to see the cervix for the exam, a speculum is inserted into the vagina and opened. A brush is used to gently obtain cells from the cervix and the cells are then placed in a container and sent to the lab for assessment.
"There can be discomfort for some with the speculum and sampling of cervix – and some individuals will experience some bleeding after the sampling but it is rarely anything to be alarmed about, the bleeding will stop very quickly in most instances. Any discomfort with the examination is usually transient and will also resolve quickly in the majority of cases," explains Dr. DiCecco. "Given the nature of the examination it can be a very vulnerable experience for some individuals. If an individual has concerns or is anxious about having a Pap test, it is recommended they discuss their concerns with their health care provider before getting the test."
Pap tests are effective, but no screening test is perfect, but getting screened provides the opportunity to identify any abnormalities. Cervical screening allows those abnormalities to be found sooner, where the treatments are less complicated. Without screening, abnormalities may have time to develop into cancer where more invasive and complicated interventions need to be used with a lower survival rate.
"Getting screened for cervical cancer is an important aspect of health care for those with a cervix," Dr. DiCecco says. "Cervical screening is effective and can flag those risks of developing cancer years before turning into cancer."
Where can you get screened?
If you have a family doctor or nurse practitioner, please schedule an appointment with them if you are eligible for a pap smear. Eligible people who do not have a family doctor or nurse practitioner can get screened at some public health units, sexual health clinics, community health centres or walk-in-clinics, or by finding a family doctor or nurse practitioner through the Ministry of Health's Health Care Connect program. You can also visit the Federation of Medical Women of Canada to find a clinic offering cervical screening in your community.