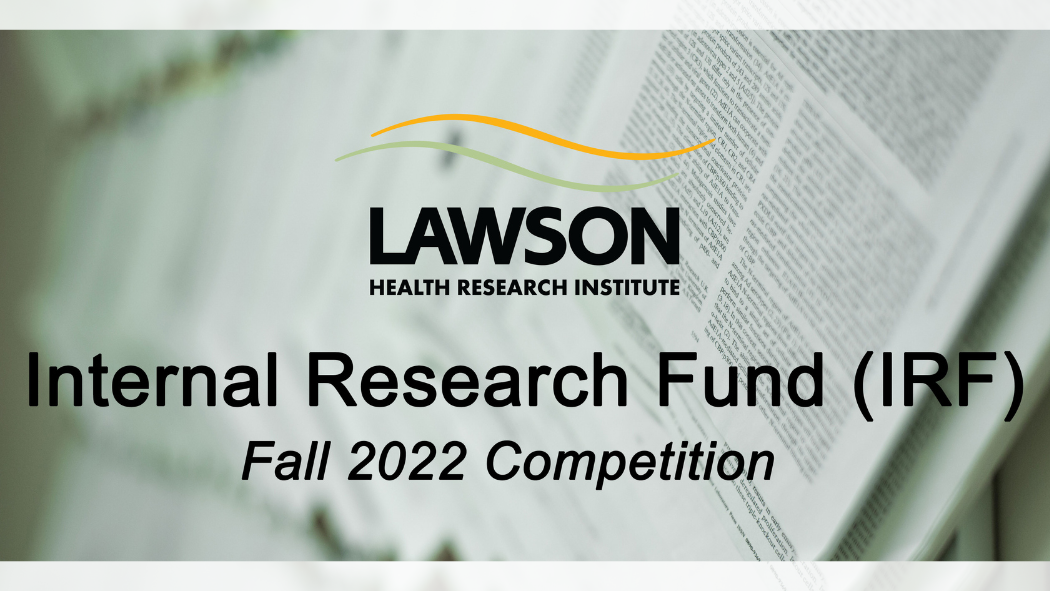 January 23, 2023
Lawson Health Research Institute is pleased to announce the results of the Fall 2022 Internal Research Fund (IRF) Competition. Over $160,000 has been awarded in this round, providing funding for 11 projects.
"The IRF awards are important for established investigators to help advance both new and existing research initiatives as well as supporting graduate students starting their research journey," says Dr. David Hill, Scientific Director at Lawson and Integrated Vice President, Research, at London Health Sciences Centre (LHSC) and St. Joseph's Health Care London. "The IRF is an investment in research projects that aim to bring about future health solutions for our patients."
Each year, Lawson hosts two IRF competitions. These competitions are designed to provide seed and bridge funding to new and innovative research projects, or support Lawson trainees. Funding for these competitions is provided by London Health Sciences Foundation, St. Joseph's Health Care Foundation and departments at Western University's Schulich School of Medicine and Dentistry.
The grant recipients from the Fall 2022 IRF Competition are:
Pilot Studies:
Gill, Sean – Department of Medicine; "Examining the impact of aging on septic endothelial cell barrier dysfunction to identify future therapeutic directions", $15,000
Gofton, Teneille – Department of Clinical Neurosciences; "The STatus Eplepticus Prognosis Study (STEP Study)", $15,000
Loh, Eldon – Department of Physical Medicine; "Neuromodulation as an anti-inflammatory treatment strategy following spinal cord injury", $14,072
Vogt, Kelly – Department of Surgery; "Patient Important outcomes in emergency general surgery – the impact of a shift to the Acute Care Surgery Model", $15,000
Zhao, Liena – Pathology and Laboratory Medicine (PaLM); "Characterizing Immune Checkpoint Proteins in Pancreatic Ductal Adenocarcinomas and Tumor Microenvironment", $15,000
Turley, Eva – Department of Oncology; "Use of a RHAMM peptide mimetic, NP-110, to reduce fibrosis in a novel model of radiation-induced capsular contracture", $15,000
Rafea, Basim Abu – Department of Obstetrics/Gynecology; "Detection of microRNAs in the conditioned culture medium as a non-invasive diagnostic assay for embryo quality", $15,000
Pamukoff, Derek – Department of Kinesiology; "Physical Activity and Walking Patterns after Anterior Cruciate Ligament Reconstruction", $15,000
Cepinskas, Gedas – Department of Medical Biophysics; "Lost in Translation: Optimizing laboratory vascular models to impact clinical medicine", $15,000
Post-Doc/Studentships:
Shoemaker, Leena (Supervisor: Keith St. Lawrence) – Department of Medical Biophysics; "Investigating cerebral microvascular dysfunction in Mild Cognitive Impairment", $15,000
Manorathan, Saiswaran (Supervisor: Lakshman Gunaratnam) – Department of Medicine; "Mechanism of KIM-1 mediated Suppression of Metastatic Renal Cell Carcinoma", $15,000
Spring 2022 IRF Competition Results