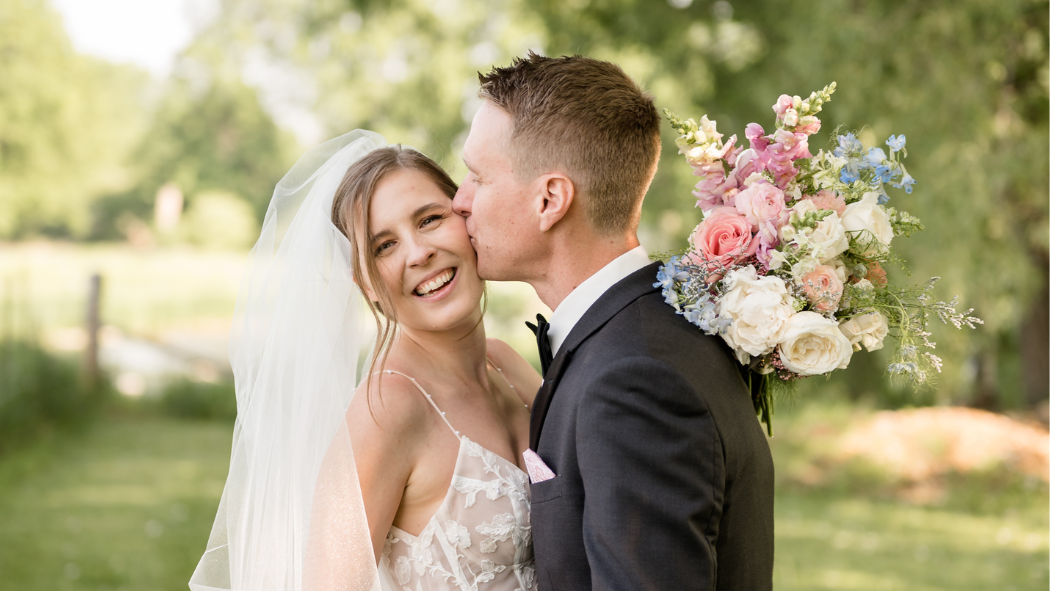 Photo credit: Zealand Photography. Sarah Kempinska and her husband, Jim, at their wedding.
August 23, 2023
Sarah Kempinska lay intubated in the Critical Care and Trauma Centre (CCTC) at London Health Sciences Centre (LHSC), induced into a medical coma. She is in critical care after experiencing complications from a surgery to manage an autoimmune condition. The wedding she had been meticulously planning for two years was only days away.
"My siblings, parents and fiancé all took on last-minute pieces to bring together a wedding that no one was even certain was going to happen," Sarah Kempinska explains.
"Medically it was a complicated situation," Dr. Anna Kempinska, sister to Sarah and an Emergency Department physician at Children's Hospital, LHSC. "There were some issues managing her sedation. She was a fighter and wanted that tube to come out."
From the beginning
In 2015, Sarah was diagnosed with Granulomatosis with Polyangiitis (GPA). GPA is a rare disease that can affects people at any age and is characterized by inflammation of tissues and blood vessels within different organs such as the lungs, kidneys and sinuses. While it can be a difficult illness to treat, there are treatments available to help with symptoms.
Sarah's inflammation occurs in her lungs. The granulomas grow and narrow her airway, making it difficult to breathe.
Her primary care team is located outside of London. Sarah has undergone surgeries to remove the growths to open up the airway in the past with this team, and each time it was a straight-forward surgery where she could be discharged home same-day. This most recent surgery went as before, but complications began when she arrived back in London. She called her sister, Anna.
"When I breathed in, I could hear a pop sound, and I was struggling to take breaths in and out. I called Anna and we went to the Emergency Department at Victoria Hospital," Sarah explains.
The Emergency Department
Sarah was triaged quickly to a resuscitation room and the care team tried an oxygen intervention first and planned to monitor her condition overnight.
When Sarah was admitted to the Thoracic unit for monitoring, her breathing worsened and they were worried about her airway collapsing. At this point, Sarah was taken to the operating room (OR) and then transferred to the CCTC where she spent five days intubated and in a medically induced coma, and six days total.
"As a Paediatric Emergency Department physician, it was humbling to be on the other side of the experience – to be the worried loved one," Anna describes. "The doctors and staff were great during the entire process, keeping us informed of Sarah's condition and being compassionate in their approach. They were so reassuring during such a vulnerable time."
CCTC
While Sarah was in the CCTC at LHSC, there were issues managing her sedation, which is something she has experienced before in previous medical situations.
The CCTC staff and physicians were made aware of Sarah's need for higher levels of sedation and were able to manage her levels accordingly.
Unfortunately, Sarah ended up getting pneumonia, which is not uncommon for intubated patients. In order for the airway to heal, the breathing tube was kept in place as Sarah was treated for pneumonia while in a medically induced coma.
Through it all, Sarah kept fighting and her family stayed by her side.
Just in time for the wedding
As Sarah was being treated in the CCTC, her family started working on final preparations for the June 3 wedding. They remained hopeful and optimistic about Sarah's recovery.
When Sarah's tube was removed, there were some worrisome moments where the health care team and family weren't sure if they were going to need to put the tube back in – but she ended up doing well. She was released on May 30, just a few days before her wedding.
"Despite needing some assistance, I was able to walk down the aisle to marry Jim – and I was able to dance a little," Sarah shares. "I am so grateful for everyone involved in helping make my recovery a successful one."
Sarah's recovery journey
Sarah is feeling much improved. "I still get tired and dizzy sometimes, but overall I'm feeling really good," she says. "I'm back to work full-time and I know that the incredible doctors and staff have a lot to do with that. They were attentive and committed to helping me get better and were kind and patient when working with me to get me walking again after intubation."
Sarah's follow up and continuing care will now be done jointly between LHSC and her other care centre.
"All of the physicians and staff that cared for Sarah are special people – they are enormously generous and kind. Everyone communicated so well and the care was fantastic," Anna says. "They were patient and compassionate when answering all of the questions I, and our family, had during Sarah's stay."
"One of my ICU nurses, Stephanie, wrote me a letter that said, on the envelope in big letters, do not open until wedding day!" Sarah shares. "I took it to the venue and during a quiet moment, I read it. It was so meaningful and kind of them to take the time to write that – I ended up getting it framed!"
What may have happened
When Sarah had her procedure, it is likely the disease was more out of control than the specialists thought. Because of the pandemic, this surgery was moved a little further out than before, and Sarah did not realize the medications she was on may not have been working as effectively as they should have.
Moving forward, before conducting another surgery like the one she had, better medical control will be explored so she remains more stable in the future.
"Treatment for the disease is tricky," Anna explains. "It depends on several factors and each patient that has GPA, the disease expresses a little differently."
What's next
"Now, I am working with my doctors on family planning," Sarah says. "It can be more complicated with the medications I am on, so I know it may take some time, but I am hopeful and have faith in my care team to do all they can to help realize my desire to create a family."
Sarah, Anna and their family are grateful for the compassionate and attentive care Sarah received while at LHSC. While GPA is a challenging disease, they are happy to now have a local care team that will work collaboratively with the other centre to ensure excellent continuity of care for Sarah.
View the From intubation to celebration video PDF transcript