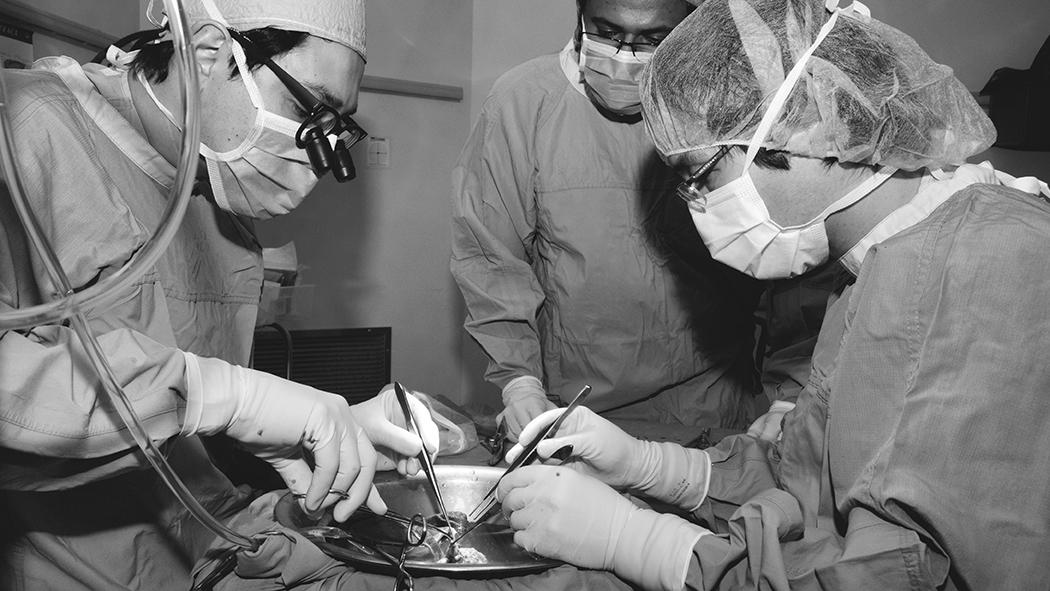 To say that University Hospital (UH) was doing transplantations from its earliest days is not an understatement.
After opening its doors in September 1972, the first patient admitted was for dialysis treatment, and the first kidney transplant was done a few months later. That was the first of what would grow to be more than 6,700 transplants over the next five decades.
London Health Sciences Centre's UH is marking 50 years of providing care in the region and looking back at some of the major accomplishments and successes. As the transplantation program developed and grew, it became one of the major centres for both surgery and research in the country.
That was due, in large part, to the vision of Dr. Cal Stiller, a nephrologist who specialized in kidney transplantation and led the UH team from the start.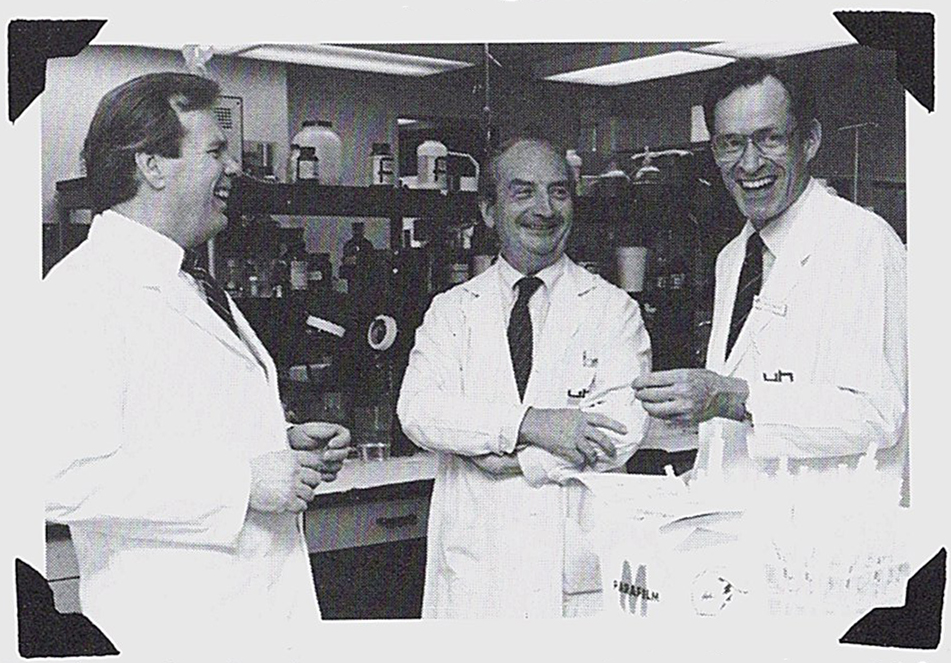 By the early 1970s, it was clear to Dr. Stiller that the transplantation of organs needed to be a discipline on its own. Young doctors could specialize in nephrology and focus on the kidney, for example, or they could specialize in general surgery, but there was no specific training that prepared them for kidney transplantation.
"It was a combination of medicine and surgery," Dr. Stiller explains. "My view was that it would be multi organ and that eventually we would be able to transplant anything within one department."
That vision came to fruition in 1987 with the opening of the Cal Stiller and Walter J. Blackburn Multi-Organ Transplant Program (MOTP), one of the first in the world to bring transplantation, regardless of organ, under one program. Since its inception, the program's surgical and medical teams have transplanted hearts, lungs, livers, kidneys, pancreases, and small bowel. 
"We benefitted and depended upon a common resource, which was the donor, and we fought a common enemy, which was [organ] rejection," says Dr. Stiller. "The program brought everything together with the underlying science of immunology being the foundation for success or failure."
Many firsts among successes
The first Canadian heart-lung transplant was done at UH by now-retired Dr. Neil McKenzie in 1983, the world's first successful liver-small bowel transplant was performed in 1988 by Dr. David Grant, as was the first adult-to-adult living liver transplant in Canada in 2000. In 1997, the MOTP team successfully transplanted a liver, bowel, stomach, and pancreas into a five-month-old baby girl, the world's youngest recipient of a multi-organ transplant, at LHSC's Children's Hospital.
"She's an amazing young woman and is very active in promoting donation by telling her incredible story of survival," says Dr. Anthony Jevnikar, who was co-director of the MOTP along with Dr. Patrick Luke until the end of 2022.
As an acute-care academic and teaching hospital, research has been at the forefront of transplantation at UH. Less than decade after opening, it was named the Canadian Centre for Transplant Studies. One of the first studies was on immunological monitoring of transplant recipients in which the first methods of tracking the immunological response of a recipient were designed to catch any signs of organ rejection at its earliest point, before the organ is damaged. Immunological monitoring, which is now a major focus of research and practice, started at University Hospital and it hosted the first international meeting on the topic.
"We were publishing in publications such as Science, The Lancet and the New England Journal of Medicine and people were coming in from all over the world, particularly to observe and learn the practise of microsurgery in the lab of Dr. Bob Zhong who was arguably the first world expert in microsurgery in transplant models. It was extraordinary," says Dr. Stiller. "Those were truly halcyon days."
Translating research into practice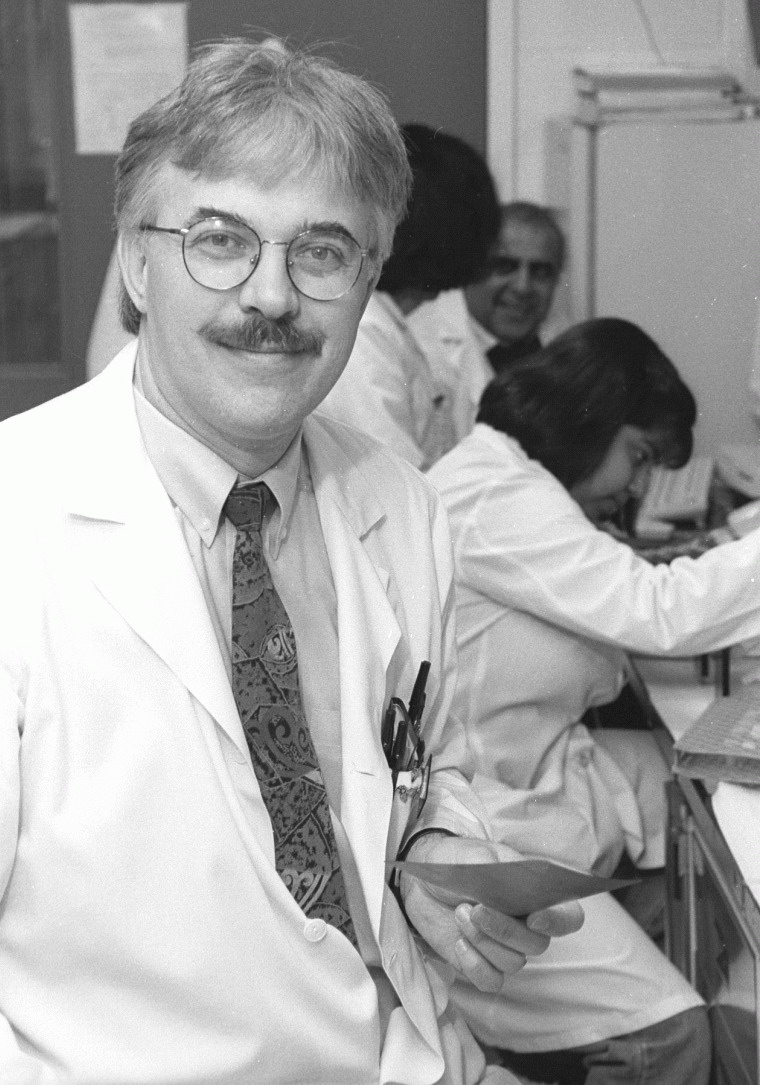 And the research tradition continued with the opening of the Matthew Mailing Centre for Translational Transplantation Research in 2011. "The Mathew Mailing Centre is a unique facility in Canada because the primary focus of research is on translational transplant research, which means we uncover discoveries in the laboratory, apply them at the bedside" and then take the findings back to the laboratory to improve, explains Dr. Jevnikar, its scientific director.
Unlike in the past where research mainly focused only on reducing organ rejection, one of the focuses at the Mailing Centre, which has trained hundreds of young transplant students, scientists and physicians, is discovering new ways to sustain donated organs for longer to extend the time an organ is viable and even improve its function.
"Scientists in our centre are working on discovering new ways to preserve organs and to keep them longer; a way to better preserve them and even allow us to reverse any damage from storage and the donation procedure," says Dr. Jevnikar, who was the driving force behind the creation of the centre. Dr. Alp Sener is currently conducting the first clinical trial in which hydrogen sulfide is added to the perfusion solution to keep the organs healthy while they're being stored.
"With this research, we may be able to eliminate cold storage on ice, even using solutions at room temperature. It's really incredible work by our scientists," he says.
UH also played a key role in research into reducing organ rejection as one of only five centres in the world to run clinical trials on cyclosporine in the 1970s, thanks to Dr. Stiller, who was inducted into the Canadian Medical Hall of Fame in 2010 and invested as an Officer in the Order of Canada in 2011. He arranged for UH to be a testing site for the drug that was discovered in Switzerland and went on to become the main anti-rejection drug used after a transplant.
Tony Swanson, a retired registered nurse who worked in the MOTP from its opening until 2011, says it was very gratifying work. "It was very rewarding because we were helping patients get new lives and be with their families and grandchildren."
The MOTP was, like many others at UH, a very tight-knit group, he says. "We felt privileged to be able to work there and we did become a family. We were all part of the team and worked very well together."
MOTP co-directors Drs. Dave Nagpal and Lakshman Gunaratnam agree that while the program's past accomplishments have been impressive, there is plenty more to come. 
"We have much more to offer the world of transplantation in terms of patients receiving transplants, lives saved and improved, research and innovation, and leadership on the national and international stage," Dr. Nagpal says. "Our trajectory is exciting."
Dr. Gunaratnam, who is also a clinician-scientist within the MOTP, says he "is optimistic the cutting-edge research being done at UH will help improve access to transplantation and the lifespan of transplanted organs."
Promoting organ donation and education
In addition to the impact on the lives of its more than 6,700 organ transplant recipients and their families and advancing medical research, many in the MOTP were, and are, committed to increasing awareness about the need for organ donation. Dr. Stiller is credited with adding organ donation to driver's licences in Ontario, and Dr. Bill Wall, who performed more than 1,800 liver transplants and was invested as a member of the Order of Canada in 2009, recently published a children's book, 'the ant who needed a transplant.' 
The book for children aged 5 to 9 blends themes of compassion, empathy and altruism, and is meant to help them learn how an act of kindness can save a life.
"It's a serious subject so I told the story as a fantasy about ants to 'lighten' the nature of the book," said Dr. Wall at the May book launch in the reception area of the MOTP. "There is no mention of anatomy or organs. Nevertheless, it is still an accurate portrayal of the real-life experience of donation and transplantation."
On the theme of children's books, those in the MOTP were like the blue engine in 'The Little Engine That Could,' by Watty Piper. They never gave up trying to reach the summit and believed they could surpass what had been done before.
"We had the highest donor rate per capita in the country, we had the highest transplant rate and here we were in a small city in southwestern Ontario with a population of 250,000 [then]," Dr. Stiller reflects. "And it was because of the expertise of many people, and because the hospital administration saw the vision."