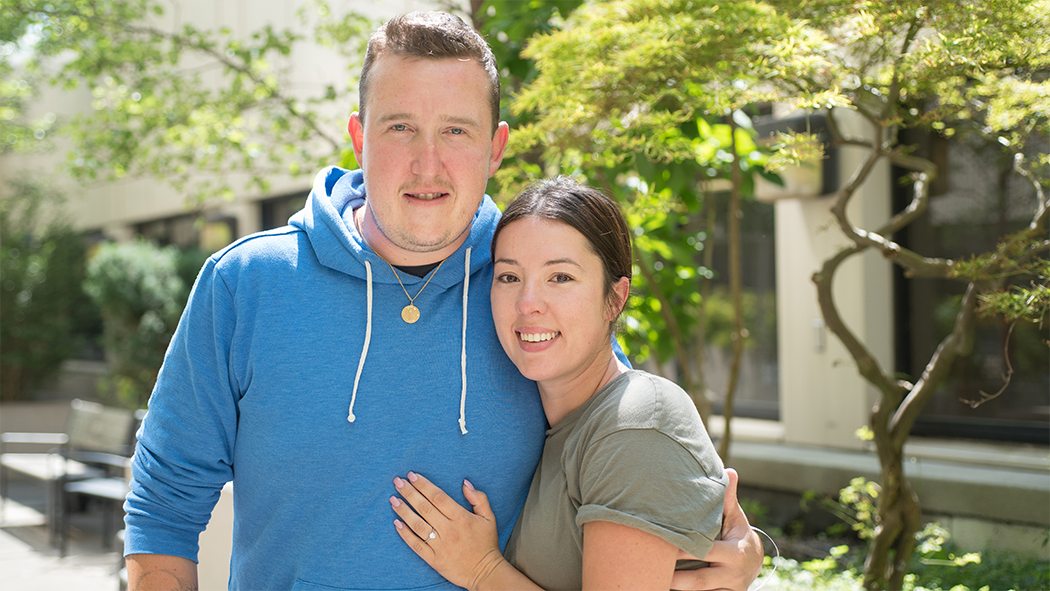 Although May 21, 2021, began like any other day, it quickly became a life-changing day for Tyler Montgomery, who spent the next three months fighting for his life. 
After sustaining a workplace injury to his ankle in April of 2021, Tyler found it difficult to breathe and began experiencing pain in his ribcage. He thought he may need an x-ray, so he drove himself to the nearest emergency department (ED). Soon after he arrived, Tyler was diagnosed with tachycardia.
After many more hospital visits and tests, it was determined that Tyler was actually suffering from congestive heart failure and severe mitral valve regurgitation. "I was told that should I survive, I would no longer be able to return to the construction work I have been doing since I was old enough to hold a hammer," Tyler recalls. 
Due to the complexity of his diagnosis, Tyler was transferred to the Peter Monk Cardiac Centre at Toronto General Hospital, where they immediately started their own tests in preparation for surgery. Once the examinations were completed, it was clear that his heart was no longer able to sustain life. He was informed that he would require an immediate heart transplant or left ventricular assist device (LVAD). 
Even after receiving this news, Tyler never gave up hope. He was determined not just to live, but to return to the construction work he loved so much. With this in mind, he began a walking regime that required him to complete 55 laps of his hospital floor with his IV pole and heart monitor in tow. 
As his heart began to weaken, he was placed on the donor list and life support in the Cardiac Care Unit (ICCU). He was given two weeks to wait for a donor match before they would have to proceed with the LVAD surgery. After waiting one and a half weeks, a heart donor match was found!
On August 13, 2021, Tyler's mother, father and sister visited him one last time before his surgery. "You would never have known how afraid we all were that day as we took pictures and joked together about silly things," Tyler recollected. Shortly thereafter, at 4 a.m. on August 14, 2021, Tyler was taken into the operating room to receive his new heart. 
Tyler woke up after his surgery excited to make his way through recovery. "Seeing the joy on my parents' faces as they watched me take my first steps only fueled my determination." 
Only six days after his transplant, Tyler was discharged. "There was so much work that had to be done at home, both physical and emotional. My determination grew as I continued to heal and get stronger." By the end of September, he was walking up to 14 kilometers every morning, and a few months later he was hiking 16-kilometer trails daily.  
Last September, his follow-up care was transferred to the London Health Sciences Centre (LHSC), so that he could be closer to home. "I have the pleasure of working with my fantastic post-transplant team. They continue to be amazed by my determination to return to the things I loved pre-transplant, and I've been asked to motivate other patients when needed," Tyler writes. 
But it gets better. "While recovering the past year, I have found my soul-mate," he proclaims. "Keverly is a beautiful young woman who is supportive and kind. I reached out to London Health Sciences Center about the possibility of proposing to her at my one-year anniversary biopsy and they loved the idea."
"This generous life-saving gift has given me not only a new heart, but an opportunity for a brand-new life. A life filled with the love of my family and a new wife. A life I appreciate and do not take for granted. I know that with every new sunrise and sunset, I have been given the greatest gift I could ever receive."