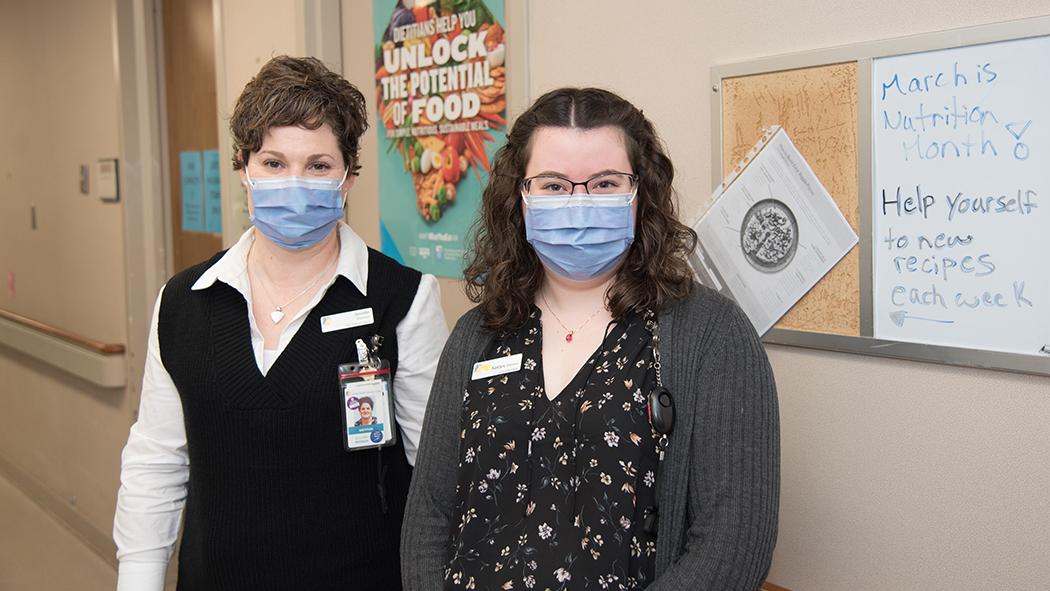 March 31, 2023
Dietitian roles are a part of interdisciplinary care teams in many clinical program areas such as: Paediatric Oncology/Hematology, Clinical Neurosciences, Cardiac, Renal Care, and more. You can see all of the areas dietitian roles support on the Clinical Nutrition webpage. 
Keep reading to learn about the specific nutrition needs and considerations for patients in Paediatric Oncology/Hematology and Clinical Neurosciences.
Karna Glen, Clinical Dietitian, Paediatric Oncology/Hematology
Karna's role as a dietitian plays a unique part in Paediatric Oncology/Hematology with her young patients.
While no specific diets are required for these paediatric patients, many children (not just in oncology/hematology) are selective about the foods they eat. Karna works with families to come up with strategies that will promote good nutrition and growth within the child's usual diet.
Children's nutritional requirements are typically increased during treatment for cancer. Karna notes that it is important to consider the side effects of treatment such as nausea, vomiting, taste changes and lack of appetite that can negatively impact a child's ability to eat and drink. 
"Spending more time in hospital can also affect a child's intake since most children eat and drink better when at home in their usual environment eating familiar foods," Karna says. "I always keep in mind that nutrition recommendations need to be feasible for the family – both financially and logistically – but also something that will be accepted and tolerated by the child."
Some of Karna's primary responsibilities include assessing the nutritional status of her patients, developing and modifying care plans to help children meet their nutritional requirements while undergoing cancer treatment, providing education to patients and their families related to specific diet requirements, arranging tube feeding or parenteral nutrition (IV nutrition) in hospital and at home for children unable to meet their requirements through eating/drinking, navigating the in-hospital menu to help children meet their nutrition requirements while in hospital, and managing nutrition-related side effects of cancer treatment.
"I feel really rewarded when I have a patient or family come back for follow-up and tell me they benefitted from my advice," Karna shares. "I'm also very grateful for the supportive team of health professionals that I work with who help these children and their families navigate a very challenging time, and who recognize the importance of good nutrition for patients during treatment and recovery."
Jennifer Milliken and Kaitlyn Studenny, Dietitians, Clinical Neurosciences
Jennifer and Kaitlyn help meet the nutrition needs of patients in Clinical Neurosciences at LHSC. 
"Patients in this area often experience dysphagia and may need either texture modified diets, altered fluid consistencies, or (if within their goals of care) tube feeds may be required if they cannot take food orally," Kaitlyn explains.
A neurological diagnosis can result in a challenging time for patients to meet their nutrition needs, especially if they need a modified diet such as pureed or minced, or tube feeding. Kaitlyn and Jennifer listen to patients to understand their preferences and come up with creative solutions when needed.
"There's a large range of patients with different diagnoses, and their specific diagnosis and symptoms are what drive their care," Jennifer says. "Some people are eating and it's safe for them to do so, some people aren't able to eat or not eating enough, some are on modified diets, thickened fluids, tube feeds, or simply require vitamin repletion for deficiencies as they recover. It's a case-by-case basis and that's what makes my role as a dietitian in Clinical Neurosciences so interesting."
Some of Jennifer and Kaitlyn's responsibilities include assessing, implementing and revising nutrition care interventions for patients that have symptoms or diagnoses that impact the brain and/or nervous system. They also screen for malnutrition, optimize caloric and protein intake and design and manage tube feed regimens.
"The most rewarding part of my job is knowing that we play an integral role in helping patients to meet their nutrition needs so patients' bodies receive the fuel they need to allow them to heal, recover and prevent malnutrition," Kaitlyn shares.
Jennifer notes that, "Educating patients on how their nutrition supports their recovery is very rewarding to me. For example, in my patients who have experienced a stroke, I encourage adequate caloric and protein intake to maximize their participation in therapies for their physical recovery."