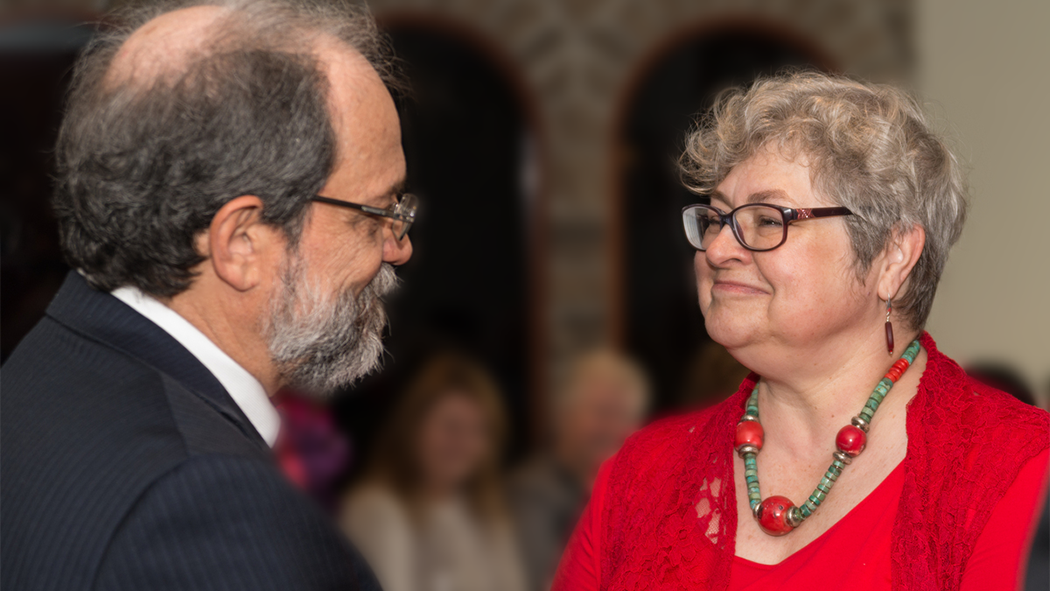 Photo: Martie Grof-Iannelli and her husband Thomas Iannelli. Photo by Luc Lemieux.
It's September 2010 and 56-year-old Martie Grof-Iannelli received her first colonoscopy at London Health Sciences Centre's (LHSC) University Hospital. She was conscious during the procedure and was informed that she had a late-stage colon cancer. The doctor had taken a biopsy to be tested, but based on the findings in her colon, the doctor shared the news early.
Before Martie was able to process the enormity of the diagnosis, her first question was what were the next steps? Her focused and solution-oriented attitude will prove to serve her well through her cancer treatment experience.
What were Martie's symptoms?
Martie Grof-Iannelli taught at a university for 23 years before becoming an administrator at a college. She was working as an administrator when her feelings of exhaustion began.
"It was so unlike me. I felt exceptionally tired. I was needing naps when I never needed them before," Martie explains. "At first I thought I was just fighting a cold or flu or another illness like that. I had no other symptoms that would indicate it was colon cancer."
When discussing her symptoms with her primary care physician, she was advised that she was in the age range of increased risk of colon cancer, and due to her tiredness, Martie's physician advised she get a colonoscopy.
"I am so grateful that my doctor suggested a colonoscopy," Martie expresses. "I am alive because of my doctor and because of the people at LHSC."
Martie's cancer treatment experience
Since Martie had a late-stage cancer, she was able to get surgery to remove the cancer about 10 days after the biopsy results proved the cancer diagnosis.
After receiving the surgery, she was told that based on the advanced nature of the cancer, she had the cancer for about 10 years. If she had started screening at age 50, the screening may have caught the cancer much earlier.
"I have no family history of colon cancer that I'm aware of, yet I got it around 56 years old, which is quite young," Martie says. "It seems like one of those things where lightning just struck, and guess where it struck?"
Following the surgery, Martie started chemotherapy. "If there was a side effect to the chemo, I got it. I had dry mouth, numb hands and feet. I also experienced a shock feeling when I would touch something with a cold sensation – just so many things," Martie shares. "The name of the chemo I was taking was 5FU. I told the nurse that given all of the side effects I have; FU seems about right."
Martie's support system
Martie's sense of humor and solid support network helped her get through some of the toughest times.
"My husband and friends were unbelievably supportive," Martie says. "When I gathered them all together to tell them I had cancer, I told them no crying or feeling sorry for me because I am going to get through it. Between their phone calls, drop-ins for visits, check-ins, help with tasks or giving food – I was well taken care of. When my husband had to be away for work, he knew that I was getting plenty of care."
After treatment
When Martie's treatments were over, her and her husband rented a venue, hired a caterer and organized a lunch to say thank you to all those that were so supportive of them. They had about 70-80 people in attendance, including some care staff.
"We just wanted to show our gratitude to everyone who was there for us during such a difficult time," Martie says. "Because we go to church, we asked those who could come to bring canned goods to donate to our church's sharing cupboard that feeds people who need it. We ended up collecting a van full of canned goods."
Martie and her husband received incredible support and care through their medical experiences, and they know that people need one another for help to get through challenging moments. They were happy to have a chance to spread some goodwill.
Monitoring her condition
"I gave myself no other choice than to believe I was going to get through it all," Martie says. "I feel like we put ourselves into a mental box as soon as we're given difficult news like a cancer diagnosis. I truly think that mental perspective has an impact on how and whether you recover. Not to say it hasn't been challenging. I had my bad days when I was experiencing side effects from the chemo where I felt like I couldn't go on, but my husband was there by my side to remind me that that wasn't the mindset I wanted to keep. He kept me focused on my goal of getting better."
Thirteen years later, Martie remains cancer free. She continues to monitor her condition, and gets regularly screened for other cancers as well because she is aware that cancer can travel and wants to catch any sign of it early.
"I recently had a colonoscopy related to my long COVID symptoms, and the test was clean – no sign of cancer," Martie says. "Having long COVID has been another hurdle, and while it can feel like it's taken over my life, I try to live my life in the areas where I can handle it. When I'm exhausted, I sleep. And I try to do everything I need to do in between those moments of exhaustion."
Martie is grateful for the excellent care she received. "Bless the nurses and doctors, they were truly angels of mercy. They kept me alive and I'm forever grateful for their compassion, patience and amazing care."
Adults ages 50-74 should get checked for colon cancer, even if no one in their family has had the disease. Getting tested for cancer regularly is critical for early detection and treatment. ​Getting a FIT test can reduce your risk of colon cancer through early detection.
If you would like to learn more about where to get screened or receive a test, please visit Cancer Care Ontario's webpage on Screening for Colorectal Cancer.