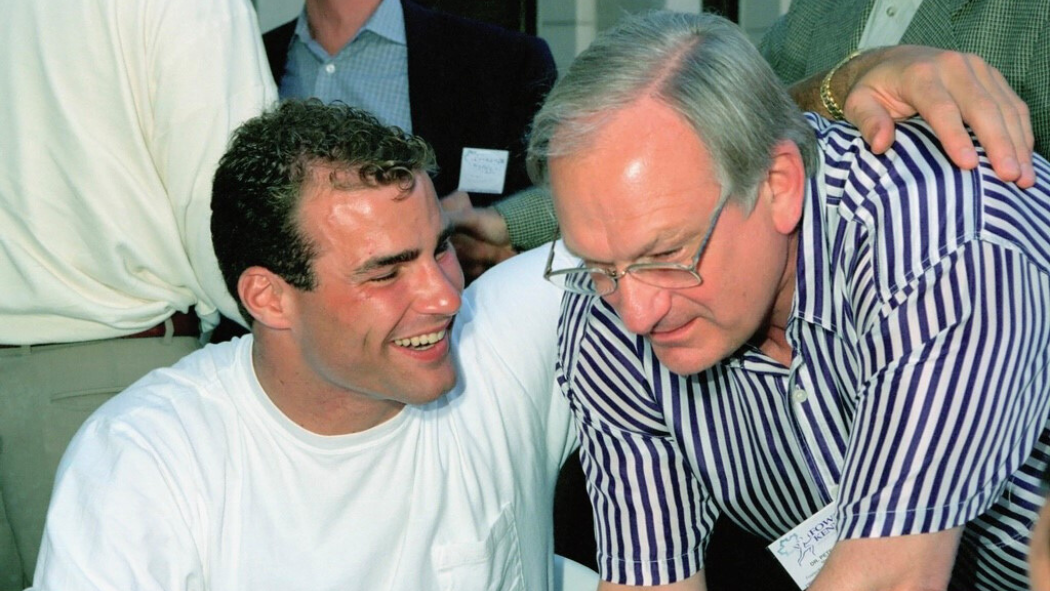 August 17, 2023
From Day 1, a unique integration of clinical practice and scientific research in the Orthopaedics Department at the University Hospital was at the core of many of the hospital's successes on the national and world stage.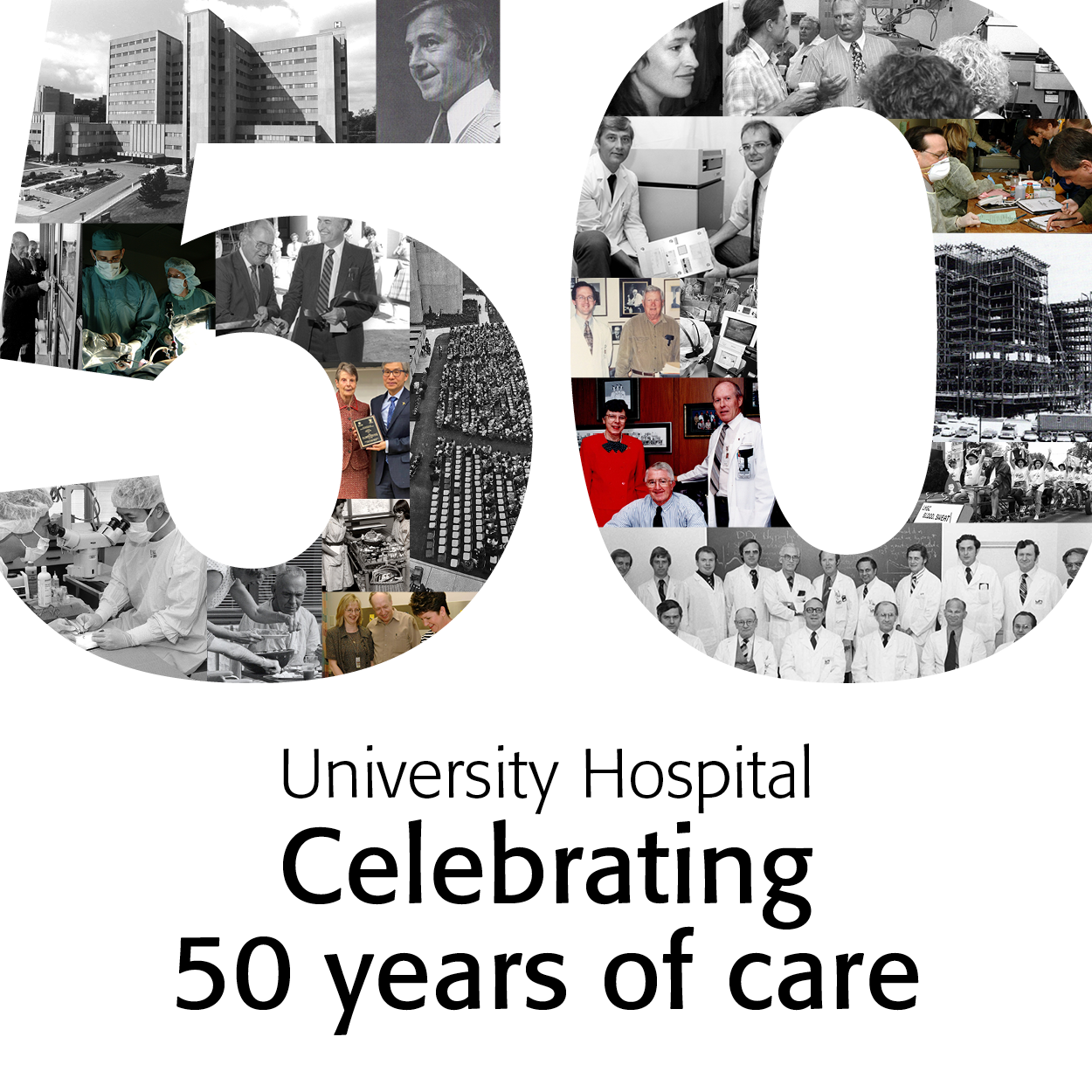 "The relationship between Western University and University Hospital, and the powers that be at both institutions, is what catapulted us into the big leagues," retired orthopaedic surgeon Dr. Cecil Rorabeck says.
London Health Sciences Centre's University Hospital (UH) is marking 50 years of providing care in the region and taking a look back at some of major accomplishments and successes over the last five decades. And this reflection would not be complete without a focus on the achievements within the Orthopaedics Department.
Dr. Bob Bourne did his residency at UH, moving from Victoria Hospital to the newly opened facility in 1972 and later joined the staff in 1978, working alongside Dr. Rorabeck who started in 1975. Both specialized in hip and knee replacements and were later joined by Dr. Richard Hawkins, a shoulder specialist, and sports medicine orthopaedics surgeon, Dr. Peter Fowler.
In addition to the partnership with Western University, UH was rare at the time in that research labs, patient-care areas and clinics were all within the building for several specialty areas such as orthopaedics, neurosciences, cardiology and others.
"For a young person like myself, it was the ideal circumstance. There wasn't any wasted time traveling across the city. You could go to the lab (on the 8th floor) between operations cases (on the 9th floor) and if there was something going on, you could put your input in and then back up you went," Dr. Bourne explains. "It was a spectacular setup and a wonderful model to stimulate research."
Surgeons and post-residency doctors came from around the world to train in orthopaedics at UH including from New Zealand, Australia, China, Britain, Europe and the United States. "At one time I think we had five
PhDs working in research enterprise, whether it be biomechanics or how to improve our arthroplasty design, so we were very strong academically and clinically."
Just as Dr. Fowler's was known as one of the top orthopedic surgeons in sports medicine and the first medical director of the Fowler Kennedy Sport Medicine Clinic, both Drs. Bourne and Rorabeck were among the world's leading experts on hip and knee replacement and the namesakes of the Rorabeck Bourne Joint Replacement Clinic at UH. All three were ultimately named to the Order of Canada for their contributions to orthopaedic medicine.
Data from thousands a major attraction
A significant element that attracted dozens and dozens of post-residency doctors doing advanced training from around the world was the decision early on to collect information about patients and create a huge database of information that was used for research, Dr. Bourne explains. "With patient consent, we collected data on how our patients were doing before and after surgery, and then we made a conscious attempt to follow patients every two to five years for as long as they lived."
It was also at UH where the first randomized clinical trial of a surgical procedure in the world was conducted. The trial compared hip replacements using cement to secure the implants to bone versus using a non-cement method and found that both were effective.
Along with a team of engineers, the pair also developed the 'Canadian hip,' a then-$600 alternative to implants that were costing thousands at the time, says Bourne. "Based on that success, we got asked to design several more hip and knee replacements. That was a fun, fun time of our lives. We really enjoyed being innovative."
Perfecting the knee scope
Dr. Fowler, who passed away in 2022, was the first orthopaedic surgical resident under the mentorship of Dr. Jack Kennedy at UH. Dr. Fowler perfected surgical techniques and rehabilitation using an arthroscope to help both injured elite and amateur athletes, says Dr. Bob Litchfield, medical director of the Fowler Kennedy Sport Medicine Clinic, one of the largest, most comprehensive clinics of its kind in North America.
"The vision Dr. Fowler had was to build a clinic that would bring together the various disciplines that look after athletes," explains Dr. Litchfield, who was among many Dr. Fowler mentored. "So primary care, support medicine physicians, physiotherapists, exercise specialists and orthopedic surgeons all in the same location where we could really focus on the care of the athlete."
Anna Hales was a nurse in the orthopaedics program, running the operating room for several years before becoming Dr. Fowler's research assistant and moving to the Fowler Kennedy Sports Clinic with him.
She describes the staff and doctors in the program as a "tight group" and says she really lucked out. "Things find you I think and I fell into it. My involvement with orthopaedics has been a great part of my life," she says.
Helping the poorest of the poor
In addition to the hospital work, Hales was tapped on the shoulder by Dr. Rorabeck in the mid-2000s to help him plan and lead a mission to Guatemala to perform hip and knee replacements for those who would otherwise not have access. Since the first mission in 2006, aside from period of the COVID pandemic, what has become Operation Walk Canada has been to Guatemala every year since. In 2010, Dr. Bourne started yearly missions to Ecuador as well.
Over a total of 27 missions, there have been 992 hip or knee replacements done in Guatemala and 285 additional surgeries in Ecuador.
Dr. Rorabeck, who has served as the president of the Royal College of Physicians and Surgeons of Canada, the Canadian Orthopedic Association and the Hip and Knee Society, still makes the trip to Guatemala every year although he no longer operates.
"I have a certain attachment to the country and the people and I like to go and see the people who we've operated over the years," he explains.
And Dr. Bourne is still making the yearly trip to Ecuador with the team of about 50 people from across Canada including doctors, nurses and everyone else needed including the people who sterilize the medical devices after each surgery.
"We thought it would be a very difficult to recruit a team every year," he says. "But what we found is that people stayed because they loved it so much. There's something special in giving something for nothing and seeing the smile on people's faces, the difference you make. It's been an unbelievable success."
HELP US CELEBRATE
Continue to read the series of web features on lhsc.on.ca in the coming months that celebrate employees, the volunteers and some of the significant achievements over the last 50 years. And we want to hear your memories of University Hospital! If you are a former or current employee, volunteer or patient, please share a favourite memory and/or photo with us by emailing UH50@lhsc.on.ca.