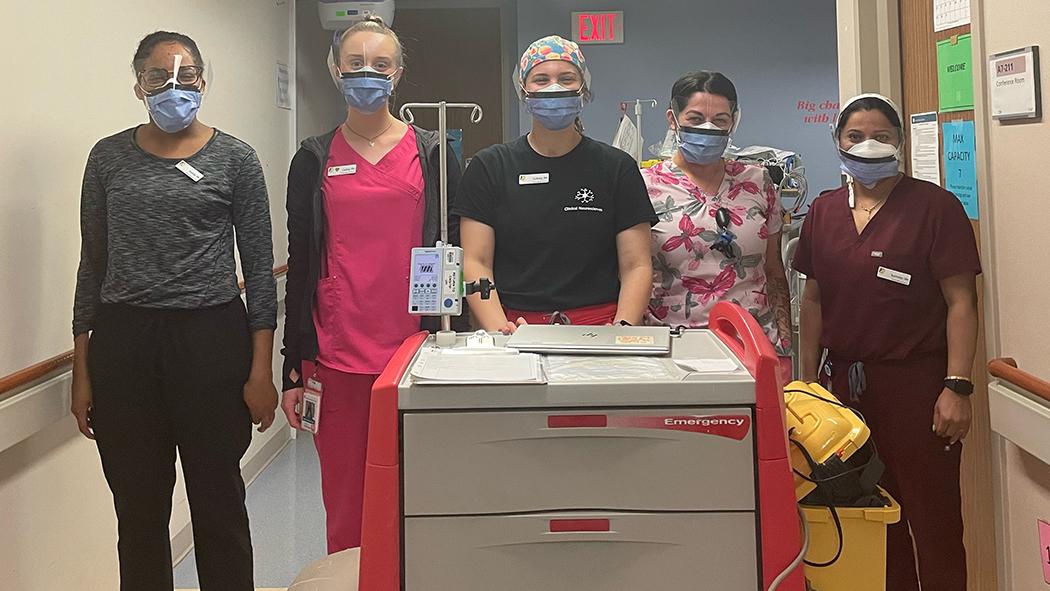 From left to right: Arielle Forbes, RN; Carley MacGregor, RN; Sydney Pastorek, RN; Sahadete Bela, PSW; Surinder Kaur, RN.
June 2, 2022
TIME IS BRAIN! Stroke is a medical emergency and quick action is crucial. Providing timely access to stroke treatment is key to improving patient outcomes.
Stroke in Canada
Stroke is the leading cause of adult disability in Canada and is the third leading cause of death. 80% of the nearly 14,000 Canadians that die each year from stroke are preventable.
How do you recognize the signs and symptoms of a stroke?
The Heart and Stroke Foundation of Canada recommends the use of "FAST":
Face – is it drooping?
Arm – can you raise both?
Speech – is it slurred or jumbled?
Time – to call 9-11 right away
Other signs and symptoms of stroke to be aware of are sudden severe headache, sudden vision changes and sudden loss of balance.
What to do if someone is experiencing signs and symptoms of stroke:
DO NOT DRIVE YOURSELF! The quicker you act, the better the patient outcomes. If you suspect someone is experiencing a stroke, call 9-11 and seek medical treatment as soon as possible. EMS saves time with lights and sirens! Additionally, EMS bypasses to closer hospitals, ensuring a patient is brought to a designated stroke centre who is alerted on route. If the patient is in-hospital, notifying CCOT & the MRP as soon as possible after symptoms develop allows for rapid access to the stroke team and interventions.
LHSC's Regional Stroke Program
London Health Sciences Centre is home of the Regional Stroke Program located on the 7th floor at University Hospital. It is 1 of 41 hospitals in Ontario that have a stroke unit and 1 of 11 hospitals that act as a Regional Stroke Centre. It serves a population of ~1.8M spanning 29,000 sq km and admits over 800 stroke patients annually.
Stroke Interventions
At London Health Sciences Centre, we are able to offer stroke patients two potentially lifesaving interventions – alteplase (tPA) and endovascular thrombectomy. Additionally, LHSC also participates in ongoing research studies, such as the AcT trial, which randomizes stroke patients to receive the thrombolytic Tenecteplase (TNK) instead of the current stroke standard, alteplase (tPA).
Alteplase is a clot busting medication that must be given within 4.5 hours of symptom onset. This means, identification of stroke symptoms and taking quick action in seeking medical attention are vital to improving outcomes. At LHSC, we have a designated stroke team that consists of a Stroke Neurologist, resident and/or fellow and a hyperacute stroke nurse trained to administer alteplase and monitor hyperacute stroke patients. Our stroke team aims to administer tPA within 30 minutes of patient arrival to the Emergency Department. For every minute saved during a stroke protocol, 4.2 days of healthy life are preserved. This translates to 4 months of healthy life for every 30 minutes saved!
Endovascular thrombectomy (EVT) is a procedure that is performed in Neuro-Interventional Radiology to physically remove the blood clot from the brain, allowing for reperfusion to the occluded vessel. At LHSC, we have an amazing around-the-clock team specializing in clot retrieval. Patients are also transferred from other hospitals in the region to LHSC to potentially receive EVT. Currently, 87% of eligible patients receive a successful thrombectomy. Our median time from hospital arrival to first reperfusion is 95 minutes. This time includes assessing the patient, undergoing CT imaging, confirming stroke and eligibility, setting up the interventional radiology suite, prepping the patient and performing the procedure! The team works hard and, most importantly, works together to ensure quick intervention.