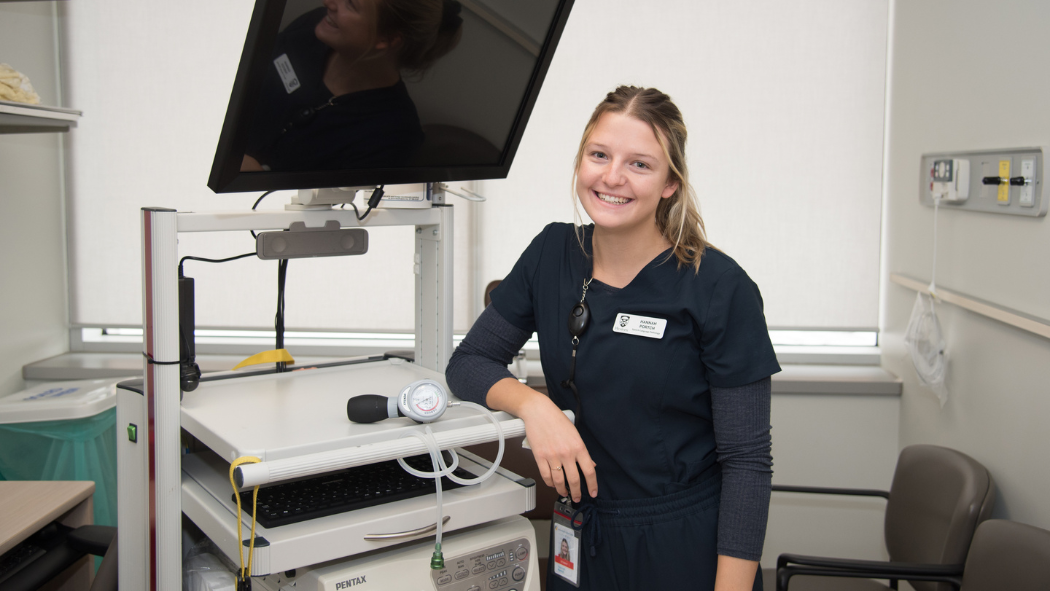 April 4, 2023
Hannah Portch didn't always know she wanted to work in Speech Language Pathology (SLP) simply because she didn't yet know it was an option.
Now in the second and final year of a post-graduate program in Speech Language Pathology at Western University, Hannah recently completed a month-long learning placement with London Health Sciences Centre at Victoria Hospital.
As someone who has always enjoyed learning about the human body and its many systems, and working with people, Hannah began her pursuit of a career in health care in the Medical Sciences program at Queen's University. During her education, she was introduced to various potential career paths, including SLP.
"Once I was introduced to all the different jobs in the hospital, I was immediately drawn to SLP," she recalls. "A lot of times, you only hear about doctors and nurses. Those jobs are amazing and important, but if that's not specifically what you want to do, it's great to learn about those alternative options."
The idea of therapeutic services resonated with Hannah because it would provide a chance to create personal connections with patients and empower them.
"I loved the idea of therapy because you can really work with patients throughout their journey," she explains. "You can build those therapeutic relationships and help them build different skills or strategies to manage what they're dealing with."
Siobhan Zelwietro, one of Hannah's supervisors during her time with LHSC, believes it is this personal aspect of the role that is so important to develop during a placement.
"When you're practicing in class or with other SLP students, it's very different from seeing a patient in the hospital who's not feeling their best," Siobhan explained. "Being here, you have the opportunity to interact with people on a human level, and you get to practice your empathy and compassion. You can work with the person rather than running down the checklist that you practiced."
Hannah credits Siobhan and her fellow supervisor, Jessa Bamford, with providing an engaging educational environment throughout her placement.
"It's been a pleasure to see how good my supervisors are at their jobs and to learn from them," said Hannah. "They always take the time to explain what they're doing and making sure I'm understanding as I go. The whole community in the SLP office is so awesome – everyone has been so friendly and helpful."
For Siobhan, supervising students is a chance to share her passion for her work while brushing up on her skills and keeping her knowledge fresh.
"I enjoy supervising placements because I think my job is super cool, and it's fun to have someone else who also feels that way," explained Siobhan. "You have the opportunity to have so many in-depth conversations not just about what we do, but why we do things a certain way. Having students who bring up new theory and concepts helps me continue to think critically and keeps my skills up-to-date."
During her post-graduate program, Hannah completed a variety of placements at Western's on-campus speech clinic, H.A. Leeper. Although she enjoyed many of those opportunities, her recent placement at LHSC helped solidify her desire to pursue a career in acute care at a hospital.
In particular, it was the opportunities to collaborate with a multidisciplinary team of care providers – a chance she had each day with physiotherapists, occupational therapists, physicians and nurses – that stood out to her.
"Getting to see how the hospital works has helped me see myself here in the future," she said. "It's great to have that interprofessional environment and see how everyone works together as a team to help each patient's progression during their time in the hospital."
Reflecting on her cumulative learning experience, Hannah returns to the emotional component of health care.
"When you're in class and learning so many technical details about the anatomy, you don't think about the large impact you can have on peoples' lives," reflected Hannah. "It's been really impactful to listen to their experiences or see how emotional they become. It can be difficult, but when you can help counsel them through the challenges, or work with them to see improvements, it's so rewarding."