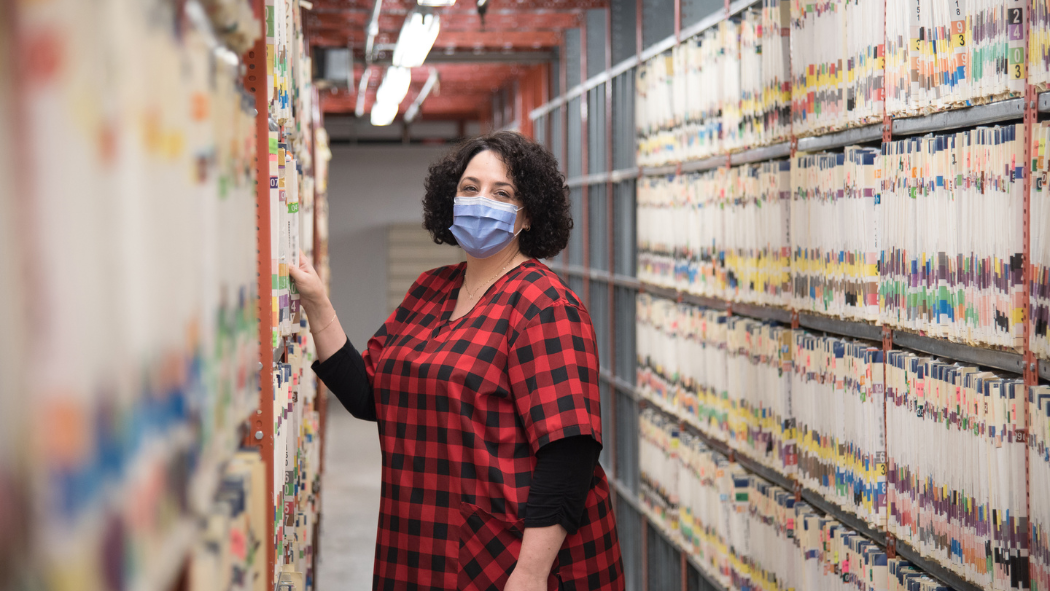 March 8, 2023
Issa Martin exudes optimism – about work, about life, and about education.
Within a few moments of talking to her, you get the sense that she is exactly where she is supposed to be, even if it took a while to arrive there.
"I don't know if this is your dream job, but I love my job," she says. "I love learning about it, and I love learning about new resources and new ways of doing things. Learning is transformative, and it's encouraged here at London Health Sciences Centre."
A fresh start in Health Information Management
Issa moved to Canada from Mexico City in 2001. In a new country and learning a new language, pursuing post-secondary education wasn't an option for her at the time. She got a job at a bank, where she worked her way into management. Eventually, she began contemplating a career change and, intrigued by the culture at London Health Sciences Centre – where her husband had worked before retiring – she began exploring options in healthcare.
After a crucial interaction at a Fanshawe College career fair, Issa decided to enroll in Office Administration in Health Services because it presented an opportunity to work in healthcare while continuing to exercise the skills she had acquired at the bank.
"When I was debating taking the program at Fanshawe, I was panicking about the decision because I had to quit my job," she remembers. "There was a woman at the open house who was doing her practicum at LHSC, and she said 'you can do it, it's worth it.' Talking to people who have gone through it helps you realize what might be possible."
After completing the program at Fanshawe, which included a practicum in the Health Information Management Department at LHSC's Victoria Hospital, Issa secured a job as a Health Information Clerk with LHSC. 
Award recognition and becoming a student at work
Whether it's helping guide family and care partners through clerical processes, or updating records to keep care providers informed about their patients' needs, Issa is passionate about the impact her work in Health Information Management can have on improving patient care. Her desire to help others quickly earned her respect among colleagues, and in 2022 she was nominated for, and won, the Going Above and Beyond Award in the first annual Health Information Management Awards.
Having shown an interest in continuing education, Issa was encouraged by her manager to look into a certificate course at Algonquin College, which would allow her to unlock more career opportunities. Overcoming hesitations about returning to school again, Issa enrolled in the Health Information Management Certificate program and in June 2022, she was awarded with the Diane Y. Stewart Endowed Scholarship, a yearly initiative that provides financial assistance to LHSC staff who embrace the spirit of curiosity and are committed to lifelong learning.
"We have to continue to have that wondrous curiosity – that's what the scholarship is all about," Issa reflected. "Diane, as an administrator, was like a trailblazer. I've made it a goal to be like her."
To complete her certificate program, Issa needed a practical placement with experience in several specific areas of HIM, including coding, quality assurance, and release of information (ROI). She didn't have to go far to find that placement, as she was able to fulfill it with her current team.
"I became a student at work," she explained. "My leadership team was amazing and supportive – they provided me with enough hours to continue my job as a clerk, while also helping me schedule time for my practicum on my days off or outside of my normal hours."
Looking ahead: Where to from here?
Issa is in the final semester of the certificate program and plans to finish in April. She was recently successful in moving to a new role as a ROI Associate, but her career aspirations don't stop there. 
"Because I was a manager in previous positions, that is my goal here – to build up my skills to get to that level," she said. "But I like to start from the beginning because when you manage people, you want to be able to say 'yes, I've done that; I know it's possible,' and I've seen that kind of team since I started here."
No matter what role she finds herself in, Issa is going to make the most of the journey.
"I look back at the person that came to Canada in 2001 and the person I am now, and I can see a change," she reflected. "When you open yourself up to be curious, it can be scary and frustrating at times, but it is so rewarding."
Share your story
As one of Canada's largest research-intensive acute care teaching hospitals, LHSC is committed to educating the health care providers of tomorrow. Throughout 2023, the LHSC Learner Series will highlight the stories of outstanding learners within the organization.
If you have a story to share about your experience as a Learner at LHSC, please reach out to Student_Affairs@lhsc.on.ca.