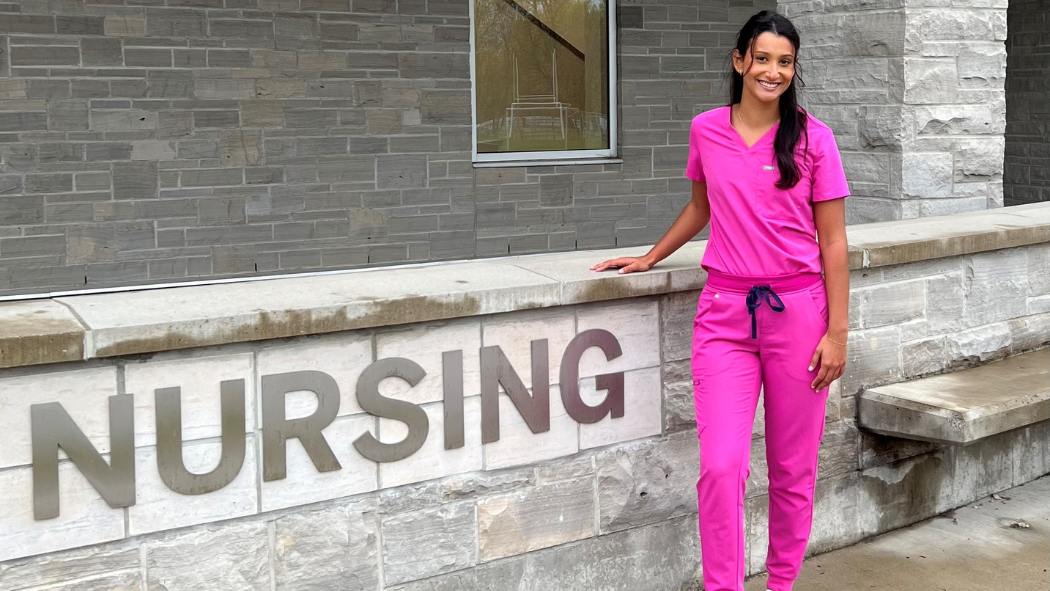 January 16, 2023
For many, London Health Sciences Centre (LHSC) serves one very important purpose – world-class health care for themselves or their loved ones. For others, though, LHSC is the ultimate classroom, setting the stage for crucial learning and developmental opportunities across the full continuum of health disciplines, research, administrative functions and leadership.
As one of Canada's largest research-intensive teaching hospitals, LHSC is committed to educating the health care providers of tomorrow.
Throughout 2023, we'll be taking a closer look at the many learners on Team LHSC in the LHSC Learner Series. Follow along for a deeper examination of the learning that takes place inside our walls every day.
Maiya, BScN, Western University
Maiya was drawn to a nursing career for the opportunities to help people and the prospect of an engaged field involving critical thinking. In three placements at LHSC – each unique from the others – she found the skills and knowledge to move confidently into the nursing world as a new graduate.
"I think my ability to rationalize and implement care in a capacity that supports the healing and wellbeing of patients came from my time in practical settings," Maiya explained. "Reading about everything in school was nice, but nothing is as valuable as seeing it in-person and learning how to recognize different things and how to respond."
While completing the Bachelor of Science in Nursing (BScN) program at Western University, Maiya completed three training periods with LHSC. Her nursing experiences on three unique units provided her with a well-rounded skillset and a deeper understanding of where she wanted to take her career.
For example, Maiya's second-year placement at LHSC's London Regional Cancer Program helped her to cultivate specialized skills in cancer care, including in palliative care.
"Oncology provided me with new opportunities to engage with families and learn that aspect of care," said Maiya. "My Oncology instructor was phenomenal. During our experiential learning, she would make different slideshows about unit-specific things and ways they could be transferred to other areas, and that was extremely helpful."
During the summer, Maiya completed a placement at University Hospital in General Surgery. The placement allowed her to grow her time management skills and other crucial abilities required in all nursing positions.
Maiya's final placement – three months on the Paediatric Critical Care Unit (PCCU) at LHSC's Children's Hospital – was her most challenging, not only due to the higher-acuity setting, but the surge in paediatric patients during the respiratory illness season.
A heightened number of paediatric patients with serious illness presented Maiya and other learners on her unit with logistical challenges, but also opened up unique learning opportunities.
"I think the learning opportunities are abundant right now," said Hannah Gregor, Clinical Educator for the PCCU. "We wish there weren't this many sick kids, but our learners are getting to see a lot. When things calm down, they will know how to care for the very sick, and they can apply that when they're working independently in scenarios that are lower acuity."
While students are typically the ones acquiring knowledge during their placements, they often provide learning opportunities and encouragement to their preceptors.
"It's a chance to see through a new lens," said Gregor. "Having a new learner – a student or a new hire – inspires excitement for the little things."
Maiya's experience in the PCCU provided ample opportunity for critical thinking and experience with higher-acuity patients, as well as a lesson in adaptability.
"Overall, I learned how to be flexible and adaptable to different changes," she said. "I learned the importance of being open and flexible to moving into different opportunities."
"I had some excellent learning opportunities through the staff at LHSC," reflected Maiya. "I feel like I'm in a position where I can confidently move into a role as a new grad and be able to manage things on my own."