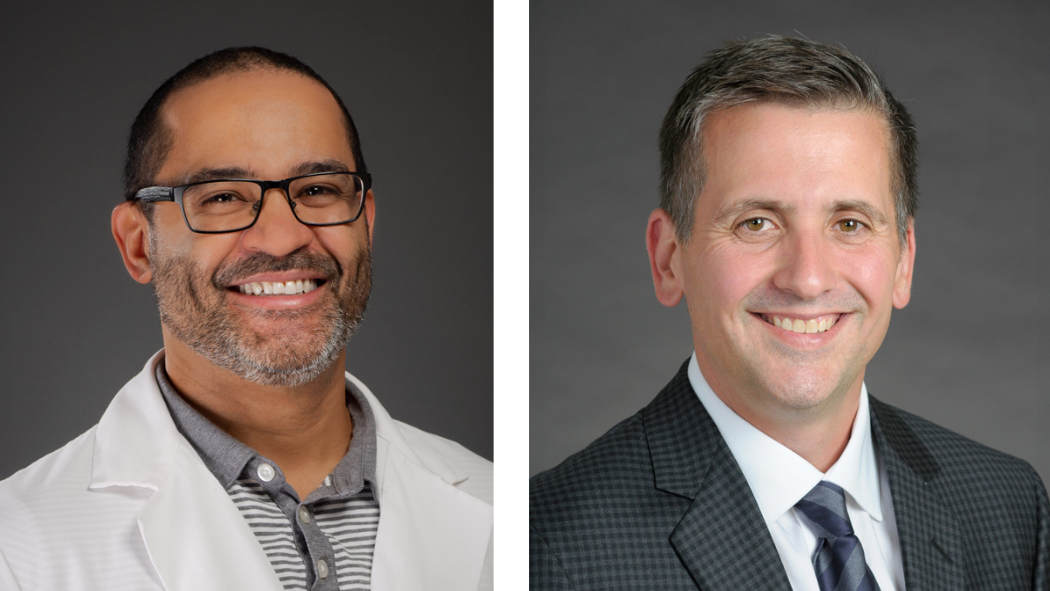 November 16, 2023
London Health Sciences Centre (LHSC) is proud to recognize two physicians who have recently been elected to lead national organizations into the future of radiation and medical oncology.
Dr. Stephen Welch, medical oncologist at LHSC's London Regional Cancer Program (LRCP), has been named as President Elect for the Canadian Association of Medical Oncologists (CAMO), and Dr. George Rodrigues, radiation oncologist at LRCP, has been named as President Elect for the Canadian Association of Radiation Oncology (CARO).
These organizations act as the voice for medical and radiation oncology to support professional development of members, promote public education and awareness, and collaborate with other health-care disciplines at the provincial and national level. Being appointed as leaders of CARO and CAMO involves a six-year commitment for the physicians, including two-year terms each as President Elect, President, and Past President.
Guiding the future of oncology
"It is an honour to be selected by peers to oversee this group of medical oncologists from across the country," said Dr. Welch. "As the President Elect of CAMO, and later in the role of President, it will be my responsibility to introduce initiatives that bring in new members and empower them to do more for cancer care, research and education."
Dr. Rodrigues views the role of President of CARO as a chance to help guide future radiation oncologists in Canada and advocate for expanded access to radiation oncology services across the country.
"There are a lot of younger members, so I am looking forward to having the chance to mentor the next generation of radiation oncology residents and staff," states Dr. Rodrigues. "I have already started thinking about some mentorship programs I'd like to implement."
LHSC on the national stage
With LHSC physicians at the helm of two national oncology associations, the organization has much to be proud of. Dr. Rodrigues feels that the high level of support shown by LHSC and his colleagues has been instrumental in his success. "I think that when you have LHSC physicians and staff taking on national leadership positions, it really speaks to the quality of people and the support of the organization to enable you to do these things."
Dr. Welch agrees, "When you have LHSC staff and physicians achieving success on a national level, it acts as a model to show others that you can achieve great things here."
Dr. Michael Ott, Physician Department Executive, Oncology at LHSC, is excited and proud to see members of Team LHSC being acknowledged on the national stage for their leadership. He states, "We are leaders in oncology care and research at LHSC and these appointments will help to improve care locally and nationally."
Inspiring others
Both physicians feel that their elections reflect the excellent work being done at LHSC and want to inspire others to follow suit. "Hopefully others will be inspired to take on national leadership positions and further build LHSC's reputation by showing the wonderful things we are doing locally, regionally and internationally," said Dr. Rodrigues.
When asked what advice he would give others, Dr. Welch states, "You're stronger together, so I think it is important to connect with people who do the same work across the country to share ideas and best practices. Despite the challenges and work ahead, I'm really looking forward to playing a leadership role with CAMO."