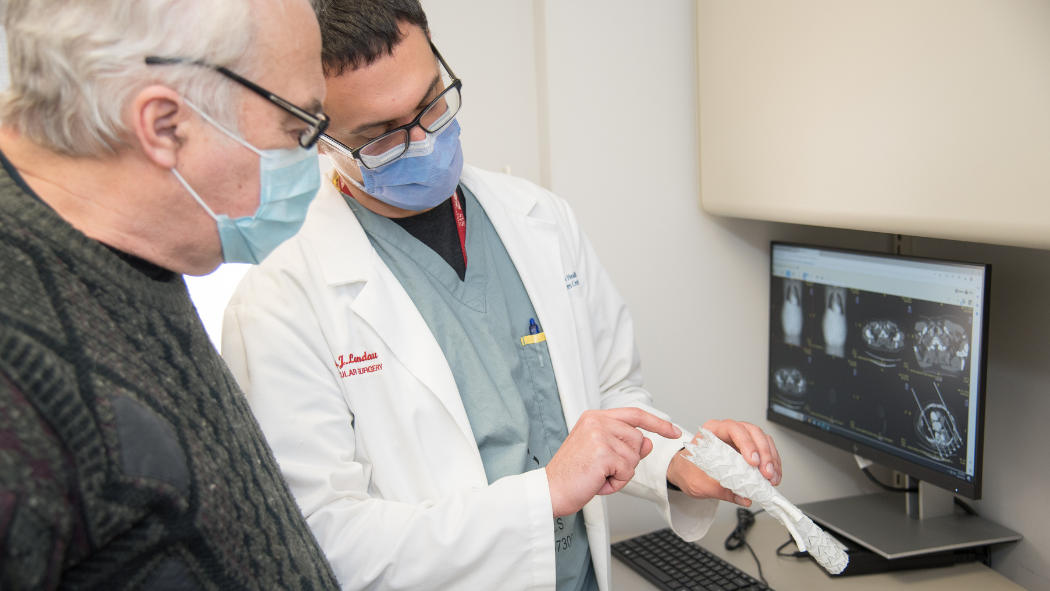 February 7, 2023
When 66-year-old Jeff Pitman from London, Ontario, experienced an aortic dissection and aneurysm compromising blood flow to his legs and kidneys, a team of vascular surgeons at London Health Sciences Centre (LHSC) were the first in North America to use the Artivion E-nsideTM aortic stent-graft to save his life.
As an organization that strives to find innovative solutions to improving patient-centered care, LHSC's Dr. John Landau and Dr. Luc Dubois recently received approval through Health Canada's physician-request special access program to use a device currently only approved for use in Europe. Overall, recovery time was reduced to a matter of weeks, from what would typically be about six months with a more traditional aortic surgery. With Health Canada's approval, and the availability of the device through ATES Medical, Artivion's Canadian distributor, this life-saving procedure was made possible.
"The successful use of the E-nsideTM device will help pave the way for additional use at LHSC and at other centres across Canada," said Dr. John Landau, a vascular surgeon at LHSC, and member of the team who performed the procedure. "Typically, aortic dissection would be a challenging procedure to treat and often the only option is traditional open surgery requiring invasive surgical access through the chest and abdomen. A regular surgery would have required significantly more recovery than Jeff experienced. In a matter of three weeks, he was back to normal. This would not have been possible with the equivalent open operation."
Starting in October 2022, Pitman underwent three advanced, minimally-invasive procedures to install the E-nsideTM aortic stent-graft.
"I am very grateful to Dr. Dubois and Dr. Landau for identifying this innovative option given the severity of my condition," said Jeff Pitman. "Not only did this device and procedure save my life, but I had a remarkable recovery considering I had three surgeries over the course of a month. I was able to be back home with my family much sooner than I ever expected."
The Artivion E-nsideTM device allowed Drs. Landau and Dubois to perform the surgery through minimal entry points, using approximately four-centimeter incisions in the arm and groin. These types of minimally invasive procedures are often safer, and result in a better experience for the patient including reduced pain, fewer complications and a quicker recovery, requiring less time in the hospital.
"By using an off-the-shelf endovascular stent-graft the emergency procedure could be performed much sooner," said Dr. Luc Dubois, a vascular surgeon at LHSC and member of the team who performed the surgery. "We sometimes perform advanced endovascular aortic surgery with a custom device that is tailor-made to the patient's anatomy; however, in this case we needed an urgent solution given the patient's life-threatening condition. With the E-nsideTM stent-graft, we were able to choose a ready-made device that best suited the patient's anatomy and expedite a minimally-invasive procedure much more quickly than usual, and with much less risk."
The E-nsideTM aortic stent-graft is a device that allows LHSC to use minimally invasive endovascular techniques to treat aortic dissection and aneurysm without compromising blood flow to other major abdominal organs. While there are other devices that exist on the market, they are often custom-made and tailored to the patient's anatomy, taking more time to make and requiring more intensive surgical installations. The advantage of the E-nsideTM stent-graft is that it has a unique design with branches that are nested inside the device, allowing it to be used in a wide range of people with varying anatomies.
In this specific scenario, the E-nsideTM stent-graft was the only device LHSC's surgical team could safely use given the complex nature of Pitman's aortic condition. The installation of this device not only repaired Pitman's aorta but it also significantly reduced his recovery time and any complications, getting him home and back to his regular activities much sooner.
While this was the first time LHSC has used the Artivion E-nsideTM stent-graft, the hospital performs approximately 20 advanced aortic procedures like this each year. Given the successful use of this device and Pitman's remarkable recovery, LHSC plans to continue to apply for special approval from Health Canada to use E-nsideTM stent-graft again in the future, should a patient's condition warrant it.
About ATES Medical
Based in Montreal, Quebec, and led by CEO Guy Bélanger, ATES Medical has been a Canadian medical device distributor for 14 years. ATES Medical distributes endovascular devices and specializes in new product innovations to better meet the needs of patients and physicians. For over seven years, ATES Medical has partnered with Artivion to supply leading-edge devices on the Canadian market, helping physicians identify solutions to treat complex aortic anatomies, with devices like the Artivion E-nsideTM stent-graft.