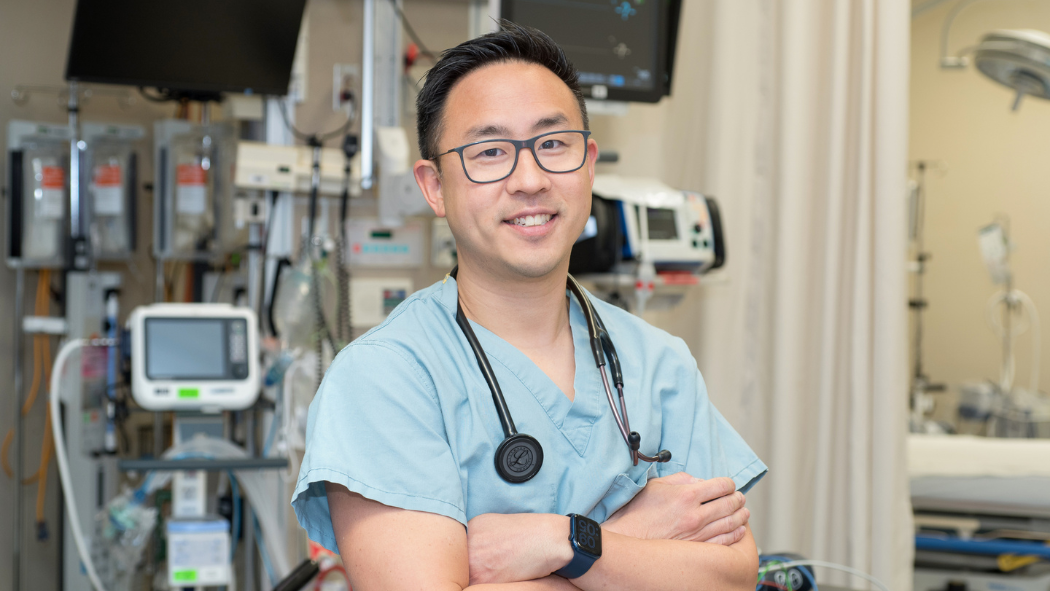 May 18, 2023
London Health Sciences Centre (LHSC) emergency physician Dr. Andrew Park has been appointed president of the Ontario Medical Association (OMA) for a one-year term, effective May 4. In this role, he will lead the association, which advocates for the interests of the province's 43,000 physicians, through a critical time in the transformation of Ontario's healthcare system.
"Becoming the OMA's next president is an honour," says Dr. Park. "I feel very grateful to have been selected by our association's members and look forward to fulfilling the mandate they've given me."
Dr. Park has been practicing emergency medicine for over 15 years, the last seven of which have been at LHSC, St. Joseph's Health Care London and St. Thomas Elgin General Hospital.
"I speak on behalf of all of LHSC when I say we're proud of Dr. Park for this incredible achievement," says Dr. Alex Barron, LHSC's Director of Quality of Medical Care and Chair of the Medical Advisory Committee. "His appointment is evidence of the high caliber of healthcare professionals we have working on the frontlines here at LHSC every day."
Born and raised in London, Ontario by parents who immigrated from South Korea, Dr. Park is the first president of East Asian ancestry in the association's 143-year history.
"It's really moving, especially when I look at the wall of past presidents and see the lack of diversity up until fairly recently," he says. "When you're a visible minority, you don't see leaders that resemble you and it makes you wonder, 'Do I have a place as a leader in this society?' So, to be able to represent the East Asian community in this way is incredibly humbling."
In Dr. Park's new role, he'll be focused on fostering relationships with the provincial government, advocating for the wellbeing of physicians across the province and engaging the public. As president, he's also a member of the association's board of directors, helping to set its trajectory for years to come.
Answering the call
Dr. Park chose to put his name forward for the presidency in late 2021, almost two years after the onset of the pandemic.
"To me, we have a world-class system, but COVID-19 highlighted areas needing improvement. I wanted to do my part in developing solutions," says Dr. Park.
"I've also been interested in leadership for a long time, and this represented as big of a leadership challenge as I could find," he jokes.
Then, early last year he found out he got the top job.
"I remember exactly where I was at the time," says Dr. Park. "I was working in the emergency department at Victoria Hospital. I knew the vote was to be released at seven o'clock that evening and then right around that time my phone just started blowing up."
After the news sunk in, the first call he made was to his wife, followed by his father.
"It was an emotional moment for my dad and I because my mom passed away in 2018, so she wasn't there to hear the news alongside him," he says. "It was very bittersweet."
A few months later, Dr. Park began training as president-elect until taking over as president. He was still working full-time in the emergency department at the time, balancing the demands of two busy jobs while raising a young family.
Today, he's taken a sabbatical from LHSC and will return when his tenure as president is complete.
Dr. Park received his Doctor of Medicine from the University of Toronto in 2005. He then went on to do a family practice residency through Queen's University and emergency medicine training at Dalhousie University. Dr. Park also holds an MBA from Western University's Ivey Business School and a Masters of Education in Adult Learning and Global Change from the University of British Columbia.