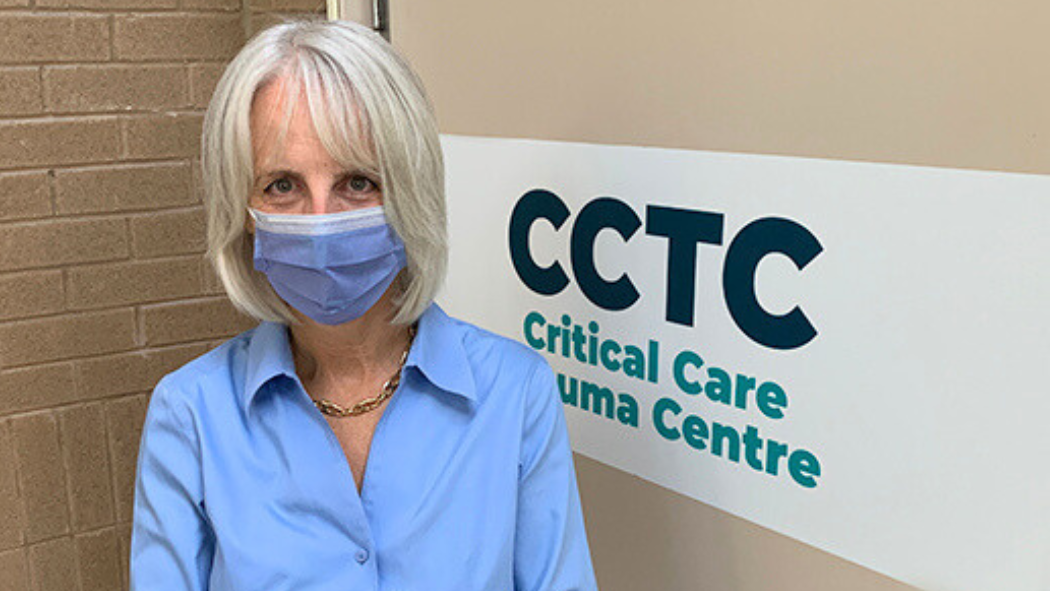 April 13, 2023
For more than 15 years, Bev Lewis has been supporting families at what is often the most difficult time of their lives.
Her compassion and commitment have been recognized with an Ontario Health Trillium Gift of Life Network (TGLN) 2022 Provincial Donation Champion Award.
As a social worker with Critical Care Trauma Centre (CCTC) at Victoria Hospital, Lewis provides both practical and emotional support to families of patients, including of those facing the loss of a loved one who have made the difficult decision to donate organs.
Lewis received her award in early April, which is BeADonor month. The purpose of this month is to raise awareness of organ and tissue donation and encourage people to register to donate.
According to the TGLN, last year LHSC had 30 organ donors, accounting for nearly 10 per cent of the province's 328 organ donors. Once the decision to donate has been made, it often takes a day or so before organs are retrieved as tests are run, matches are made and transplant surgeons across the province are consulted with.
During this period, Lewis' role is to help families with whatever they need.
"Sometimes it's on a practical level - needs for a place to stay, something to eat, getting time off work. And sometimes it's emotional support if they are starting to grieve, knowing that they are going to lose their loved one," she explained.
In her nomination for the award, Meaghan Wheeler, an Organ and Tissue Donation Specialist with the province and based in London, described Lewis as a strong advocate for ensuring patients and their families are provided with exceptional end-of-life care.
"Bev's role as social worker includes conversations with many families about goals of care and end-of-life decision making. Bev is compassionate, caring and understanding of the needs of families during these difficult times," Wheeler wrote.
Lewis' colleagues within the Social Work Team at LHSC said the award is well deserved. "Bev has prioritized her work to offer excellent emotional support, advocacy and intervention in recognition of patient and family needs at the time of trauma and crisis," they said.
"She sees the importance of supporting the family unit and connecting them to appropriate resources for ongoing grief and bereavement services at the time of death. Bev exemplifies compassion and dignified respect for patients, families and caregivers."
Surprised and honoured by the award, Lewis said it is relatively rare for organ donation to occur, but families who decide to do it are the most remarkable people because on the worst days of their lives, they're thinking of saving other lives.
"That is probably one of the most emotional things that happens for me because for people to be able to think of others at that time is just remarkable, and I have such admiration for families who can be so generous during a terrible time."