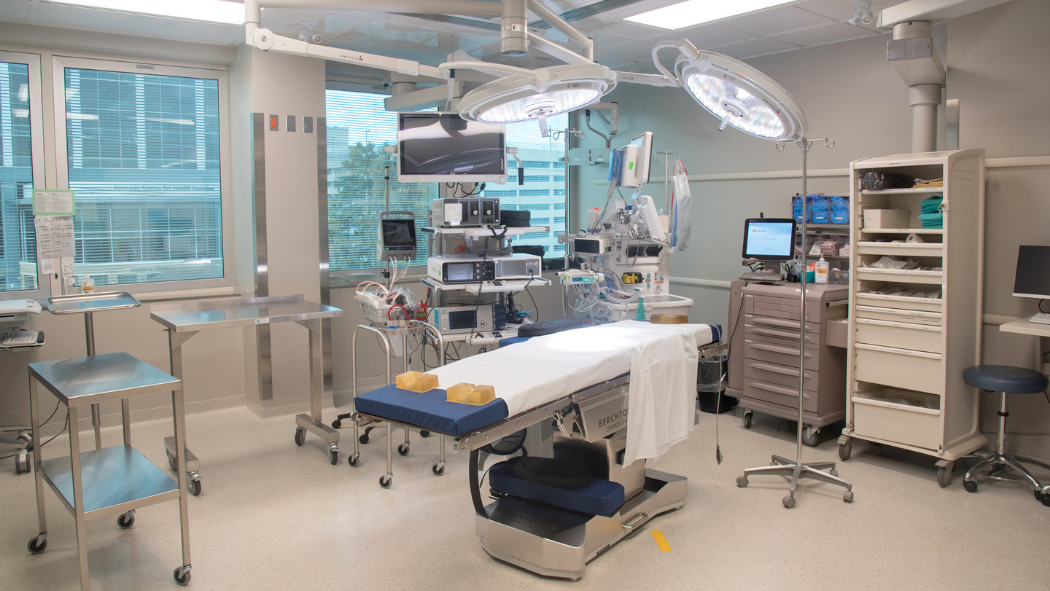 September 27, 2022
The recently named Nazem Kadri Surgical Centre is our innovative off-campus ambulatory surgical centre that is located across from Victoria Hospital on Base Line Road East. The centre provides patients in need of lower acuity surgeries with an alternative operating location outside of the hospital. Conveniently located and easy to access, this new surgical model of care enables lower risk, lower complexity surgeries to be performed successfully while simultaneously improving patient experiences and outcomes, as well as creating centre efficiencies and reducing costs by streamlining processes, equipment, staffing requirements and resources. To date, more than 3,800 surgeries have been successfully completed at the centre. This has in-turn offset much needed operating room (OR) capacity at both main campuses - ultimately enabling more patients to receive surgical care in a timelier manner.
Backing up our internal data that demonstrates the success of our centre is case study findings from The International Advisory Board – a long-standing research consultancy firm focused on addressing the challenges in today's health care environment – which declared it to be a successful first-of-its-kind model in Ontario. Based on our multi-year, resilient approach to strategically shift select low-intensity, low-resource surgical procedures from our main acute hospital sites to this new ambulatory surgical centre, the case study ultimately found the centre was proven to be successful in maintaining a high-level of clinical quality care for patients, engagement among surgeons and surgical staff, and significantly reduced surgical operating costs to the system.
What is the surgical centre?
Originally begun as a pilot project in 2016, our centre is today a 10,000 square feet, self-sufficient and self-contained facility that is located at 746 Baseline Road, in an LHSC-owned building across from Victoria Hospital.
With two state-of-the-art operating rooms, a 10-bed pre-operative and post-operative care area and a dedicated medical device sterilization suite, it handles select routine surgical procedures for healthy, low-risk patients on a strictly outpatient basis.
How does it benefit patients?
Comparative patient feedback surveys have consistently demonstrated a higher patient experience score for those with procedures conducted at the centre vs. those with the same procedure in one of our traditional ORs. Patients appreciate the private and easily-accessible environment.
Centre patients spend on average 82 minutes less time in post-op recovery than they do in a traditional OR environment.
Readmission rates for patients of the centre are also low – less than one per cent of patients who are operated on at the centre are operated on again within two weeks of their original surgery.
What makes it unique?
It is the first high-efficiency ambulatory surgical centre in the province that is embedded within a hospital's operations, and as such, it must meet and follow the same exemplary Accreditation Canada standards and required operational procedures as our traditional operating rooms (ORs).
Gained efficiencies from standardizing care to a select number of low-intensity, low-resource surgical procedures and innovative patient stratification and scheduling allow for a higher throughput of cases than a traditional hospital environment at a much lower cost.
Shifting select low-acuity surgical procedures to the centre in turn, frees up capacity within our traditional ORs and allows them to focus on more intensive, higher-risk, acute surgical procedures in a smoothed environment as each site now better aligns to the acuity needs of the patients they are treating.
Many surgeries that were once done exclusively in a hospital setting are now safely and successfully performed in our offsite centre.
What is next for the centre?
With our centre already garnering considerable interest and positive recognition from peer hospitals, the government and other organizations globally, it is our hope that our intensive and proven process to create a successful high-efficiency ambulatory surgical centre within our acute care hospital's operations could serve as a consultancy-based service for other hospitals looking to implement similar models of care.
We are also well into an ongoing Ministry application process to obtain additional funding that would allow us to expand our current centre from two ORs to six.

If approved, this would be a multi-year expansion process set to take place over two additional phases.
Want to learn more about the centre?
Check out this great video from our partners at the London Health Sciences Foundation
{"preview_thumbnail":"/sites/default/files/styles/video_embed_wysiwyg_preview/public/video_thumbnails/ERW1hc-MVdY.jpg?itok=OA2LL0kZ","video_url":"https://youtu.be/ERW1hc-MVdY","settings":{"responsive":1,"width":"854","height":"480","autoplay":0},"settings_summary":["Embedded Video (Responsive)."]}