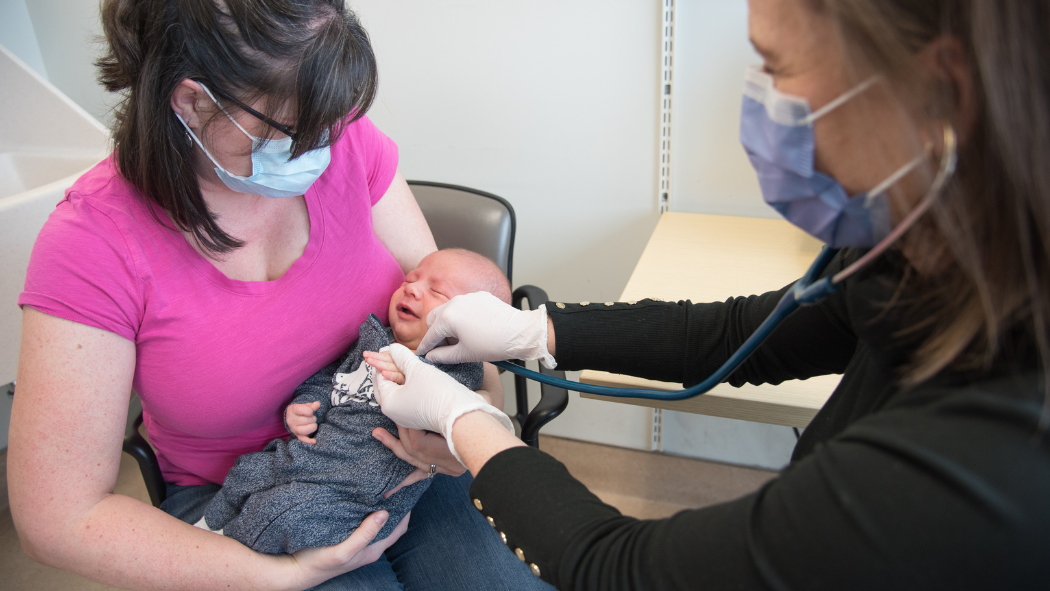 February 8, 2023
Finding out she was pregnant with her second child at 41 left Allison Zietsma feeling both surprised and anxious.
"My second pregnancy was a surprise, and due to my age and family/personal history of pregnancy complications I was referred to a high-risk OB," Allison begins. And as a second time mom she had concerns about what this might mean for her care options. "When I inquired on what to expect in terms of postpartum care, my OB told me about this exciting new program (T.I.M.E.) and I agreed to take part."
What is T.I.M.E.?
T.I.M.E stands for The Interprofessional Midwifery/Maternal-Fetal Medicine Expanded Program. LHSC is one of only several hospitals offering such a program in the country, and the program sees patients who would otherwise not be suitable for midwifery care. Through the T.I.M.E. program, these patients now have the opportunity to have midwives collaborating with maternal-fetal medicine physicians (MFM) to provide both prenatal and postpartum care (for six weeks, including home visits).
The goal of the program is to support the MFM team and their patients by providing routine prenatal care and education, as well as support the management of typical postpartum concerns at home, using medical directives and support through MFM, in addition to newborn care and infant feeding support.
The history of the program
In September 2021, the Department of Midwifery, in partnership with Dr. Barbra de Vrijer and Dr. Harrison Banner, applied to the Ministry of Health's Expanded Midwifery Care Model with a proposal for a program that would see midwives collaborating with MFM to provide prenatal and postpartum care to MFM patients who would otherwise not be suitable for midwifery care.
"Our goal was to provide a level of care that this patient population may not otherwise be able to have," begins Dr. DeVrijer. "The focus of the program is on all MFM patients, however this program also enables us to provide an additional layer of care to MFM patients with higher needs, such as those with mental health concerns, immigrant/refugee populations, or non-English speaking families."
LHSC received funding for the program, which enabled the hospital to hire midwives as LHSC employees for the first time ever, and officially began to provide care to patients in October 2022. The program has seen 60 patients.
The T.I.M.E. program difference
For Allison, the combination of both MFM and midwifery care made a huge difference in her care journey.
"My OB was fantastic at proactively ordering any extra tests or prescriptions that were necessary during my pregnancy and delivery, but the midwife team made themselves available to help debrief any test results we received and explain any procedures before or after they happened. I think this collaborative inter-disciplinary team approach is really innovative, and it's so important to have programs like this during a time when staff and medical systems are so taxed. I hope it continues and expands in the future. "
This sentiment is shared by both the MFM team and the midwifery team, who are collaborating in a way they never have before.
"We're seeing a patient population that we otherwise never would have as a direct result of the T.I.M.E. program," shares midwife Lauren Columbus. "This experience has been important in showing the value which both MFM and Midwives bring to prenatal and post-partum care, and how wonderfully we can complement each other's roles to provide a fully integrated care journey for our patients."